| | |
| --- | --- |
| | |
The Kenai Peninsula
Portage, Seward, and Homer
June 22 to July 4, 2008
---
State and National Parks and Monuments Visited:
Kenai Fjords National Park
Chugach National Forest
Chugach State Park
Anchorage to Portage
Between the Denali State Park and Talkeetna area and Anchorage, we had planned to stop in Wasilla to visit the headquarters of the Iditarod Dog Race. This had been on Oliver's list of things to see and do in Alaska for a long time. Unfortunately, our living room slider stopped working, and we decided to drive on to Anchorage and have it fixed. We'd been having problems with the slider---a shear pin had broken and then a bolt---and so we decided to replace several parts and have it fixed once and for all. Consequently, from Talkeetna we drove to Georgie Boy/Coachman RV dealer and service center in Anchorage, and with help from the Georgie Boy technical department and a few emailed drawings, we figured out exactly what we needed. In Alaska, everything can take a little longer, and so we ordered the parts, and then left for the Kenai Peninsula.
Our first night out we stayed at the Williwaw campground (USFS) right at the base of Middle Glacier. In fact, from the Pursuit's front window we could look up at the glacier! The Portage Valley is a short valley that has a number of glaciers right next to one another---Explorer Glacier, Middle Glacier, Byron Glacier, and, probably the best known one, Portage Glacier. Like most of the glaciers we've seen and/or read about in Alaska so far (Meddenhall, the Glacier Bay glaciers, etc), these glaciers date back to the Little Age which "began around 1200 A.D. and ended in the late 1800's". Most of them are retreating now....meaning the additional snow each winter is not enough to offset the amount of melting that is occuring in the summer. After two nights in Williwaw, we headed to Seward.
| | |
| --- | --- |
| Explorer Glacier in Portage Valley | Middle Glacer right behind our campground! |
Seward and Resurrection Bay
In Seward, we stayed for four nights at the fairly well known and often photographed Waterfront Campground owned by the town of Seward. At Waterfront the motorhomes and RV's are parked pretty much "cheek to jowel," but on the other hand it's right on the bay! Looking out our front window we could see sea otter's playing in the bay, sea lions swimming farther out, and fishing boats and small cruise ships going back and forth.
The Visitor Center for Kenai Fjords National Park is located in Seward and so naturally our first stop was there...followed by a drive out to Exit Glacier and the Park Service's Nature Center there. After a very good and very private Ranger-led tour early in the morning, we wondered around the terminus (toe) of the Exit Glacier for a little while, and then started the hike to the top of the Glacier and the Harding Ice Field. It was a great hike...exhausting and at times as steep as climbing Mt. Kitadin in Maine, but along the way we saw several bears and the views from where we stopped were specacular. We didn't make it all the way to the top since the last section of the trail is still covered in snow...and we didn't want to work our way through it to the very top. Nevertheless, it hiking to as far as we could was great!
We also visited and spent almost half a day or more at the Alaska SeaLife Center in Seward. And we were glad we did ....since it prepared us to better understand everything we would see the next day on our Renown Cruise to the Holgate Glacier.
We hadn't planned on going on one of the popular day cruises on Resurrection Bay since the weather had been so bad. In fact, the first day we were there we heard most of the passangers on some of the trips got sick, and on the second day there all the cruises had been cancelled because of high winds and a very rough sea. Consequently we were planning to go when suddenly on the day we were planning to leave, the wind died down and the bay was completely calm. We quickly made reservations on one of the cruises, and rushed off to what was a spectacular experience!
Waterfront Park Campground in Seward
| | |
| --- | --- |
| Sara at the base of Exit Glacier | Hiking to the Harding Icefield! |
The top of Exit Glacier and the Beginning of the Harding Icefield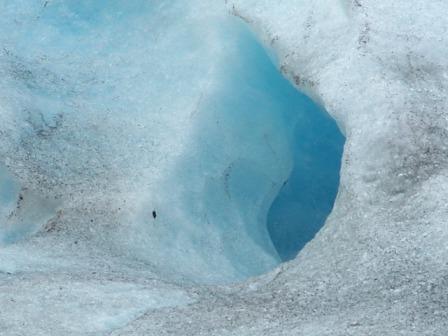 The "blue" ice of Exit Glacier
The Little Ice Age
Our Cruise (6 hours) on Resurrection Bay
In many, many ways, we were very lucky! When thinking about a cruise to the glaciers, the hope is to see glaciers calving and lots of whales and wildlife (and maybe even a few interesting birds)! And we were lucky enough to see it all on a very comfortable, clear day!
On the way out of the harbor, we saw sea otters frolicking and playing with their food along with a few sea lions. Shortly thereafter, a few dolphins started to race us out of the bay---showing off and just having fun with us. And then we got to Holgate Glacier---one of the glaciers that isn't retreating. From the pictures below, you can get a sense of just how big and high this glacier is! The boats go up to within a few hundred yards of the glacier, the engines are turned off, and it gets very quiet. Everyone just waits.....hoping to hear the sounds of the glacier breaking apart and calving. And it did! When we first got there, we could see a very large section that looked like it was ready to drop...and after a number of false starts and a few neighboring but smaller sections breaking away, the big section did! It sounded like the boom of fireworks, it sent up a huge spray of water as it dropped into the water, and then there was a small "tidal wave" that actually became quite large! Needless to say, we were excited---and knew we had been lucky!
Then on the way back we saw first several humpback whales, followed by a small group of orcas swimming around and showing off like a group of dolphins. The captain of the ship then took us to an island which is home to hundreds of sea lions, followed by an island which is a rookery for thousands (millions) of birds. If we had been birders, we would have been estatic! In the end, we felt we had seen everything we had hoped to see, and heard everything we had hoped to hear (like the amazing sound of glaciers calving!)
Finally, after a long day (and a day on the "high seas" when Sara didn't get seasick!), we headed back to Seward harbor, our Pursuit, and Oliver. And the next morning, we headed out towards the western part of the Kenai Peninsula.
| | |
| --- | --- |
| Holgate Glacier in proportion to a small cruise ship | Holgate Glacier Calving! WOW! |
Two humpback whales entertain us for a while (on the right is the entire head of one!)
Our Orcas and the Steller sea lions
Homer and the Sterling Highway
From Seward we headed to Sterling, a small town just east of Kenai (the town) where we stayed for three nights.
On our first day, we were lucky. We woke to absolutely blue skies...the first time we had seen so much blue in Alaska! And so we quickly gathered our things and headed down to Homer. The highway is called the Sterling Highway, it goes down the west side of the Kenai Peninsula, and all along the way we were within sight of the Cook Inlet and the mountains of Lake Clark National Park and Preserve and its two snow capped volcanoes: Redoubt and Iliamna.
Along the way to Homer, there are a number of very beautiful and charming fishing villiages like Kasilof, Cohoe, Ninilchik, Deep Creek, and Anchor Point---"famous" for being "the most westerly point on the North American continent accessible by a continous road system". Many of these villiages have remnents of its Russian days like the charming Holy Transfiguration of Our Lord Russian Orthodox Church in Ninilchik.
It may have been because we were so unaccustomered to clear blue skies, but all during the drive down to Homer we kept stopping, we kept taking pictures and more pictures, and we kept commenting how amazingly beautiful everything was! And then we finally arrived at the overlook of Kachemak Bay, the town of Homer, and the Homer spit.
Homer really is a town for fishermen. Not being interested in fishing, for us it was just fun seeing all the fishing boats and watching freshly caught fish (often huge halibut weighing over 100 pounds) being brought in and prepared for shipping; and then we enjoyed a typical "fish and chips" dinner. Later we visited the Alaska Islands and Ocean Visitor Center, and then headed back "home" to Sterling.
The Orthodox Church in Ninilchek
| | |
| --- | --- |
| A cove of Kachemak Bay near Homer | Another view of Cook Inlet |
Small Boat Harbor in Homer
Old Kenai (the town)
The next day, we explored the small town of Kenai which not only is rich in history but has a beach. This gave Oliver a chance to swim until he couldn't walk anymore. Later while visting the small boat harbor of the town, we found an eagles' nest. Later after dinner we took a ride down some of the smaller streets near our campground, and almost ran across (and/or into) a moose and her calf! In this part of Alaska, you have to keep looking for moose on the road in the same way we have to keep looking out for deer in New Jersey!
Finally, on July 3rd we left for Summit Lake and the Tenderfoot Campground---a USFS campground just south of Anchorage. We had a campsite right along the lake, and had fun celebrating the Fourth of July surrounded by a lake, small mountains on two sides, and the sound of kids playing on the dirt road and in the campground. (Unfortunately, most of the "campers" we've seen so far are older, retired people like us...and so it was fun having some kids around again!)
Looking across Cook Inlet from Kenai
| | |
| --- | --- |
| Wild dog (aka Oliver) on the beach in Kenai | An eagles' nest in Kenai |
Moose on the road in Sterling
---
Bruce and Sara--Travels in 2008 (Opening Page)
Jan to April 2008---The SAM Shortline in Cordele, GA
April 1st to April 13, 2008---Driving from GA to Big Bend NP, TX
April 14 to April 23, 2008---Driving from Carlsbad Caverns NP to Mesa Verde NP
April 24 to May 4, 2008---Snow in Yellowstone, a Change in Plans, and a Detour to Zion NP
May 4 to May 11, 2008---From Zion NP to Salt Lake City and Glacier, and then to Canada
May 12 to May 16, 2008---Kootenay, Banff, Yoho and Jasper National Parks Yoho)
May 16 to May 25, 2008---The Alaskan Highway---From Dawson Creek, British Columbia to Skagway, Alaska

May 25 to June 7, 2008---Southeast Alaska--Skagway, Sitka, Juneau, and Haines

June 8 to June 21, 2008---Haines Junction, Fairbanks, and Denali

June 22 to July 4, 2008---The Kenai Peninsula: Portgage, Seward, and Homer

July 5 to July 22, 2008---Whittier, Anchorage, Palmer, Valdez Prince William Sound and Wrangell-St. Elias NP

July 23 to July 28, 2008---Driving Down the Cassier Highay: Steward and Hyder

July 29 to August 14, 2008---Driving Home after 13,600 Miles
---
If you want to write to or contact Bruce and Sara, their email addresses are: bruce@schundler.net and/or sara@schundler.net

Return to opening page The Schundler Family

Note: If you have any difficulty downloading or reading these pages, please let me know. Apparenty on some screens, some the the text was running over onto the pictures, and so I have changed the pages in the hope of avoiding this. Please let me know if you have any problems!
bruce@schundler.net