New Orleans
On the Way to Big Bend National Park
Florida, Alabama, Mississippi, Louisana and Texas
---
State and National Parks and Monuments Visited:
Gulf Islands National Seashore
Shepard State Park (MS)
New Orleans National Jazz Historical Site
Sam Houston Jones State Park (LA)
The Alamo (TX)
San Antonio Missions National Historic Park
The Lyndon B. Johnson National Historical Park
Big Bend National Park
Tallahassee and the Gulf Coast
We left the SAM Shortline and Cordele, Ga on April 1st, and our first stop was Tallahasee, FL where Mike's daughter, Jennifer, was playing her masters' recital (clarinet.) She was great! And it was good being able to see her and meet her fiance, Josh. Mike also was there ...and so it was good being able to spend some time together with him too!
From Tallahasee, we drove to the Gulfcoast of Florida and the Gulfcoast National Seashore areas off Pensacola, FL and Biloxi, MS.
After two days of driving up and down and along the coast, we were amazed at how much damage from Hurricane Katrina is still visible. When we lived in Winnetka and Rebecca was only two and a half months, we took a youth group from the church on a workcamp to Biloxi and so we felt we had a connection there. Needless to say, itB has changed! In addition to all the damage from Katrina, gambling has been legalized ....and so along the coast there are many casinos. They have been more or less fixed. But beyond the casinos and all along the coast, there are still many homes that are boarded up, many businesses that haven't recovered, and a lot of areas where former buildings and/or homes have been removed leaving just an empty space and maybe some old footings. It is amazing!
New Orleans, LA
New Orleans National Jazz Historical Site
Because our friend, Harley Sheffield, retired from the National Institutes of Health, he and Joanne can stay on military bases. And so in New Orleans we met up with them and stayed at the Naval Facilities Activities Base right across the river from the French Quarter. Consequently, we were able to easily visit the French Quarter, spent a good long day there, and had fun eating a few beignettes, listening to jazz, and just walking around the streets like all-American tourists!
After leaving New Orleans, we drove around the bayou county south of the city, and then ended up at the Sam Houston Jones State Park in Lake Charles, LA. Sam Houston Jones State Park is a beautiful park located right along a small river with plenty of trails, recreational activities, and a nice campground.
| | | |
| --- | --- | --- |
| Sam Houston Jones State Park | Sam Houston Jones State Park | Sam Houston Jones State Park |
San Antonio, TX
Our next stop was the Alamo in San Antonio where naturally we visited the Alamo and the famous Riverwalk. Just outside town we went to one of the many historical missions that were started by the Spanish. Four of them now are part of the San Antonio Missions National Historic Park.
| | | |
| --- | --- | --- |
| The Alamao | The Riverwalk in San Antonio | The Mission San Jose---part of the San Antonio Missions National Historic Park |
The LBJ National Historical Park
Since former President Lyndon B. Johnson's ranch was just north of San Antonio, we went to see it. It was a spectacular place! After seeing it so many times in news casts during his presidency, it was fascinating being there and seeing everything.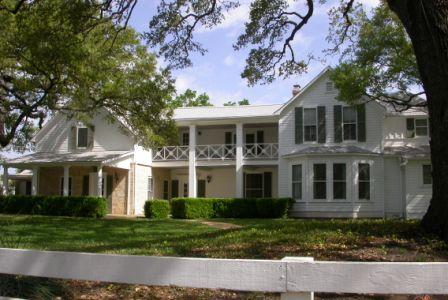 The LBJ Home
Big Bend National Park, TX
We had heard about Big Bend National Park from Brian and several others....and everyone had said we had to visit it sometime. Consequently, we decided to visit it this time since it's not an easy park to visit. Essentially, it's at the very southwest corner of Texas, and you don't just "pass through" Big Bend on the way to anywhere but Mexico.
Nevertheless, we are glad we went!
Big Bend NP is big, it's surprisingly diverse, and it gives you a sense of what the real desert country is like. And yet up high in the middle there's a beautiful forest ofk pinyon pines and Utah junipers.
Part of the biodiversity of Big Bend NP
| | |
| --- | --- |
| One of the many cuts of the Rio Grande River | One of the many impressive views from within Big Bend NP |
Bruce and Sara--Travels in 2008 (Opening Page)
Jan to April 2008---The SAM Shortline in Cordele, GA
April 1st to April 13, 2008---Driving from GA to Big Bend NP, TX
April 14st to April 23, 2008---Driving from Big Bend NP,TX to Mesa Verde NP
April 24 to May 4, 2008---Snow in Yellowstone, a Change in Plans, and a Detour to Zion NP
May 4 to May 11, 2008---From Zion NP to Salt Lake City and Glacier, and then to Canada
May 12 to May 16, 2008---Kootenay, Banff, Yoho and Jasper National Parks Yoho)
May 16 to May 25, 2008---The Alaskan Highway---From Dawson Creek, British Columbia to Skagway, Alaska

May 25 to June 7, 2008---Southeast Alaska--Skagway, Sitka, Juneau, and Haines

June 8 to June 21, 2008---Haines Junction, Fairbanks, and Denali

June 22 to July 4, 2008---The Kenai Peninsula: Portgage, Seward, and Homer

July 5 to July 22, 2008---Whittier, Anchorage, Palmer, Valdez Prince William Sound and Wrangell-St. Elias NP

July 23 to July 28, 2008---Driving Down the Cassier Highay: Steward and Hyder

July 29 to August 14, 2008---Driving Home after 13,600 Miles
---
If you want to write to or contact Bruce and Sara, their email addresses are: bruce@schundler.net and/or sara@schundler.net

Return to opening page The Schundler Family

Note: If you have any difficulty downloading or reading these pages, please let me know. Apparenty on some screens, some the the text was running over onto the pictures, and so I have changed the pages in the hope of avoiding this. Please let me know if you have any problems!
bruce@schundler.net