Southeast Alaska
Skagway, Haines, Sitka and Juneau
May 25 to June 7, 2008
---
State and National Parks and Monuments Visited:
Klondike Gold Rush National Historical Park (Skagway, AK)
Sitka National Historical Park (Sitka, AK)
Mendenhall Glacier Center (Juneau, AK) (U.S. Forest Service)
Skagway, Alaska
We stayed in Skagway for four nights..."camping" (in the Pursuit) in a campground that was right at the edge of the harbor. From our "dining room" windows or by just stepping outside the Pursuit, we had amazing views of the town, the harbor, the many cruise ships, and all the people streaming from the ships to the town and back. Needless to say, there was a lot of activity around us, since most days there are at least three to five cruise ships that dock at Skagway,.. and yet it was fun being there!
Like many tourist in Skagway, our first stop was the Klondike Gold Rush National Historical Park. The park was created in recognition of the thousands of men and women who rushed to Alaska in 1897-1899 on their way to the Klondike gold fields in Dawson Creek (Yukon Territory, Canada).
Approximately 100,000 Americans rushed to Alaska in those year, over 30,000 ended up in Skagway or Dyea and went through the Chilkoot Pass or White Pass on their way to Bennett Lake---the start of the Yukon River. In the end, not many found gold and those who became rich usually were those who "mined the miners". Nevertheless, the Gold Rush established Seatle as a major American port, it put "Alaska on the map" for many Americans, and it was an experience that became a very important part of the "American experience."
In addition to visiting the historical park and hiking through parts of the Dyea section of the park, we also took the White Pass and Yukon Route Railroad---a narrow guage railroad that goes from Skagway up to Whitehorse in the Yukon Territory. Needless to say, building the railroad was an amazing engineering feat, and it continues to be one of the leading tourist attractions in Skagway.
After enjoying Skagway, we then left for Haines, AK on the Alaskan Marine Highway.
| | |
| --- | --- |
| The Pursuit on the ferry enroute to Haines, AK | On the way to Sitka,AK |
The Alaskan Marine Highway is an interesting collection of ferries that more or less connect southeast Alaska. Most of the towns and villages in this part of Alaska cannot be accessed by roads from the mainland, and like Juneau, the capitol of Alaska, access is by boat, ship, or airplane. Although Skagway and Haines are connected by highways to the Alaskan Highway, we took the Pursuit on the ferry from Skagway to Haines because the distance by ferry was only six or seven miles, whereas to drive back up to the Alcan and then back down to Haines would have been almost 350 to 400 miles.
Our plan was to go to Haines, find a place to store the Pursuit, and then leave for Sitka and Juneau by ferry with just the car---and that's what we did.
In Haines we found an inexpensive and enclosed storage facility where we not only stored the Pursuit for several nights while we ferried to Sitka and Juneau, we also "camped" in it the first night so we could catch an early ferry to Juneau and Sitka, and then on the last night when we returned very late on a ferry from Juneau
Camping in a storage building was interesting. We had slowly gotten more and more accustomed to sunsets at 10 PM or later, and sun rises between 3 and 4 AM. But in the storage building, it was suddenly dark---almost like we were in Alaska in the middle of the winter! Nevertheless, camping in the building was good, it made getting to the ferry early in the moring much easier, and it eliminated the need to find a place to stay at 10 PM when we got back from Juneau.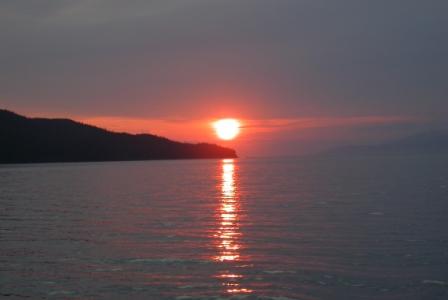 Views from our all night ferry
between Juneau and Sitka
Sitka, Alaska
Sitka was once the Russian capitol of Alaska, and then the American capitol for a short time. Consequently, it's an interesting mixture of Tlingit, Russian, and American culture. Naturally, we visited the Sitka National Historical Park which does a good job of explaining all the history and background to the town, and which also has preserved one of the last four remaining Russian buildings in Alaska--the former bishop's house.
We also were lucky to be in the park when some young Tlingit children had pictures taken of them in preparation for an all state "Celebration" in Juneau. This annual "Celebration" is a time when adults and children representing tribes from all over Alaska come to Juneau to dance, share histories, and relate experiences. We missed the actual event in Juneau, but did get to see some of the children in their costumes.
While in Sitka, we camped in our tent....and enjoyed all the experiences of tent camping again! Unfortunately, in Sitka our site was perfect, we almost felt we were in an enchanted forest, but the weather was cold and cloudy! Nevertheless, it was fun, it helped us remember many days of tent camping in the past, and it reminded us of all the advantages of traveling in the Pursuit!
| | |
| --- | --- |
| Part of the Celebration in Sitka | Tent camping in our enchanted forest |
| | |
| --- | --- |
| An inlet in Sitka | Views of Sitka Harbor from the "Castle" |
Starrigavan Park outside Sitka
Juneau, Alaska
After three days and two nights in Sitka, we left on another ferry to Juneau. Unfortunately, it was cold and cloudy on the day we left for Juneau, it continued to be cold and cloudy and rainy on the two days we were there, and consequently, we didn't take many pictures.
Nevertheless, the most amazing place tourist site in Juneau is the Mendenhall Glacier....which is virtually right behind the town.
| | |
| --- | --- |
| Mendenhall Glacier | Mendenhall Glacier |
Mendenhall Glacier is approximatley 12 miles long and one and a half miles wide, and it's one of 38 glaciers that begins in the Juneau Icefield above it. Like most of the glaciers in Alaska, it's receding and has been for over 250 years. Nevertheless, it's impressive, it's fascinating, and it's history is interesting.
For us, it was especially interesting that the Mendenhall Glacier developed not during the much older Wisconsin Ice Age 10,000 years ago, but during the much more recent "Little Ice Age" and that most of what we see today developed around 1300 and started to recede in 1750. In fact, we heard there's a Tlingit story that says the people had to leave the area around 1300 because of the growing glacier.
This was particularly interesting since most of the people left the Mesa Verde cliff dwellings in 1300 too---and perhaps it was for the same reason: a dramatic change in weather resulting in a climate that was too cold to sustain their traditional means of support.
Haines, Alaska
After two very cold and wet nights in Juneau, we took damp things and very wet tent back to Haines on the ferry. And fortunately for us, the weather changed, in Haines we saw blue skies for the first time in days, and we were able to rest and relax for several days.
Haines, Alaska
One of the Rangers at Mesa Verde had been a teacher in Haines for many years, and so he had told us about it and about what it was like living in Alaska for so many years. What he didn't tell us was how beautiful Haines is! It's still very small, relatively untouched by the cruise ships and tourist industry, and still very friendly. Every one waves when you drive by, we had nothing but the best of experiences with the family who owned and operated the storage facility we had used, and we were greeted warmly when we returned and moved the Pursuit to an RV site in town.
Once again, we are "camping" right on the edge of the water! From our front windows we can look out onto the Lynn Canal and look for whales (of course, we haven't seen any from here), we can watch the clouds work around the snow capped mountains across the canal from us, and we can watch as boats and ferries go back and forth in the very small harbor!
Needless to say, we're enjoying ourselves here!
---
Bruce and Sara--Travels in 2008 (Opening Page)
Jan to April 2008---The SAM Shortline in Cordele, GA
April 1st to April 13, 2008---Driving from GA to Big Bend NP, TX
April 14 to April 23, 2008---Driving from Carlsbad Caverns NP to Mesa Verde NP
April 24 to May 4, 2008---Snow in Yellowstone, a Change in Plans, and a Detour to Zion NP
May 4 to May 11, 2008---From Zion NP to Salt Lake City and Glacier, and then to Canada
May 12 to May 16, 2008---Kootenay, Banff, Yoho and Jasper National Parks Yoho)
May 16 to May 25, 2008---The Alaskan Highway---From Dawson Creek, British Columbia to Skagway, Alaska

May 25 to June 7, 2008---Southeast Alaska--Skagway, Sitka, Juneau, and Haines

June 8 to June 21, 2008---Haines Junction, Fairbanks, and Denali

June 22 to July 4, 2008---The Kenai Peninsula: Portgage, Seward, and Homer

July 5 to July 22, 2008---Whittier, Anchorage, Palmer, Valdez Prince William Sound and Wrangell-St. Elias NP

July 23 to July 28, 2008---Driving Down the Cassier Highay: Steward and Hyder

July 29 to August 14, 2008---Driving Home after 13,600 Miles
---
If you want to write to or contact Bruce and Sara, their email addresses are: bruce@schundler.net and/or sara@schundler.net

Return to opening page The Schundler Family

Note: If you have any difficulty downloading or reading these pages, please let me know. Apparenty on some screens, some the the text was running over onto the pictures, and so I have changed the pages in the hope of avoiding this. Please let me know if you have any problems!
bruce@schundler.net