Late April to early May, 2008
Snow in Yellowstone, a Change in Plans, and a Detour to Zion NP
---
State and National Parks and Monuments Visited:
Natural Bridges National Monument
Glen Canyon National Recreation Area
Capital Reef National Park
Grand Staircase-Escalante National Monument
Bryce Canyon NP and Red Canyon
Zion National Park
We left Mesa Verde NP thinking that we would go to Natural Bridges NM, Capitol Reef NP, and then on to the Grand Staircase-Escalante NM; and then we were going to head towards Salt Lake city, Yellowstone, and Canada. But plans change!
While we were at Mesa Verde, we found that one of our friends had just left to go work in the Canyon District of Yellowstone NP......and so we called Tammi. Unfortunately, she told us that they had just had three or four inches of new snow on top of four inches earlier in the week, and that the weather forecast was not good----more snow, more cold days, and some single digit evenings. While we were prepared for cold days, we were not ready for snow and single digit temperatures in the evenings. With the Pursuit, we've had many cold nights, and the plumbing has done well even when the temperatures get into the 20's. But we didn't want to test how cold it could get before our plumbing lines and tanks began to freeze up.
And so after checking again with Tammi a few days later and hearing that Yellowstone was having more of the same cold weather, we changed plans and headed south to Zion NP....one of our favorites. And we stayed there for six nights just hoping the weather would change in Yellowstone while we were waiting we could have a great time hiking, riding bikes, and just relaxing!
And so on April 24th, we left Mesa Verde NP, and headed west and southwest towards Zion NP.
Natural Bridges National Monument (UT)
Our first stop was Natural Bridges NM. We had visited Natural Bridges last summer....but on that day it was one of the only days all summer that we had cloudy, rainy weather all day.....and we just couldn't do or see as much as we had hoped.
Natural Bridges is a small park with a loop drive that passes three very impressive natural bridges of stone and a lot of beautiful canyons and valleys. The Sipapu Bridge, Kachina Bridge, and Owachomo Bridge can all be seen from the road, but visitors can also hike down to them, walk around and through them, and walk through a number of wonderful canyons and slot canyons.
And in the end, we were glad we returned! The "bridges" were impressive, and we took a very nice hike down to Kachina Bridge and along its canyon valley.
| | |
| --- | --- |
| Natural Bridges | Sara Driving the Pursuit near Natural Bridges NM |
Glen Canyon National Recreation Area (UT)
Although we didn't stop there except to take some pictures, between Natural Bridge NM and Capitol Reef NP, we did pass through the very beginning of the Glen Canyon Recreation Area.
Glen Canyon NRA
Capitol Reef National Park
From Glen Canyon NRA we continued heading west to Capitol Reef NP which really surprised us! There are so many National Parks and National Monuments in this part of the country, and they all are similar in some ways----they all are part of the huge Colorado Plateau, they have years and years of erosion creating beautiful valleys and canyons and flatlands, and they are huge and vaste and overwhelming! But Capitol Reef was far more impressive and beautiful than we ever imagined!
Compared to many of the other western parks, it's relatively small---or at least the part that is easily accessible is small. And yet, what we could see was beautiful and we were glad we were able to spend three days and nights there!
We also were impressed by the National Park staff at the park! At so many National Parks, the Rangers have seemed a little bored, a little less than enthusiastic about what they were doing, and not nearly as outgoing or friendly as we would have expected. At Capitol Reef, that wasn't the case! Everyone from the Chief of Interpretation, Riley Mitchell, who greeted us at the front desk when we arrived, to those who worked in the book store were friendly, helpful, outgoing, and engaging! To be sure, we shared with them that they "won the award" as the best staff we had seen after many, many National Parks!
| | |
| --- | --- |
| Capitol Reef NP | A sunset at Capitol Reef NP |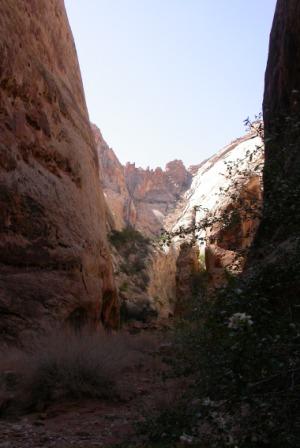 One of the slot canyons we hiked at Capitol Reef
Grand Staircase-Escalonte National Monument
The Grand Staircase-Escalante National Monument is immediately west from Capitol Reef NP. It was the first National Monument created to be managed by the Bureau of Land Management (BLM). And it's huge! The park consists of over 1.9 million acres, it has miles and miles of natural, unspoiled and seldom visited areas, and along one side of it, there is a 124 miles scenic highway that runs across an area ranging in elevation from 4,000 feet to 11,000.
It's barren, it has lots of places to hike and explore, and we easily could have spent a lot more time there. But having spent three days hiking in Capitol Reef NP, and having changed our plans to go to Zion NP instead of heading immediately towards Salt Lake City and Yellowstone, we decided to keep driving!
Bryce Canyon NP and Red Canyon State Park
Again, we didn't stop at Bryce Canyon NP since we had been there just two years ago. Nevertheless, we drove through it, and then on through Red Canyon
We had to stop to take a picture of the Pursuit and our car just before one of the Red Canyon tunnels, since we had taken a similar picture two years ago when we drove through this area in a "Cruise America" rental RV. That was our "test" to see if we could survive RV living, and to see what options we wanted if and when we bought one.
Red Canyon near Bryce Canyon NP
Zion Canyon National Park
Zion Canyon National Park has always been one of our favorites....and one of the parks we often said we had wanted to visit again. And so when we decided to "head south" instead of rushing on to Yellowstone, it was a fairly easy decision to head to Zion Canyon NP.
Essentially, Zion Canyon NP is a very large canyon that was cut through thousands of feet of sandstone by the Virgin River. It's beautiful, its impressive, and it offers lots of exciting and wonderful hikes. And so we stayed here for six nights!
Besides hiking up to the three Emerald Pools and the Narrows, we also wanted to try getting to the top of Angels Landing. Angels Landing is a 5 mile RT trail that goes up 1488 feet. What makes the trail exciting is that the last half mile follows a steep, narrow four foot ridge with drop offs of over 1500 to 2000 feet on either side. It has chains along some of the trail, but not all of it! We got to what's called the "Scouts Lookout", surveyed the last half mile, and decided to stop, have our lunch, and just watch others finish the trail. Nevertheless, from where we were at Scouts Lookout we still could look down the canyon on several sides---and it was amazing!
We also had fun at Zion riding our new collapsible bikes. They are seven speeds bikes that fold up so that two of them can fit in one of the Pursuit's storage lockers. Of course, on our first day out we decided to ride all the way up to what's called the "Narrows" .....and then just as we were ready to "coast" all the way back to the Watchman Campground and Visitor's Center, Bruce's bike got a flat tire from a very small thistle. Fortunately, visitors can take bikes on the buses that transport everyone up and down the canyon....and so we caught a bus back "home" and decided it was time to invest in some tire patches!
We ended up spending six nights at Zion NP, we enjoyed every day of our "change in plans", and we look forward to someday coming back! (Maybe then we'll be able to finish the Angels Landing trail!)
| | |
| --- | --- |
| Zion Canyon NP | Zion Canyon NP |
Scouts Lookout at Zion Canyon NP

The last half mile of Angels Landing
which we decided we would not try to climb!
By the way, earlier in our trip, Bruce had decided that it made sense to get a crewcut. Brian had cut his hair very short several years ago, Bruce has been getting shorter and shorter haircuts, and now that we were more or less on our own and away from civilization, it just made sense to have shorter hair. (Of course, the good news is that Bruce still has the option of having shorter hair....e.g. he still has hair that needs to be cut!)
And so we bought an electric hair cutting set, and while relaxing at Zion, Sara rolled up her sleeves and took care of things with a No. 2!
---
Bruce and Sara--Travels in 2008 (Opening Page)
Jan to April 2008---The SAM Shortline in Cordele, GA
April 1st to April 13, 2008---Driving from GA to Big Bend NP, TX
April 14 to April 23, 2008---Driving from Carlsbad Caverns NP to Mesa Verde NP
April 24 to May 4, 2008---Snow in Yellowstone, a Change in Plans, and a Detour to Zion NP
May 4 to May 11, 2008---From Zion NP to Salt Lake City and Glacier, and then to Canada
May 12 to May 16, 2008---Kootenay, Banff, Yoho and Jasper National Parks Yoho)
May 16 to May 25, 2008---The Alaskan Highway---From Dawson Creek, British Columbia to Skagway, Alaska

May 25 to June 7, 2008---Southeast Alaska--Skagway, Sitka, Juneau, and Haines

June 8 to June 21, 2008---Haines Junction, Fairbanks, and Denali

June 22 to July 4, 2008---The Kenai Peninsula: Portgage, Seward, and Homer

July 5 to July 22, 2008---Whittier, Anchorage, Palmer, Valdez Prince William Sound and Wrangell-St. Elias NP

July 23 to July 28, 2008---Driving Down the Cassier Highay: Steward and Hyder

July 29 to August 14, 2008---Driving Home after 13,600 Miles
---
If you want to write to or contact Bruce and Sara, their email addresses are: bruce@schundler.net and/or sara@schundler.net

Return to opening page The Schundler Family

Note: If you have any difficulty downloading or reading these pages, please let me know. Apparenty on some screens, some the the text was running over onto the pictures, and so I have changed the pages in the hope of avoiding this. Please let me know if you have any problems!
bruce@schundler.net