Glacier NP--A Very Special Place!
Driving Home (after 13,600 miles)
via Glacier NP, Effigacy Mounds National Monument, Minneapolis, and Illinois
July 29 to August 15, 2008
---
State and National Parks and Monuments Visited:
Mt. Robson Provicial Park
Banff and Jasper National Parks
Glacier National Park
Theodore Roosevelt National Park
Effigacy Mounds National Monument


Jasper and Banff
Maligne Lake near Jasper
After driving down the Cassier Highway, we headed towards Jasper and Banff National Parks, and the U.S./Canadian border.
Having been in Jasper and Banff on the way to Alaska, it was fascinating being there just a few months later. The snow was gone, the leaves were out, and it was the middle of summer! What a difference!
Nevertheless, winter or summer, Jasper and Banff are amazing, beautiful, and among our favorite parks in North America! While visiting there this time, we hiked up to and around half of Maligne Lake....one of the many wonderful hikes just outside the village of Jasper and the largest glacial fed lake in the Canadian Rockies. Of course, Oliver loved it because we could let him off the leash and he could run and swim and do almost anything he wanted for several hours (and when we were done, he could hardly get back into the car.)
Back to the U.S. and Across the border!
Our last two days in Jasper and Banff were fairly cloudy and cold, and on the last day it was cold and raining....and then we headed "down the mountains" towards Calgary, and suddenly it cleared up, the temperature went up 20 degrees, and it felt like summer again (or should we say, FINALLY!)
Eventually we arrived at the border, and crossed back into Montana. After a number of border crossings all summer, this was the first time we had to wait for almost an hour and had an inspector come "on board" to check our motorhome. Nevertheless, When we left we felt good to be back in the "lower 48" and on our way home!
Approaching the U.S. Border
Visiting Glacier NP Again
As you can see, camping in Glacier is very special! The campgrounds are beautiful, they are surrounded by amazing mountains and incredible landscapes, and the sunsets are spectacular.
We spent a few days just exploring, going up and over the "Going-to-the-Sun Road", and visiting the West Entrance area and Lake McDonald again.
On our last day in Glacier, after going over the Logan Pass, passing around Mt. Oberlin, and spending an hour letting Oliver swim near the McDonald Falls on the west side of the park, suddendly our old and faithful Subaru Forrester with over 240,000 miles wouldn't start. We got a jump, it got us back up the Logan Pass so we could get back to our campground, but then the engine kept stopping again (apparently, the battery was completely dead, and while "coasting down the hill, the alternater wasn't giving enough power to keep the engine running.... which runs the power assisted steering and brakes. And so we had fun! Eventually we got down the hill, but the car died again right at the entrance to the campground; but with a "jump" from a friendly Park Ranger, we got back to the Pursuit---and then began to think that maybe it was time for a new car! (Postscript---after getting a new battery, our old Forrester did get us back to N.J. And a few months later we bought a new Subaru Forrester.)
Camping at Glacier NP
Camping at Glacier NP
Iowa, Minnesota, and Illinois
After Glacier NP, we more or less began heading straight home....going through Theodore Roosevelt NP then heading to Minneapolis to visit an old high school friend of Sara's.
After two days of exploring Minneapolis ---which included passing by the Fitzgerald Theater (the usual home of the Prairie Home Companion), we headed towards Effigy Mounds National Monument in Iowa.
There are American Indian earthen mounds throughout the country, and many of them have been preserved...but Effigy Mounds National Monument in Iowa is largest group of mounds in one location in North America, and probably is the most preserved and protected. It's history is not completely known, the reason for the mounds is still a little unclear, and they raise many interesting questions. For us it was particuarly interesting that the Indians who built the Effigy Mounds and lived near them seem to have left around 1300 A.D. and around that time "effigy moundbuilding in norrthest Iowa ended." (NPS website) Almost all of the Indians left Mesa Verde around 1300 A.D. too---so what happened then that affected people across North America from the mesa tops of Mesa Verde to the river valleys of the Mississippi?
The mighty Mississippi River
From Iowa, we drove along the "mighty Mississippi" for awhile....on our way to llinois to visit old friends and the Winnetka Congregational Church where Bruce worked for two years as one of the associate ministers.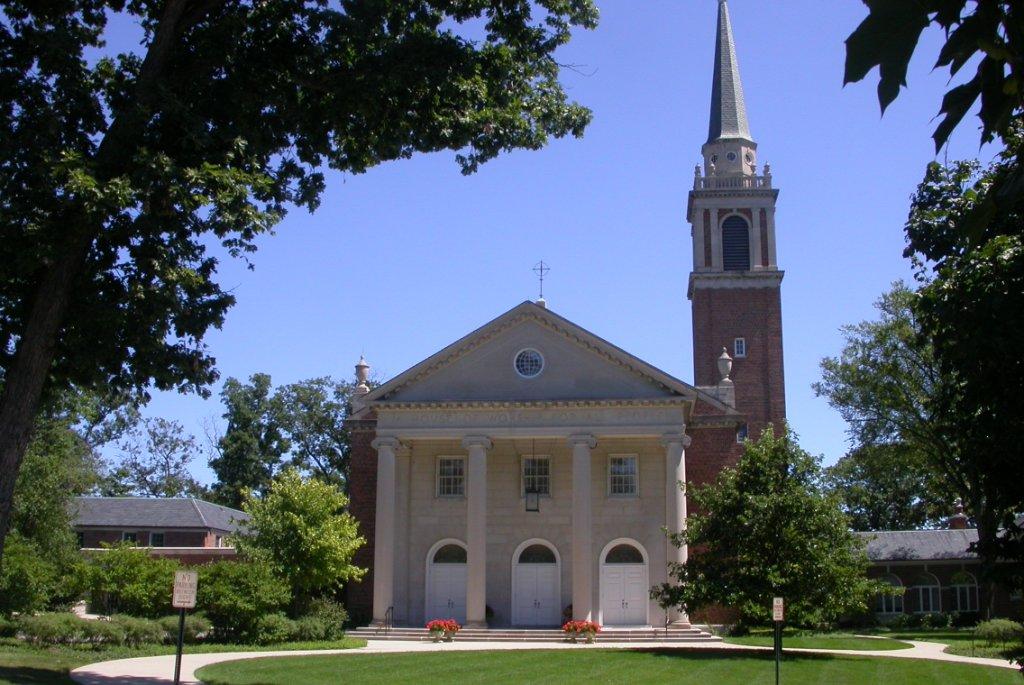 Winnetka Congregational Church in Winnetka, IL
After 13,600 miles, Home Again!
Welcome Home!
(sign from Kim and Beth and family)
Finally after traveling 13,600 miles since leaving Bedminster in January, we drove up the hill to Four Oaks Road on August 14th, and we were home!
Our trip was great, we had had fun, we had accomplished what we had hoped to do and saw almost everything we had hoped to see....and finally we were home. And it felt good!
---
Bruce and Sara--Travels in 2008 (Opening Page)
Jan to April 2008---The SAM Shortline in Cordele, GA
April 1st to April 13, 2008---Driving from GA to Big Bend NP, TX
April 14 to April 23, 2008---Driving from Carlsbad Caverns NP to Mesa Verde NP
April 24 to May 4, 2008---Snow in Yellowstone, a Change in Plans, and a Detour to Zion NP
May 4 to May 11, 2008---From Zion NP to Salt Lake City and Glacier, and then to Canada
May 12 to May 16, 2008---Kootenay, Banff, Yoho and Jasper National Parks Yoho)
May 16 to May 25, 2008---The Alaskan Highway---From Dawson Creek, British Columbia to Skagway, Alaska

May 25 to June 7, 2008---Southeast Alaska--Skagway, Sitka, Juneau, and Haines

June 8 to June 21, 2008---Haines Junction, Fairbanks, and Denali

June 22 to July 4, 2008---The Kenai Peninsula: Portgage, Seward, and Homer

July 5 to July 22, 2008---Whittier, Anchorage, Palmer, Valdez Prince William Sound and Wrangell-St. Elias NP

July 23 to July 28, 2008---Driving Down the Cassier Highay: Steward and Hyder

July 29 to August 14, 2008---Driving Home after 13,600 Miles
---
If you want to write to or contact Bruce and Sara, their email addresses are: bruce@schundler.net and/or sara@schundler.net

Return to opening page The Schundler Family

Note: If you have any difficulty downloading or reading these pages, please let me know. Apparenty on some screens, some the the text was running over onto the pictures, and so I have changed the pages in the hope of avoiding this. Please let me know if you have any problems!
bruce@schundler.net