Bruce and Sara as National Park Rangers at
Mesa Verde National Park
Lots of Sunsets and Other Beautiful Cheap Shots!
---
Throughout the summer, we were treated to dozens of beautiful sunsets, a few sunrises, and hundreds of just beautiful views with the sunny background. Here's just a sampling of some of the best!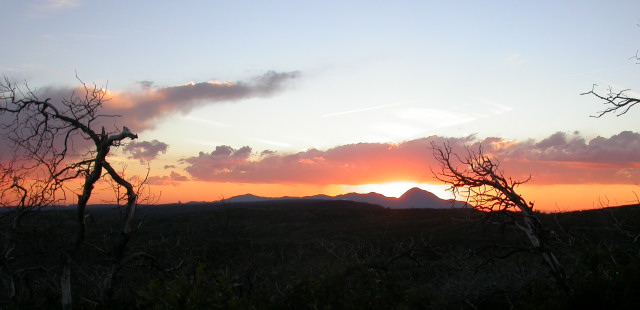 Sunset of Sleeping Ute Mountain ---a view we had while driving home almost every day!
Sleeping Ute Mountain is just to the west of Mesa Verde National Park. If you look carefully and use your imagination, you can see the Ute sleeping on his back with his head to the right, his folding arms higher than anything else, and his toes at the very end on the left side. We would see the Sleeping Ute Mountain every day on the way to and from work....and often were treated to fantastic sunsets!
We also had many afternoons when the combination of the afternoon sun and the angles of the shadows would make the cliff dwellings even more impressive! Here are some pictures from Spruce Tree House and Cliff Palace where we spent many afternoons.
Pictures of Spruce Tree House late in the afternoon...when the sun and shadows were just right
Cliff Palace is always spectacular....and in the late afternoon, it was at its best!
More than half of the Park has burned during the last ten years. In some areas, there's been some recovery, but in other areas there's nothing but lots of burned pinyon pines and Utah junipers.
Sometimes we were treated to great views at night....especially the night of the moon's eclipse!
The moon during its total eclipse of 2007
As you can see, we are still having fun, we still enjoy each day, and we still feel very, very lucky to be here!
---
Go to the next page..... Some Final Thoughts After a Wonderful Summer!
Return to opening page Bruce and Sara at Mesa Verde National Park
---
If you don't want to receive these updates or know of anyone who should be included, please let us know!