On top of the AT

From his various phone calls and brief messages, all is going well with Brian! So far, he's been lucky! The weather continues to be great, he continues to enjoy the people he has met, and he still feels he has just the right amount of equipment!

Fortunately, Brian did take his good camera. All of these pictures were taken by him during the last two weeks, and give us just a little bit of an idea of what he is experiencing every day from the ridges of the AT.

Although it was only the first state border he crossed, Brian was excited to cross into North Carolina.

This also was close to some of the most difficult sections of the trail where he said they didn't waste any time with switch-backs---instead the trail went straight up the mountains and and back down making each day quite hard and exhausting. Each day he seems to be traveling an average of 13-15 miles---planning his days so that he will be in a shelter at night.

During this part of the trip, Brian doesn't have his tent with him and so at night he heads for either an outdoor shelter on the AT, or occasionally goes into "town" to a hostel.

Lodging, Hostels, and Shelters Along the Trail

Along the AT, there are many shelters built by both local AT hiking clubs and groups, and by the National Park Service. They range in size and design from those which are no more than a three sided hut completely open on one side, to those in the Great Smokey Mountain National Park where they have four sides and a door or gate which has to be closed at night to keep out the bears.

Later on he talkes about staying at Deep Root Shelter, one of the nicest he stayed in, and Low Gap Shelter. In addition, there are a number of "hostels" like Blueberry Patch which families and individuals maintain for AT hikers looking for something between the ground and a Hilton.




Almost like a Hilton!
The Blueberry Patch Hostel for instance, is similar to many along the way---they offer inexpenisve lodging ($5-15/night) which includes bedding, maybe dinner and breakfast, and a shower.
But most of all, they provide a place where hikers can rest, enjoy the warmth of being indoors for a night, and maybe find a shower.
Although showers are becoming less and less important (today Brian said he had his first shower in 11 days!), they still are appreciated---if not by the hikers themselves, by all those around them!
---
Brian's Journal
Wednesday, Feb 23, 2000 ~13 miles today/ 41.3 from SM: After a quick hike down Blood Mtn. to get to Neal's Gap in order to call Jaimie before she left for class---a good 2-way conversation with her, a stop at the store, a new mail drop , a few snacks, and seeing myself in a mirror, I finally got back on the trail around 11. It was good talking to Jamie. I was afraid I'd just be leaving messages for the next 3 months. But she sounded good, and that makes me happy. The store wasn't at all what I expected. More like a New England yuppie store than a backwoods southern shop. But it served its purpose.
But anyway, after Neals Gap the trail got up on a ridge and stayed there for the majority of the day. Some nice views, and besides a handful of steep ups and steeper downs, the hiking was fairly easy. So far my body is feeling great. I'm feeling strong and my feet are doing pretty good. No real blisters, but some hot spots. I'm hoping they'll turn into calluses in a week or so. I'm going to take an easy day tomorrow, both to let my body rest, and also t get back on my schedule.
I'm at Low Gap Shelter, and I like the area. A nice little spot nestled in a gap with a little stream trickling down in front of the shelter. I've spent last night and tonight with the two guys from Michigan, and I'm finding they're not as bad as I first thought. I think we're ahead of the bunch of hikers who started last weekend but we're still behind the hikers who started a week ahead of us. The lady at Neal's Gap said ~60 thru-hikers have already been thru there.
I'm realizing that a thru-hike is just a series of short goals. My first was Neal's Gap, now I'm looking ahead to either the Blueberry Patch in two days or the Rainbow Campground in four. I'm more than halfway thru GA, so my next goal is the Tennessee border. All right, time for bed. O...last night a friendly skunk was checking us out in the shelter. Pretty arrogant little bastard. And with a skunk you can't really shove it away, you just hang on to your gear, bunker down in your bag, and let the little bugger play. Good night again.. Billy Goat.
Thursday, Feb 24,2000~7.2 miles/66 miles from SM: Today had the range of emotions. I slept in and had a long, relaxing morning. At Low Gap I like that spot a lot with the stream and all. And after a nice bit of R&R, I hit the trail around 11. It was an easy 5 miles, then 2 good miles of great hiking. But anyway, I got here by 2 and had nothing to do. so I started getting a little stir crazy and bored. Then when I thought I would go crazy, "Tom Horn" walks in.
Tom Horn is an old man and about as loony as they come. He hikes 2 months each spring and 2 more each fall, and all together has hiked the AT 8 times. He talks thru his thought process, and it seems he's losing his mind a bit. But he is great company with top-notch trail reports and stories (if they're all true.) My favorite lines have been , "Well McCain's a fascist, and Bush don't know his thumb from his asshole." And my favorite, "there's just a lot of rolls of FAT in the United States."
I think he just tends his garden in Tennessee when not hiking. He is what the trial is all about. OK, since he's been taking my ear off while I've been trying to write this, I'll just end it here. Goodnight BG P.S. I'm armed with a sawed off broom to fend off the mice!!
Deep Gap Shelter
Friday, Feb 25, 2000~15 miles Well, this is as good as it gets. After a long day I'm just getting into Deep Gap Shelter which is absolutely beautiful. Built in 1991, it has 2 floors with a loft on each side of the ladder that goes up from the middle of the shelter. There are good poles, a nice privy, good spring, huge deck with bench, bar and overhanging roof, and a picnic table! I'm in heaven!
Today was tough with huge climbs out of Umcoi Gap, up Tray Mtn., and up Kelly Knob. But it was a great day none the less. I had lunch with Tom Horn up on Tray (I love the guy more with every new phrase). Anyway, a woman came by who had thru-hiked with Tom in 1988, and it was really neat to see their little hiker reunion. Her name was/is "Light Eagle," and I'm meeting her tomorrow at 9 at Dicks Gap for a ride to the Blueberry patch. She's been living in Hiawasi for a year, and is currently putting Bibles in all the nearby shelters. She's by no means over-bearing, and she had some great hiking stories. She reminded me of Mrs. Bellows, just real sweet and sincere. She got me thinking about some religious/spiritual issues which I'll get into at a later date.
Tom just got in, limping and hollering. I found out today that he lives in Tennessee with his folks, and works their three gardens during the growing season. They pretty much grow enough for themselves, and can and preserve enough for the winter months. Interesting sort of idealic life. At least from my perspective. I'm not sure how he feels about it, but since he's away hiking for four months out of the year, he must not be overly satisfied.
I haven't passed any long distance hikers in 2 days now (besides Tom). Just a handful of day hikers and an old Georgian chewing tobacco with his gums and three teeth, waiting for his buddy to go grouse hunting. I was surprised that no one caught up with me at Blue Mtn. yesterday. They must have gone to Goose Creek Cabins or something. Tomorrow I'm only going about 4 miles to the Dicks Gap, then I'll take an easy day at the Blueberry Patch Hostel. I'll get clean, clean my clothes, eat some food, get some food, and be good as new. Hot Damn! sounds like a plan!
O.K.---I'm going to go get some water and make some dinner.
I'm back now for the pre-bed read and write. Tom made me a cup of mushroom soup, then a cup of his garden soup. Very good!. With my bread we had a nice meal. He's been good company, and I'll be sad to leave him tomorrow. If I stayed on the trail I'd be with him for quite awhile. Anyway, even though the shelter is great, the mice like it too. Till tomorrow. Billy Goat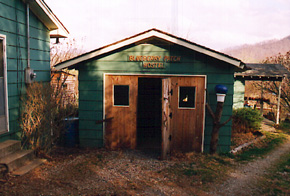 The Blueberry Patch Hostel

Saturday, February 26, 2000 Well this is almost too good to be true! I'm laying out in the sun win the yard of the Blueberry Patch Hostel, freshly bathed, sweet smelling, and just enjoying a beautiful day with the songbirds. It feels like summer time. I woke up early this morning around 7 or so, and ran down to Dicks Creek Gap to meet Light Eagle. I said good-bye to Tom Horn, but he assured me that we'd meet up again during the Smokies. I'd like that. Anyway, Light Eagle met me with donuts and gave me a ride down to Hiawasse.

It's funny to be dropped off like that in the middle of a town. with no bearings, just knowing that there's a dozen things you have to get done, but not really being able to do them because you're so overwhelmed by being in a TOWN. The folks there are real sweet people. Everyone knows each other, and they're real friendly towards each other, and just as friendly to strangers. I ate lunch at Johnny's Restaurant where I got an interesting version of a turkey club. Dirt cheap though, so I can't complain. Then I just got some candy bars and Ingle's , not falling into the trap of buying too much food, even though I was tempted. I'm sure my back and shoulders will thank me later. But I tried to find an optometrist (I was stupid enough to roll over onto my glasses last night, breaking one arm) but they weren't open on the weekend., so I'll get some duct tape out later tonight.

I stopped by the public library and checked and wrote some emails. After some more business and a good talk with Mom, I got a ride from an older couple to the Blueberry Patch. This place is great!! It's a little farm with a bunkhouse for 7 guests next to the farmhouse. There are straw mattresses and a little cooking area, all of which is surprisingly clean and very "homey" feeling.

(Brian's E-MAIL sent Feb. 26, 2000 from the Hiawassee Public Library--Georgia)

hey guys, how are you doing. i'm writing this from the hiawassee public library. i'll be staying at the blueberry patch hostel tonight, and enjoying my first night off the trail, shower, and laundry services.

this town is classic. every one knows everyone else, and if they don't know you, they make an effort to meet you. i met a woman who thru-hiked in '88 on tray mountain yesterday, and we arranged to meet me at dick's gap this morning for a ride into town. i've gone about 70 miles, and will cross my first state border my next day on the trail.

unfortunately i rolled onto my glasses last night and broke an ear piece, and the optomitrist is closed on the weekends, but i'm sure some duct tape will fix them good enough till franklin or bryson city.

all is well with me though. i've had ideal weather, up in the upper 60's during the day, and only down to about 40 at nights. i'm just waiting for my luck to run out.

i spent the past couple of days hiking with tom horn, who is one of the craziest people i've ever met. he's a sustenance farmer in tennesee when he's not one the trail, but he's out here 4 months every year for the past 18 years.
Tom Horn

he's funny, he's got the whole trail up in his head, memorizing distances and everyone he's met, but he can't remember what he's doing all the time, and misplaces things and thoughts all the time. he sort of thinks out loud like uncle john used to do. i'm not sure what he's running away from, but i just know that he was drafted to vietnam when he was my age, and he was never quite the same when he got back. last night at the deep gap shelter, which is the nicest shelter i've ever seen, he got the idea that he would recreate it as a tree house, so that he wouldn't have to pay home owners taxes, just land taxes. he's a trip though, and i loved his company. he liked me a lot, and he says he'll try to pass me in the smokies. it's funny to think that that crazy bastard has hiked more miles on the AT (8 times at least, and thousands of miles on the same sections) than wingfoot or any other self proclaimed hiking gurus. he's met them all and likes em, but there all a "little bit self-rightoues." my favoritte line, when talking about politics, was, "well, mcaines a facist, and bush don't know his thumb from his asshole; but gore's liable to get himself shot. so i think i like bradley, he was a hell of a basketball player, lanky little guy though." and he would go one for a nother ten minutes.

anyway, i'm feeling strong as ever, doing 15 or 13 miles a day. apparently north carolina gets tough, and i'll probably be hitting some bad weather, but i'll take it as it comes. ok. i'm going to hitch back to the hostel and get myself clean. i'll try calling you all tonight or tomorrow morning. i hope all is well with you, and you got home all right. i love you both, and hope your enjoying the quiet house. with all my love, brian aka billy goat, ATgame2000 ps. could you please forward this along to everyone in my hiking folder. and to my buddies who get this, please forward it to anyone you think would be intrested in reading this, but whose e-mail i don't have.

ok take care. i love you all. no worries. brian

....and later that day. Holy Shit! I've just got back from an all you can eat bar at a steakhouse with the scariest hitch I've ever had. Oh my god! My arm is still shaking. Anyway, after a painfully huge meal, it was already pretty late, and since we were 6 people, we decided that Raphael and I would go do a little shopping and the "thick-n-nutty" crew would start hitching.
Raphael

Anyway, after I stank up the grocery store bathroom and bought some stuff, Raphael and I hit the road with our thumbs up. We walked the Hiawasse strip with no success, then waited at the CVS parking lot for a ride. Finally a sketchy 2-door pulls up, completely filled with shit (stuff?). I got in the back, literally wedged between the rood and piles of various stuff. A lot of wholesale food and fishing/camping gear. We're not sure whether the driver was male or female, but it was a wiry person with wild nappy hair. "It" was going to town to see if a friend wanted to smoke. But anyway, I squeezed into the back, and Raphael got up front in a seat that didn't lock in its track, so he went up and back with every jerked car maneuver. "It" had been up for a day, and seemed strung out on crack or speed or something. When it spoke, it would turn completely towards you, leaving the car to drive itself. After convincing it to drive us here instead, of turning on the road it was going to go down, it agreed and we were off for the longest 8 miles of my life.

It felt bad for us since it had hitchhiked from NewYork to Calif and Chicago to Florida. Then it somehow segued to a story about some baby found on the side of the road with its arms and lets cut off, "but the kicker of the story is it was still alive!" Anyway, after even a longer than eternity drive, I saw a sign for the Patch wiz by us, so it slams on the brakes, puts the car into reverse, starts to fly backwards, stops, almost turns into another car, does a huge U-turn, over the road, into the ditch, I'm flying across the back, Raphael's flying forward and back, and suddenly....it was all over. We were safely stopped across from this safe haven.

But the adventure doesn't stop there....As we leave the car "it" starts going on some psychotic ramble about going on some river trip for like three minutes. Then it started trying to push food on us. I know not to take candy from strangers, so he finally pulled away, leaving us with hysteric nervous laughter. What a trip! But I lived to tell it. And it makes a hell of a story. But that's that.

To backtrack a bit. The "Thick-n-Nutty" crew is 2 brothers and a sister and their friend. They're all 18-23 years old and very fun loving, happy, and loud. They're good company though, and I had a lot of fun tonight. It was just a lot of fun!

We pitched in for a shuttle with Merle (an 80 year old farmer who gets his kicks from giving rides to kids like us) to get to the restaurant. People look at 6 young hikers like they would a 6-legged dog.
Another great AT horizon

Everyone in town is very friendly. They're a little curious and a little mystified, but they treat us kindly. We ate like hikers, plate after plate of mashed potatoes, fried chicken, green salad, biscuits, strawberry-rhubarb cobbler...And then our crazy rides back here. What a great first town stop with some great company.

OK tomorrow will be cloudy with showers, high 63 degrees. Well see how far I go. OK. Adios, and gives thanks to the hitchhiking gods. Take it easy, No worries. BG




Go to the next page..... Brian's Hike on the Appalachian Trail (3)



---
If you don't want to receive these updates or know of anyone who should be included, please let us know!