Brian's Hike on the Appalachian Trail(3)
February 20, 2000 until ????
brianshike3 : Feb. 27 to Feb 29
Mileage: to 103 miles
---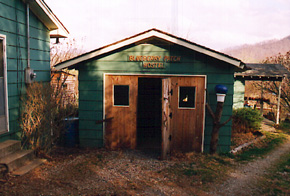 The Blueberry Patch Hostel
Brian's Journal
Sunday, February 27, 2000 Today was great. Hard, satisfying, scenic...just amazing. I woke up with the "Thick-n-Nutty" Crew and Raphael at the Blueberry Patch around 7:30, got my stuff together, then had an incredible breakfast of pancakes with homemade blueberry syrup, really good coffee, fresh squeezed OJ, sausage, and biscuits. The Poteats are a really nice couple. They're so classic. Just your typical ex-hippies living their idealic life, living by the Bible and the Earth. It was good meeting them.
breakfast with friends
(Raphael is on the left wearing glasses)
Unfortunately I lost my gaiter which Tom picked up and gave to Light Eagle to leave at the hostel but forgot when she dropped off Raphael last night, but my karma rolled around and I got a really nice head-lamp from the hiker box. Anyway, after photos and good-byes with the Poteats, we all hit the trail around 9:30.
It was raining pretty steadily but it wasn't cold and it made a nice variation to my hiking thus far. I left the T-n-N Crew and probably won't see them again. It was fun to go to town with them last night, but I would get tired of them pretty quick on the trail. Anyway, the morning hike was great. The rain brought out brilliant greens from the moss and lichen on the trees and rocks, and the mist gave the whole forest an incredible mystical and magical feel. I felt like some fairy tale character wandering through the wild woods of Europe. Really, really cool.
I ran into the Plumberchard Shelter since Tom raved about it so much, and it turned out both he and Brian and Sage were taking the day off in there. Tom was enjoying some rest at his favorite spot, and Brian's knee has been ailing him. After a good visit with the three of them, I left and started moving again.
By now it had all but stopped raining, and I was loving the misty, cloudy woods. I just got caught up in the "Zen mode" as Raphael described it. I felt like I was in that Timberland commercial with the smooth Cat Stevens song when I was trudging up hills, and then like Uncas from Last of the Mohegans when I was dashing down them. (I'll have to check where that was filmed. I think it's either the Smokies of Shannendoah.)
Standing at the Border of Ga and NC
Around 1 or so I crossed the GA/NC border, let out some billy goat cries and hoots and jumped around for 5 minutes. It was fun jumping from one side to the other and back again in a little jig. I think that moment was the first time I really felt like a thru-hiker. It was great! So I said good-bye to the Georgian hills and hello to the Carolina mountains.
What an unforgettable introduction they made! Right after the border the trail goes straight up a huge mountain at about a 30-degree angle, no switchbacks just up. It climbs about 1000 feet before finally leveling out on a ridge. At this point my fairy tale frolicking turned into Snow White going through the evil forest. There were blow downs, ......you name it. And to add to the drama the winds picked up and the fog got real thick. It was still great though, kind of a surreal world of mystery.
Near the top of the ridge the trees gave way to huge rhododendrons bushes, and the trail turned into a tunnel. It was so awesome! I lost my watch too, so I don't know what time I got here, but I realize I was freezing and soaked, so I did a fast change and relaxed in my bag. Raphael came up about an hour later, and we sort of napped half-awake & half-asleep style for a good while, just recouping from our ass whoppings. Then we had a great evening, eating, chatting, and watching the sunset break through the cloud cover. It was a great day!
The winds are just starting to pick up, and they should blow away the front for some clear skies for the next week. Hard to believe. I'm going to take 5 easy (10-12 milers) till NOC (Nantahala Outdoor Center) and my mail drop, then I'll be up in the Smokies already. All is well; I'm having the time of my life. No Worries. Billy Goat
An AT View

Monday, February 28, 2000 90.0 miles Nice day today. After a fairly restless night I woke up to the frozen water and a beautiful, clear day. I putzed around for a good part of the morning, then headed out to Standing Indian Mtn. The trail was great. Nicely graded all the way up. Took a long lunch up at the top, then rambled on down here (Carter Gap Shelter).

It was a nice change today. Spend the last couple of miles rambling through a valley. Really nice walk. I crossed more streams today than I have all trip. It reminded me a lot of Vermont. The Shelter's crowded tonight with me, Tom, Shaman (the quiet one from Michigan) up here in the new, post, Eastside, and Raphael over in the run down west side shelter. He definitely got the shorter end of the stick on that one.

Oh year, an old man is here tonight too. He thru-hiked in 1990 and is doing it again in 2000. Funny guy. Raphael walked up on him bare-assed naked cleaning his jewels. So this'll be a short entry since it was an easy day and there's a crowded shelter. Sagebrush (the other Michigan boy) hurt his knee so he's taking a break and hoping to meet up with Shaman tomorrow night at Rock Gap. All right, good night. BG
The Wilisahi Poplar

Tuesday, February 29, 2000 What a day! Great hiking, better company, Easy hiking today, some good ridge walking before a great climb up Albert Mtn. Good solid hands and knees rock climbing. There was a great fire tower up top, so we took a real long lunch. (I was with Tom, Brian, and Raphael.) From there, it was an easy down hill stroll to Rock Gap Shelter. We met up with Sage, who was here since last afternoon. Anyway, after getting here we all ran down to the Wilisaki Poplar tree, second largest in the world. It was great. We're like an Indian tribe led by our fearless old Chief Tom Horn.

The tree itself has probably been dead for 10 years but hearing Tom go off about how beautiful it was did make it more attractive. Funny how that happens sometimes. But after a half-hour or so, just sitting around the monstrous thing we just got up and slowly walked back up here. We cooked our dinners, and for whatever reason they seemed particularly tasty. As we were cleaning up, Brother Paul, a local trail angel, came by with some cake and some oranges. He chatted up a storm with Tom about old trail legends, and bullshitted with us for a bit. Nice guy. He's going to give us all a ride into Franklin tomorrow and we're going to bust up an All-you-Can-eat Chinese place, and tear through Wal-Mart. Watch out, here we come!

This posse has been a lot of fun the past couple of days. It is incredible how close you get to people you meet out here. We've been laughing and carrying on all night down here. OK, got to rest up for some intense food consumption! BG

Go to the next page..... Brian's Hike on the Appalachian Trail (4)
---
If you don't want to receive these updates or know of anyone who should be included, please let us know!