Brian's Journal
July 1, 2000 20.5 miles today to Happy Hill Shelter with 166.3 miles until the NH/Maine line
Happy Hill Shelter

Long sluggish day today. I think I want to be in Hanover too much. But only 6 miles tomorrow and I'll be out of Vermont and into New Hampshire. Anyway, not much to say about today. There was an awesome swimming hole and deli where Vt. 14 crosses the White River, and I utilized both of them. Nice day though---no rain, sunny skies.....

I'm here at an awesome shelter hiding from the bugs inside my jerry-rigged tent. There are 2 women in their tent (of the bottom floor) reciting poetry back and forth, and 2 other young girls in a tent outside. I passed a group of 10 Dartmouth students today, and was shocked to realize that I could be one of them. Yikes. Passed through a lot of real pretty mountain pastures today--- maybe I'd like to live up on one of these little farms someday. The mosquitoes sound like power saws, only louder. At least I'm in here and they're out there. No Worries. BG

July 2, 2000 5.8 miles today to Tabard House with 160.5 miles until the NH/Maine line

Well, I'm in Hanover. Hard to believe. I did some dancing and shouting at the VT/NH line on a big green bridge going over the Connecticut River, and entered into the second to last state. There's quite a crew in town today. The New Hampshire Boys, Forrest Otter, Hardcover, the 2 girls from last night's shelter, a guy named Grizzly, and a couple others. Oh yeah, Camel is here too. We're staying at the Tabard frat house, which basically has little or no organization, so it's more like we're squatting in someone's basement. Free shelter, free shower, free laundry, kitchen privileges, etc. cannot be beat.
The VT/NH Border!
Word is there's tons of thru-hikers coming up. So I guess the most remote sections of trail will have the most crowds and be the most social. I feel good though; got clean, got food, checked e-mail, talked to Mom and Dad and Jaimie, then partied with the hikers all night. I had the healthiest meal of my life: pint of Ben&Jerry's (second of the day) and a six-pack of Heineken. That's a grand total of 2,400 calories; pretty good---a third of the calories I burn each day.
I checked out the next section of profile maps. They're pretty intimidating. I'm still debating whether to stay another day or leave tomorrow. Time will tell. There was a nice image tonight: sitting on the frat porch, listening to some guys playing some Dead songs, looking out at the 7 noble tents, all lined up in the backyard. That was the hike for me. Random guys doing the same thing, nobody causing any trouble, just enjoying the present. That's what the trail is all about. OK. Time to go. No Worries. BG
July 3, 2000 0 miles today/ still at Tabard House with 166.3 miles until the NH/Maine line
Ended up spending another day here. Currently the next door frat is having a kick-ass beach party. It was funny to see the hairy, bearded, scraggly hikers amid hordes of shirtless, fat necked frat boys and hot pants frat boy's girl friends. Kind of like playing where's Waldo, but ridiculously easy.
Anyway, about 8 hikers showed up today. I surprisingly ran into Swamee who was getting back into town after going up to the Montreal Jazz Festival with 2 south-bounders. I'm glad to see him again. Hard to believe I'll be part of a college campus in two months. Complete craziness. Anyway, didn't really do anything today, so there's not much to write about. The way a "0" day should be. No Worries. BG
July 4, 2000 16.7 miles today to Trapper John Shelter with 143.8 miles until the NH/Maine line
Happy Fourth of July! Last year I was on the Long Trail and the year before at Glacier--- this is becoming a tradition. I just celebrated with some sparklers a southbound couple brought in, so I even got a (sort of) firework display. Good way to spend the holiday.
Hanover on the 4th!
I finally woke up around 10 after last night's crazy frat party. The basement of Tabard doesn't have any windows, so it's a bit of a time warp. Anyway, I headed out around 11, wandering through Hanover's holiday festivities. Pretty intense. Miniature horses, goats, cotton candy, fine painting..... and more little kids than you ever want to see at once in one square mile. Sort of insane.
Anyway, since all the restaurants were swamped, I grabbed some breakfast at the gas station and then headed into the New Hampshire woods. Very beautiful. Again I sensed a change with the state border---once again probably all in my head. Nice day of hiking. Easy, scenic terrain. Quite enjoyable. It's a neat feeling getting closer and closer to the Whites. It's kind of like going out on a journey to some magical, mystical land. I think a big part of why I like hiking is the suspense of what lies up ahead. I found it hard walking sections I've already done, since that suspense isn't there. But now I'm excited and looking forward to this last section. They say it's 20% of the hike, but 80% of the work. Anyway I'm here tonight with the sparkler bearing SOBO's, and three college kids hiking thru New Hampshire. I'm out in my tent to escape the bugs, but am braving an intense summer storm. Hope I stay dry. OK. No Worries. BG
July 5, 2000 19.7 miles today to Ore Hill Shelter with 124.1 miles until the NH/Maine line
All the rain I've had, all the miserable weather, all the heat, all the humidity, all the sleet, all the lightening, everything , was all forgiven by today's weather. After last night's rain, I woke to windy, crisp, cool, clean air. Absolutely gorgeous. Clear blue skies with temps around 70 0 all day. Heaven on earth.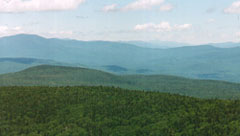 The White Mountains
So far I love New Hampshire. I figure the same rugged individualists who created the license plate motto "Live free or die," also laid the trial down. Just awesome. Big hills, great views, absolutely incredible. I love this type of hiking. You climb up one huge mountain for 2 hours, down for 2 ours. A lot nicer than lots of baby ups and downs. And on top of that, you get to see where you're going, and see where you've been.
From up on Smarts Mountain I could see Mt. Moosilaki, the Franconian Ridge, Mt. Washington, and the rest of the Whites. They look awesome! I could also look at Killington and Pico peaks.
Anyway, I'm here with Shadow, a couple I met just past Sherburne Pass, a southbounder, and a northbound NARD. All is well. Tomorrow is supposed to be like today. I'd love a nice day for Moosilaukie. No Worries. Billy Goat.
July 6, 2000 15.0 miles today to Beaver Brook Shelter with 109.2 miles until the NH/Maine line
Incredible day! Best as yet I believe. I climbed Mt. Moosilaukie and got my first view into the Whites. It's just absolutely beautiful.
Anyway, to go back a bit. I woke up early (or was woken up early by John getting his pack together), then hung around with Shadow and Vidalia, the southbounder. I finally got my shit together and headed down to Glencliff for a post office stop. The post office was basically a 10'x4' porch added on to some guys house, and the hours were 8-10 and 2-4, so I had about 3.5 hours to kill in a town that consisted of 5 houses, a rundown hikers hostel, and a tiny road only used by logging trucks. I actually was nice being forced to lie out in the sun for that long with no feelings of guilt since you had no other options. Anyway, I got a 15-lbs. food box, bounced 6 lbs. of unessential gear to Gorham, and then headed to the mighty Moosalaki.
The climb up was the hardest climb I've had yet. Just continuous up with big rock steps. It's not so bad when there's a definite goal to get to. Anyway, the climb leveled out about a mile from the summit onto an old road with dense alpine pine trees. I assumed I was near the top, and was a little disappointed. But as I walked along I saw the real summit. I scrambled up the rocky path to the top.
Omi's Cairn

My first mountain above tree line. There were views way into Vermont to my left, and all the way to Washington and beyond on my right. By now it was around 5, and I had to mountain to myself with intense evening lighting, bringing out the gold of the alpine meadow, the white of the granite, the green of the forests below, the lighter green of the lichen, the blue of the sky, the white of the clouds, and the purple and pink and yellow of the tiny, tough little wildflowers scattered here and there.

Everything was just so spiritual. I made a little cairn for Oma. I think she would like that the little monument to her also helps hikers find the way. It there is a heaven, it must be as beautiful as that mountaintop, and I'm sure she's enjoying it as much as I enjoyed today.

I spent a long time up there. Thinking and enjoying, just taking it all in. I mean it was a real, bona fide mountain. A place stronger than man's will, so powerful that you can only visit for an hour at a time before you freeze or get blown off. Shadow finally crept up to the top, and we did some dancing and yelling and picture taking. I was so high. It was a tough, rocky 2 miles down to here, but there's a great view of the Franconian Ridge that turned gold with the sunset.

I LOVE THE WHITES. No Worries---really none at all. Billy Goat

July 7, 2000 15.0 miles today to Lonesome Lake Hut with 94.2 miles until the NH/Maine line

After a good day of hiking, I'm writing this from the comforts of the Lonesome Hut dining room. Today was tough. It's more correct to say that I had a good day of climbing, not hiking. A lot of the trail is real technical; you have to think about where to place each step and how to shift your weight. I've never been more satisfied with my lanky limbs and long legs as I was today stepping up and over boulder after boulder. Quality hiking.

I woke up at 5:30 to a beautiful sunrise over Mt. Lafayette. The sun lit up the clouds filling in the valley, stopping halfway up that awesome ridge, leaving the peaks silhouetted against a pink sky. Really awesome. From the shelter the trail went straight down the mountain following a tiny stream that grew into an impressive waterfall. The trails are well made, no switchbacks, but nice rock steps. Anyway, it was a lot of steep ups and steeper downs, and now I'm here.

Lonesome Lake is right at the base of the Franconian Ridge. Nice spot. I love that mountain. If the weather is good tomorrow, I'll have a 3-mile ridge walk along the top. Should be awesome. I was glad to get a work-for-stay, but this place is insane. It's the closest to a road and easiest to get to, so it's swarming with the little kids and young families. The ........ is super intense, which gets a bit tiring. Oh well, Free food, free bed. No worries. Still lovin NH. BG

July 8, 2000 15.9 miles today to Galehead (Stealth Mode) with 78.3 miles until the NH/Maine line

Today was beyond words. But I'll try anyway. Shadow and Gashawk also got work-for-stay last night, so this morning we did our chores, ate an incredible breakfast, then busted out. I left them at Route 3 where they were trying to hitch into North Woodstock for a re-supply, and I started up the painful climb to Franconian Ridge. It was more than worth it.

The trail puts you up on a saddle that you travel on until climbing above tree line, where you stay for 3 miles. It was unreal. From up there you could see the other half of the Whites and the Presidential Range. I love how hiking is like that. Every time you climb a new ridge, a while new world opens up in front of your eyes.

The morning showers never happened, so I had a beautiful day for a beautiful mountain and was just in awe. The views and trails are as good as anything I've seen out west. Everyone talks about the Whites so much I came into them with ridiculous expectations, but even my expectations weren't half as incredible and powerful as these mountains really are.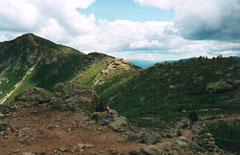 The Ridge up to Mt. Lafayette

The ridge up to Mt. Lafayette was packed with weekenders, but I'll always have Moosilaukie to myself. I met one woman who liked what I was doing so much she gave me her turkey sub, chips, and Snapple lunch, then gave me a huge hug and wished me the best of luck. The hordes went down the side trail to Greenleaf Hut and Franconian Notch, so I had the second half of the ridge move or less to myself. It was neat to look back and see all the tiny people inching up the mountain in single file, silhouetted by the sun. Looked like ants on the march.

After leaving the clouds and the views, I ended up at Galehead Hut. Camel and Dreamer are here so the evil hut master wouldn't let me stay----so I'm in my tent 1/4-mile south at a bandit tent site. Hopefully I'll get some leftover breakfast tomorrow.

The weather report still looks good, though you never can tell. It just downpoured for three minutes, then stopped like nothing had happened. Yesterday on Kingman I was being chased by a nasty cloud spitting sleet at me. Funny thing was I was so close to the cloud they only fell 30 feet, so they didn't have the momentum needed to cause pain. OK. Still lovin the Whites with no worries. BG

July 9, 2000 11.8 miles today to Ethan Pond Shelter with 166.5 miles until the NH/Maine line
Walking on the Ridge

I guess today was like the eye of the storm, a short day of easy walking after Franconia and before the Presidentials. After waking up and getting packed, I raided Galehead for left over breakfast, ate my fill, then got 2 beers from a woman who felt bad for me not being able to stay last night. From there it was a mile climb to Twin Mountain, which gave one of the best views in the Whites since it sort of jets out right in the middle of them. I ran into Swamee again today. He was also denied at Galehead and slept basically on the trail last night. We walked together down to Zealand Falls Hut, where we met up with Dreamer and Camel, who ate all the bread in the breadbox. They left, then Swamee and I putzed around, not wanting to walk in the afternoon showers. I ended up braving up, and walked 3 miles of the flattest trail I've seen in a long, long time to get here. Fortunately there's no caretaker, so I get to hold onto my $6 bucks.

I'm here with a shelter full of southbounders. I'm surprised that they're a lot closer in age to me, though I guess it fits in with a school schedule a lot easier than northbounding. Anyway. I'm excited for tomorrow. Get to see what the Presidentials are really like. Should be a party at Lake of the Clouds tomorrow. All is well. No Worries. BG

July 10, 2000 14.1 miles today to Lake of the Clouds Hut with 152.4 miles until the NH/Maine line

I'm writing this late at night in the massive Lake of the Clouds Hut, just a mile and a half away from the summit of Mt. Washington. It's a different world up here. It's about 34 0, with wind speeds 40-45 mph with gusts up to 85 mph. I woke up to clearing skies down in the valley, got some terrible chili at a tourist trap in Crawford Notch, then busted on up to the Presidential Range. I had nice views from Webster and Jackson, then ducked into Mitzpah Hut for bread and soup with Camel and Dreamer. From Mitzpah, the trail jumped up for Mt. Pierce, then stayed above treeline till here.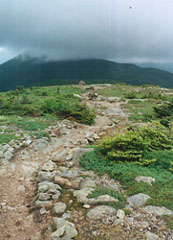 Approaching the Mountains and Clouds

There were awesome views at the base of Eisenhower. You could see the valley below, then big scary clouds come whipping up and over the ridge. From there I climbed up into the clouds and realized how insignificant I really am up there. You're completely exposed getting spun around in circles, just trying to stay on your feet. It's awesome.

It was a shock to finally get here, stumble up to the door, and get greeted by the noise of 80 tourist yelling over each other's voices echoing off the bare wood. I got over it, and ended up getting the best work-for-stay yet. I'm here, sleeping on the dining tables, with Camel, Dreamer, and a real nice Southbounder. Good company, awesome ......

Hoping for views tomorrow, not counting on it though. OK. No Worries. BG

July 11, 2000 7.0 miles today to Madison Spring Hut with 45.4 miles until the NH/Maine line

Today was quite possibly the greatest day I've ever had.

Started at Lake of the Clouds with good food and good company. Then I headed out into a hurricane, and got tossed around and roughed up enough to really feel the fear the Whites are capable of creating. Visibility was about 5 feet, so you just crawled from cairn to cairn, get blown into a boulder, get blown up the mountain, slip on wet rocks, racing on an adrenaline high and fear from the realization that the mountain could eat you alive without ever noticing. When I got to the summit I couldn't even find the summit house which maybe was a good thing, since the madness inside was nauseating. Hordes of tourists yelling and being loud and obnoxious, and basically just disgusting.

I hung out up there with Camel and Dreamer, running out to play in the 85 mph wind, then running back in to recover. As I wrote some postcards and talked to Jaimie, the clouds lifted, leaving one of the most spectacular views I've every seen.
Getting Tossed Around by the Winds
We had a perfect day for the Northern Presidentials. These mountains are just massive. Huge piles of rocks scattered with alpine meadows and intense lichen. Just really, really awesome.
We finally got here after taking in that ridge for all it's worth, and were greeted by an awesome croo (sp?) who lets us all do another work-for-stay. The infamous Crest and Nomad took a zero here, hiking in supplies for the hut, and Goshawk, Shadow, and Swamee rolled in an hour or two after us. The croo is letting us all stay, so there's a hiker party here. We all ate our fill, and have been sitting around joking, singing, bullshitting, and having good fun.
To end this perfect day, there was a perfect sunset. There was just one stretch of orange---then pink---then purple silhouetted mountain range between clouds creeping up from the valley and clouds (mean, scary clouds) clamping down from above. Phenomenal. I can't express how awesome this section is. I've taken 3 rolls of film in 4 days, just hoping I can get one picture to do some justice for these powerful mountains.
Thous I know that pictures won't have the wind, the cold, the emotion, the pain, the exhaustion, the fear, the admiration, the triumph, the awe, and everything else that gets mixed up in my mind and body to give me that incredible mountain high you get up here. This is it; everything of any importance is here, up above the clouds. I love it, I love it, I love it......
No worries. Billy Goat
On top of Mt. Washington!!
---
Go to the next page..... Brian's Hike on the Appalachian Trail(18)
---
If you want to write to or contact Brian, his email address is
If you don't want to receive these updates or know of anyone who should be included, please let us know!