July 12, 2000 13.2. miles today to the Carter Notch, Stealth Mode with 31.7 till Maine/NH line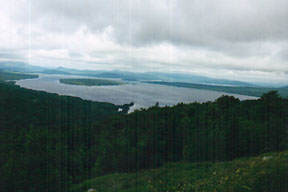 Leaving NH Behind
If yesterday was my manic day, today was my depressive day. Everyone's getting a little tired of walking, and now that the Whites are done with, Katahdin is the one thing dragging us along. Oh well. We woke up early at Madison, ate our food, did our work, said our good-byes, then scrambled up Madison and down from the Presidential Range.
Although it's been awesome eating good food for breakfast, lunch, and dinner at the huts, I'm glad we're out of them. Just too many people, and too much hanging around waiting for work or waiting for food. I walked all morning with Shadow, Dreamer, Camel, Goshawk, and Swamee. First time I actually hiked in a group. We're all a bit tired, and it's nice to have the company and encouragement. We ran down to Pinkham North (literally at times) to bet the 1:00 PM AYCE Sandwich bar. We made it in time, gorged ourselves full, and then hung around the lodge fighting off the urge to hitch to Gorham, or take a bus to Katahdin.
Although the scenery and alpine section of the Whites were behind us, we still had some extremely physical, unrewarded hiking ahead of us for the afternoon. It was painful leaving our sunny porch, but we finally did and braved up to the Wildcat Range. There was a warming hut at the top of a chair lift we broke into, but there wasn't any water so we pushed on to here and set up a tent/tarp shanty town. I'm looking forward to Gorham and Maine, and the end of my walking. But no ones forcing me to hike, so I shouldn't bitch. No Worries. Billy Goat.
July 13, 2000 15.0 miles today to the Hiker's Paradise with 16.7 till Maine/NH line
After another long tiring day, I'm festering in the heat at the Hiker's Paradise Hostel in Gorham, NH. Quite a place. There are probably 20 hikers here tonight. The owners slack a lot of people, so guys end up staying 3 or 4 nights before moving on. I ate breakfast at Carter Hut, my favorite one of them all. It seems like a sweet deal to be a caretaker there. No crazy crowds, no overly obnoxious people, and you work Friday, Saturday, Sunday, and every other week, all in a beautiful little spot. From there I scrambled up to Carter Dome and the Carter Ridge with nice views back at Washington and the Presidentials. After that it was a long, rocky, bumpy walk down to Route 2 which I remember stopping at en-route to Bethel a couple of summers ago. Anyway, I ate myself retarded yet again with Swamee at Mr. Pizza's. Now I'm bloated. Need to do some planning, don't know now where to start. No Worries. BG
(E-Mail Sent July 14, 2000 from Gorham, NH)
hello everyone, i'm writing this from gorham, NH on july 14, only 16 miles from the maine line and 300 miles till katahdin. since hanover i've hiked thru the white mountains, which have definately been the highlight of the trip. it is just a different world in there. looks more like the swiss alps than the rolling appalachian ridge. it was probably the most physical section, but it is so incredibley rewarding that you hardly realize how exhausted you are. the only bad thing about the whites is the hut system, which basically takes in hardened thru-hikers, pampers them, feds them three meals a day, cuts back there miles, and spits out soft, lazy thru hikers who think 8 miles is a big day. i'm with a good crew right now, although we're all getting real tired of walking. i think that will change once we actually get into maine though. if all goes well, i hope to summit katahdin either on the july 29 or august 1, less than 20 days from now. i took 3 rolls of film for four days on the franconian and presidential ranges, so i hope i got some good ones that dad can put on the internet for you all to see. ok, got to move, i'll be laying my head in maine tonight. yee haw!! no worries, love brian
July 14, 2000 17.0 miles today to Carlo Col Shelter----1,879.3 miles since Springer and 281.9 till Katahdin!!
I AM IN MAINE! Holy Shit!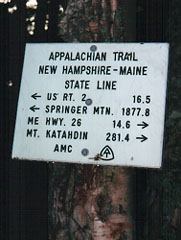 The NH/ME Border
I knew I was getting closer and closer, but I never thought I'd actually get here. At the border I was "Welcome (d) to Maine, the way life should be!" Yeah Baby!! And what little of it I've seen so far, I'm in love already.
The day started off in a hot, stuffy attic after a restless night's sleep. I woke up at 5:30, rode a bike into town, where I ate a ***breakfast at Welsh's, then rode around all morning waiting for the post office and internet place to open. It's kind of fun being up that early and watching a town come to life. Sort of like those time lapse movies of buds opening into flowers, just not as nice. I did all my chores, got my stuff together, called Susan (my cousin) and arranged to meet her in Bethel tomorrow, then hit the road.
I wasn't as lucky as I was last night. After walking backwards with my thumb raised high the length of the town, I waited and waited at the outskirts. Goshawk and Shadow had the same sad story, so the three of us sat there looking pathetic (or vagrant) and took turns thumbing. Lots of traffic, but everyone was a tourist going to the Mt. Washington Auto Road. Finallya truck gave us a lift, so I hit the trail at 1:00.
Rocks Everywhere

The first bit was less than spectacular. Real overgrown, swampy, and buggy. Thundershowers passed thru, making the brush wet but keeping the bugs at bay---a fair trade. I got to the last shelter at 6:00, and decided to move on, even though every southbounder told me I couldn't make it. There was a big climb up to Mt. Success, which was a complete, breathtaking surprise. I expected a little bump, but got to a rocky summit surrounded by alpine bogs and a panoramic view of the mountain ranges, pink from the setting sun and mystical from the wisps of fog and clouds. Truly spectacular. By this point my adrenaline was pumping, and I tore off for the Maine border and here. The trails are awesome. Lots of rock climbing and sliding. I felt like I was infallible (and unfailable). I was basically running down the trail, over boulders and down rock sheets. My feet fell right every time, I didn't even have to think about them. It's just an incredible feeling. Even if I slipped, it ended up being a better foothold than if I hadn't. Anyway, I got to the Maine line, started yelling from pure bliss, and felt as high as ever. It feels so good to be here!! I got to camp by 8:45, with enough light to cook and claim a spot in this crowded shelter. Now my body is about to crash, so I think I'll slip into deep, dark sleep..... No worries---I'm in Maine!

Billy Goat AT GA2000 or now I guess I can say GA/ME 2000

July 15, 2000 14.1 miles today to the Isham's in Bethel, Maine with 266.8 till Katahdin

My first day in Maine ended up being the toughest of my whole trip. I woke up in a cloud, which made the rocky trail pretty slick. About a mile down, I fell real hard and broke one of my Leki's (hiking sticks). And that was just the beginning. The Mahosics are constantly going up or down a long, steep rock face. Hiking without sticks threw me out of stride, so after 2 hours my knees were crying. Unfortunately, I think I missed a lot of awesome views to the fog. The trail would rock climb up to a summit, walk through an alpine bog on bog planks, then drop down again.
Mahoosic Notch

Around noon I slid way, way down to the Mahosic Notch, which was awesome. It's said to be the hardest mile of the trail on the AT, and while not physically demanding, it takes a long time to plot out your footsteps and hand-holds to get over, thru, under, and around boulder after boulder. It was pretty neat, it was warm and humid and raining at some spots, then cold and damp at others from ice in hidden caves and cervices. One little bit sent you though a 10-foot crawl space, completely surrounded by rock. It took a good 5-10 minutes to shove your pack ahead and crawl behind it inch by inch. Not for the claustrophobic. With rain and slick rock, it took me an hour and 20 minutes to do one mile. Anyway, after a painful up, a sharp down, a short painful up, and a gradual down, I got to Grafton Notch around 6. That breaks down to 14 miles in 10 hours. I think grass grows faster than that. The road was pretty much dead, but the second car to pass stopped and drove me into Bethel. Nice trail maintainers, my best hitch yet. Anyway, I met Susan, got cleaned up, and then ate dinner with Linda and Don. Really nice folks. Glad I'm related. I'm in bed now, getting sleepy. Looks like I'll be lulled into a zero day tomorrow, then I hope to bust some ass and get to Katahdin in 2 weeks. It does feel good to countdown to the Big K after all these miles. OK Time to sleep. No worries. BG

July 16, 2000 0 miles today while at the Isham's in Bethel, Maine with 266.8 still till Katahdin

Woke up to rain, never left. It was a good day to take off. I got everything I needed to get done done; I ate my fill, and had an awesome visit with the Isham clan. One more night in a bed, then 2 weeks to Katahdin. Time to see if Billy Goat can fly. No worries. BG

July 17, 2000 16.3 miles today to Hall Mtn. Lean-To with 266.8 till Katahdin

Nice day today. Woke up in a warm bed, ate a good breakfast, packed up dry gear, said good-byes, then got dropped off at Grafton Notch. Real nice visit in Bethel. Warm hospitality, warm bed, and a much-needed rest after the beating the Mohoosacs gave me.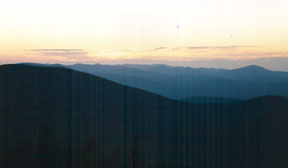 Sunrise on the Mountains
When I started hiking the sun was just starting to break up the clouds. By the time I got on top of Baldpole, I was above the clouds. Really neat. It was completely windless, with clear blue skies on top of the mountain. On my left was a nice view of forested valleys, and sprawling lakes, and to my right was a soft, fluffy cloud carpet, covering everything except for 2 or 3 peaks that enjoyed the same beautiful morning as I. Really cool. I felt like I was king of the world. From there I headed into the thick Maine woods, and enjoyed the first relatively flat hiking I've had in a long, LONG time. No moose today. Oh well.
Oh yeah, trail magic rolled around again today. After calling Leki this morning, and learning that they won't send me a replacement part unless I send them the broken part, all of which usually takes 2 weeks, just in time for my ride home. Anyway, I pass by an old forest road, and what do I find? One lonely hiking pole leaning against a tree, looking for a friend. Almost a little scary. I haven't seen abandoned poles this whole trip, then a day and a half after mine broke, I find one. Not a set, just one. Weird.
I'm not sure what deity takes care of hikers, but he or she or it does do an awesome job. I rolled into camp pretty early, and was greeted by the most crowded shelter yet. A huge Outward Bound trip, a group of 8 12-14 year olds who think I'm super human, 8 fathers and sons out for a week, and a girl headed to Katahdin. Pretty loud. Otherwise Maine is quite peaceful. Glad I'm here. No Worries. BG GAME 2000
July 18, 2000 12.8 miles today to Bemis Mtn. Lean-To with 237.7 till Katahdin
I guess the weather doesn't understand I want to finish up. A thunderstorm trapped me here ten miles short of where I wanted to end up, but what can you do? Weird weather today. I woke up in a cloud, got down in the valley and it started to look like it would clear. Then I guess I was in the eye of a nasty storm all day before it came thru 10 minutes after I got here. I'm with good company though---3 southbounders and the girl hiking Maine from the shelter last night. The trail is a mess. I hope the weather clears up for my last stretch, but the forecast doesn't look good. Oh well. Into Rangeley tomorrow, then Monson in a week, then Katahdin in two. No Worries. BG GAME 2000
July 19, 2000 19.3 miles today to Piazza Rock Lean-To with 218.2 till Katahdin
Alpine Highlands

Today brought me the flattest, gentlest terrain I've seen since Vermont. I did almost 20 miles without breaking a sweat. Nice change of pace. I headed out this morning into a cold mist that started to clear into a cool, cloudy, windy day once I got down from Bemis Mtn. From there the trail rambled through some dense highland pine forest, and some swampy low land forests. It's amazing how thick the Maine woods can get. I've seen dense parts of a forest in other states, but Maine is just one huge, impenetrable forest. About 5 miles from Route 17, I ran into a mini-hiker-reunion with the Bert the Bavarian, Lady Leaper, Roy, Greenjeans, and some other guy. I haven't seen Roy since the Iron Masters Hostel in PA. Such a cool guy. Anyway, I ran to Route 4, passing dozens of southbounders (all about my age) then got a reasonable fast hitch into Rangeley. Nice little town. I got the tour from the couple that drove me in, then got my (second to last) mail drop. I checked my email at the library, which was run by the two nicest librarians I've ever met.

(E-Mail Sent July 19, 2000 from Rangely, Maine)

hello everyone, somehow or another i've made it all the way to maine. i'm writing this from the rangely public library, the last internet access i'll have. i am 220.0 miles from katahdin, hoping to summit before the first of august. so this is it. seems like a lifetime ago i sat down at the hot springs library for my first report, and now i'm here for my last. my opinion of maine has been slightly biased so far due to rainy weather, but it really is as beautiful as everyone says, and the weather should be clearing up by tommorrow for the saddle-back and bigelow ranges. after that, i'm out of the mountains and into the swamps for the final stretch. i had a nice stay with the isham's earlier this week, and now am debating whether to push on another 2 miles or stay here for the night. unfortunately i broke my hiking poles in the mahoosucs and haven't gotten any help from the company, but being this close to katahdin i'll crawl there if need be. ok. got to move, things to do and people to call. no worries, brian

I bought some more food to add to my 20+ lbs. food bag, ate too much greasy food and the local ice cream/junk food stand, then waited for 45 minutes for my ride out of town. It finally came from a nice guy who saw me waiting and decided to drive me back to the trail, even though he was headed in the opposite direction. I'm here now at an LL Bean Shelter, complete with double seater privy (w/cribbage board), with a Sobo, Wooley Bear, and 2 families out for a couple of days. Around 5 the sun finally broke thru, so I should have a good day for the Saddleback Range tomorrow. Good to hear. All is well, and I'm all geared up for the homestretch. No worries. BG GAME 2000

July 20, 2000 19.8 miles today to Sugar Loaf Summit House with 198.4 till Katahdin
Saddleback Mtn.

I couldn't have gotten a better day for Saddleback. I woke to clear, cool skies, and had clean air all day. I left the sketchy southbounder at the shelter, then rambled up among ponds and pine trees to the first peak of Saddleback. Such an awesome mountain range, completely above tree line for 3 miles, with views back at Mt. Washington and the Mahoosics to the South, miles of lakes and green forest to the east and west, and a broadside view of the Begelows to the north. Just as nice as the Whites, but without the masses. I felt on top of the world, no other way to describe it.

I took a ton of pictures, but once you look through the viewfinder you loose all roundness and massiveness of these mountains, and are left with just a flat picture. Oh well. I'm sure they'll trigger my memory and put me back on the mountain. I don't think I'd mind living in Rangely some day. This is just such a beautiful part of the world. Lakes, mountains, green.......it can't be beat.

Anyway, from the Saddlebacks, I dipped down into a valley, then followed a brook back up to the ridge I'm on now. I'm spending the night on top of Sugarloaf at the ski resorts warming hut, which is pretty filthy and decrepit, but has incredible panoramic views and a roof over my head. I got my first glimpse of Katahdin, barely visible on the horizon. At least it's within view. I'm here with about 10 or so southbounders. The sun is about to set, so I figure I'll go check it out. All is well, how often do you get to sleep this close to the stars?? No Worries. BG GAME 2000

July 21, 2000 15.7 miles today to Horn's Pond Lean-To with 182.7 till Katahdin

Today ended up being harder and shorter than planned, but I guess the mountains and rain will do that. I was woken up early by a magnificent sunrise. Nice way to wake up. Starts around five with the first signs of soft, orange light. Then you go back to sleep until 6, when the pinks and magentas come out. Then you get one last taste of sleep before the sun pops out over the horizon and fills the room with daylight. I was up and out earlier than ever, then ate breakfast beside a riverbank. This was the first ford that you couldn't rock-hop across. There are hardly any bridges in Maine, since they figure they would float away each spring with the ice melts, and fording a river does make you feel pretty tough. Anyway, from Sugar Loaf the trail skirts all the way around the ski-area, going over North and South Crocker Mtns. Hard, un-rewarding mtns. Reminded me of Georgia.

Unfortunately my beautiful morning didn't last past noon, and clouds rolled in while I was climbing up to Bigelows "Horns", and the rain started just as I got to the shelter. Actually, shelters. There's four. It's a whole little resort up here. Two privies, kiosk, caretaker, two springs, two sleeping shelters, two day use shelters, fishing/swimming pond, six tent platforms, and on a rainy day, it is all but deserted. The forecast looks grim, so I think I'll miss the views from the Bigelows tomorrow. Oh well, yesterday more than made up for tomorrow's clouds. Ten days to Katahdin. Down to fingers now. Hot damn, the end is near! One more tough 1/2 day in the mountains, then I just hit cruise control an' cruise. Not bad.

No worries. Billy Goat GAME 2000


** About an hour after finishing this, the rain stopped and I went to have a look around. It is more beautiful here than any other shelter I've stayed at. Just another world. I sat down by the pond for half an hour watching day turn to dusk under dramatic clouds colored with pastel pinks and purples, listening to the trout jump and the nocturnal world come to life. I've never been more at peace. Ever. I love Maine! Billy Goat GAME 2000

---
Go to the next page..... Brian's Hike on the Appalachian Trail(19)
---
If you want to write to or contact Brian, his email address is
If you don't want to receive these updates or know of anyone who should be included, please let us know!