Brian's Hike on the Appalachian Trail (14)
February 20, 2000 until ????
brianshike14 : June 2 to June 9
---
(E-Mail Sent June 1, 2000 from Tewksbury, NJ)
wow! i'm amazed at how many addresses have fallen into the "brian's hike" address book. i think i started with 6. anyway, i hope you all are enjoying my journal and pictures. although i never really planned on having a web page, i'm extremely impressed with the results and glad my dad is taking the time to keep it updated. i'm heading back to the woods tomorrow morning, which isn't soon enough. it was nice to visit jaimie and to rest my feet and eat some food, but at this point in my life i really do belong on the trail. the past couple of days have been extremely frustrating, dying to go back, but being swamped with the logistics of the next 800 miles, planning an itenerary and mail drops, and seemingly endless oberlin paperwork... oh well, i'm sure the trail didn't go anywhere without me. speaking of logistical garbage, here is my next set of mail drops.
#1 Bear Mountain, NY 10911 (i should be there): june 6
#2 Salisbury, CT 06068 june 12
#3 Cheshire, MA 01225 june 17
#4 Hanover, NH 03755 june 28
#5 Gorham, NH 03581 july 6
#6 Rangeley, ME 04970 july 11
#7 Monson, ME 04464 july 18
after climbing the mighty mt. katahdin on the first nice day around july 26, i will pick up a box of clothes at Millinocket, ME 04462, before heading home. i'd love to hear from you all; i'm dying to hear all about your summers. remember to address letters (and/or boxes of cookies and other fine tasties) like this: Brian Schundler General Delivery and write "hold for AT hiker" somewhere near-by. Town, state zip So as of now, my plan is to hike 3 weeks up to hanover (or the long trail inn), then get off and go to the gathering of the vibes music festival in bridgeport connectitcut. then i figure i have about a month to katahdin. so there you have it. hard to believe i'm more than half way there. ok hope you this sees you well. be happy, be healthy, be strong. no worries, brian

Brian's Journal

June 2, 2000 14.1 miles today to High Point Shelter / 117.9 to NY/Conn Border

Well, here I am, and to my astonishment I'm more depressed and lonely than I've been this entire trip. I'm real surprised by this, since I've been eager to start since I stopped. Maybe I just got too idealic while looking back on the past 3 months and forgot that hiking is hard. Or, maybe I'm bored of this section, having walked it three times before. I don't know why I'm so down. Today did suck though----it was one of those days that is so hazy, hot, and humid that it's impossible to think of anything other than how hot, tired, and miserable you feel. There's supposed to be a big T-Storm tonight, so maybe that will cheer me up and cool things down.

I didn't see any thru-hikers today, and judging from the registers I'd say about 20 people passed me while I was off. Grandad, AuSabie, Mike and Medicine Man, Cruzzin, El Wolf and Kimber and Cesar are ahead, but no word from Raphael, Nate and Shamin, or Terrapin and Basco. Old Spice wrote, "In for last night, when will the rain stop?" so I'm assuming he got off. I'm still here, 2 hours later, alone for the night. A ranger stopped by to warm me about a problem bear that's been hanging around here, and now I'm bunking down for what looks like a pretty intense "severe" storm rolling in. Oh well, Hope tomorrow improves. No worries. Billy Goat.

June 3, 2000 19.7 miles today to Vernon Church Hostel and 48.2 till NY/CT line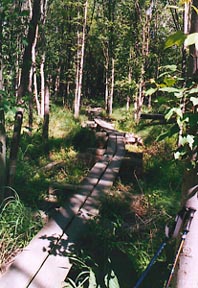 Walking the Planks
I woke up to an awesome orange sunrise and a cool wind, and all was well. Today ended up being as good as yesterday was horrendous. The first 8 miles or so north of High Point are rally nice. A lot of it rolls through some good ol' Jersey dairy farms. I also spent a lot of time walking thru swamps on endless mud planks and bridges. All in all a good morning. I met and walked with AK Walker, an older (70'ish) section hiker who figures he's tired of carrying a pack, so hikes from motel to motel. He told me about his 18-year-old adventure, canoeing down the Fox, Illinois, and Mississippi Rivers from outside of Chicago. He and his buddy canoed for a moth, then got picked up by a tug-boat and worked on it for a month, traveling up and down the river, exploring all the ports and river towns. He thinks it's a good thing I'm doing the trial now, and wished me well on my journey.
Anyway.... a couple hours later I got lost in a wildlife refuse and met a crazy, toothless, hardcore birdwatcher who talked my ear off about all the species of hawks that came down to Jersey for the first time ever this fall. It was a momentous occasion. We found the trail, so I ran away while he searched for a red winged blackbird. I hope he found one.
Anyway, the afternoon wasn't as nice as the morning. In fact, it was pretty terrible. There were about 3.5 miles of road walking. Very unpleasant. It is pretty amazing that this was the first road stretch I've had so far. I guess one advantage of the Appalachian Trail slipping into pop-culture is move $ for land acquisition. But after a not afternoon on hard asphalt, I got to 94 and hitched into the Vernon hostel. This is a very nice place. It's the basement of a brand new church building, complete with shower, laundry, industrial kitchen, and cable TV. I finally saw another hiker! I'm here tonight with a nice guy from Texas, hoping to finish up school on the 7 year plan by getting through one more semester this fall. He started northbound on March 11, then hitched to Connecticut from Pennsylvania for his grandparent's 50th anniversary, and is heading back down to Pennsylvania, where he'll hitch back to Connecticut and walk to Maine. He says they're 4 or 5 people a day or two ahead of me. Anyway, I enjoyed his company and the awesome hospitality from the hostel. OK. Meeting Mom and Dad tomorrow for a boot switch, then I'm onto New York. Yeehaa!!!
Take it easy. No worries. BG
P.S. I ate some sketchy peanut butter with a broken safety seal, so if I'm found running around sometime with dilated pupils and a confused orientation, you know what happened.
June 4, 2000 17.4 miles today to Wildcat Shelter and 80.8 till Conn/NY line
Nice day today. I did some chores at the hostel, talked to Salty, enjoyed his breakfast burrito, then met Mom and Dad. I switched shoes and got some things I forgot at home. Then they saw me off (for the first time) right before Wawayanda Mtn. I liked the trial in Wawayanda State Park very much. Very scenic. Unfortunately it seems like all the pine trees on the trail are dying. The one's in Jersey look as sad as the ones in the Smokes and Shenandoah. I met Mom and Dad again right before the Ranger Station and walked with them for a half-hour or so. We said good-bye again, and then I headed towards New York, trudging through some swamps en route. I don't understand NJ, all the wells and springs are bone dry, but half the forest is a wetland. Sort of odd.
One of New York's Boulders
Anyway, I crossed into New York up on a rock ridge, then enjoyed a good view with a group of 8 or so Asian tourist who gave me a hero's welcome. After talking and laughing with them for a good while, I marched ahead to face the New York boulders.
It's funny, I'm sure it has to be all in my head--- but it does seem like each state I pass through has it's own personality. The trail in NY matches the wealthy Manhattan socialites who frequent it. Subtly arrogant and quite opinionated, with huge boulder piles that can easily be averted, but get traveled over just cause they're there. I like the boulders though. They wear out the legs, but you're constantly thinking about where you should plant your legs, knees, hands, poles, elbows, chin, chin, butt, back, and groin so as not to tumble off to the rock piles below. A nice change of pace.
I'm here tonight with the Honeymooners, who I first met in Maryland. I still think they're obnoxious. I'm also here with a young, post college couple heading to Maine, although I haven't really had any in depth talks with them. OK. Time for bed. No Worries. BG
June 5, 2000 19.6 miles today to William Brien Shelter I and 61.2 till NY/Conn line
I'm writing this from one of the most scenic shelters I've stayed in. The actual shelter is made out of rock, sort of creeping out from a 50-foot boulder pile right behind it. It looks out to an open mountain meadow bordered by mountain laurel before blending into the woods----very nice. But anyway.......today was a nice day.
The Lemon Squeeze

It rained last night, so I woke up in a cool cloud with a light drizzle, and it stayed cool and rainy all day. I enjoy walking in light rain. The whole forest comes alive. The mountain laurel are all in different stages of bloom, everything from pink little balls to beautiful white flowers. It's amazing how many different shades of pink and white there are. I don't particularly like either color, but I think I have a new found appreciation.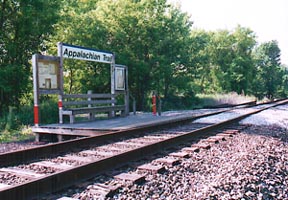 The AT RR Stop ---Just 1/2 hour from Manhattan

From Wildcat Shelter, the trail went over some pretty rugged terrain. A lot of hands and knees climbing. Still fun though. I followed the roar of the NY Thruway down the last mountain to Route 17, which has a pay phone right on the trail. It was amazing. I was on the phone with Jaimie, 2 different cars stopped to see if I was a thru-hiker and if I needed a ride. Two woman gave me some food and water, and another guy offered to take me out to lunch. And whoever said: "Only assholes live in NY?"

As soon as I crossed the thruway, I entered Hamin State Park. Very nice. It's amazing that such a beautiful spot is 36 miles from Manhattan. We do live in an incredible diverse country. Anyway, this park is pristine. The only odd thing is most of it has no underbrush. Just mature trees, grass, and boulders. Very odd. I met a school group of 38 4th graders at the last shelter, which was all the motivation I needed to walk the 5 miles to here, Where I'm staying with a nice girl just out of high school who's headed to the Delaware Water Gap from the Conn/NY line. No thru-hikers yet. At least I got away from the honeymooners. I'm not sure what it is about them, but they literally make me nauseous. OK Goodnight. No Worries. BG
Shelter from the Rain
June 6, 2000 0 miles today while still at William Brien Shelter II
Woke up to rain, decided not to leave. So basically I spent the day in my sleeping bag. Thera decided the same, so we spent the day battling off cabin fever by reading data books, the register, Boy Scout paraphernalia and graffiti, anything. It actually ended up being a nice day of rest, before the cursed Honeymooners and crew stumbled in around 5, splashed their wet stuff all over, and have been bitching and moaning ever since. Oh well. Looks like I have to average 21 miles a day to get to Hanover by the 23rd, so it's time to start running on diesel. HeeHaw. Weather looks good for the next couple of days, hope it's true. No Worries. BG
June 7, 2000 23.5 miles today to Vdennytown Road Campsite and 37.7 till NY/CT line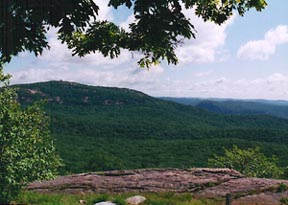 Bear Mountain

There are long days, and there are busy days. Today was a long, busy day. It started around 7 AM when I was awakened by the crotchety crew's morning fiasco. Oh, what a trip. If this hadn't been my 3rd (Argh 3rd!!) morning with the Honeymooners, and if they didn't wake me up before I wanted to get up, it would have been entertaining to watch. But anyway,......

I said farewell to Thera, then bounded on Northward, catching the crew pretty fast and flying by them even faster. Bear Mountain is a bit of a disappointment. No more special than any other mountain in Harriman Park, just completely developed with restrooms, picnic areas, group picnic areas, observation decks, and wheelchair trails. Not real wilderness like. I was also greeted on the mtn. by a huge John Deere tractor pulling an industrial strength leaf-blower. Basically a small helicopter knocked on its side. From there it got uglier at the Bear Mtn. Inn which was swarming with school groups buying crap at the gift shop. I got my mail drop, sent some stuff home, and fled the area all in about an hour. The final bit of ugliness was the zoo which the trail took me through between the Inn and the bridge. It was a native species zoo, with a very sad porcupine, even sadder bobcat, a fox on the verge of death, and 3 starved bears. I could just imagine the zoo sending Luke and Zeke into the woods with a tranquilizer gun to bring in the bounty.

After crossing the Hudson River, it was a nice walk. My only problem with this section is the incredible noise pollution. Between all the private and commercial planes, the big parkways, and just loud things in general, it gets pretty noisy. It could be my imagination, but a one point I swore I heard honking and yelling from the Manhattan skyline (which I saw from 3 viewpoints before and after Bear Mtn). OK Time to go. No Worries. BG

June 8, 2000 127.5 miles today to Telephone Pioneers Shelter and only 10.2 till NY/CT line
A Forest of Mountian Laurel

Long day today with a lot of beauty and some ugliness. From the camping field I spent a nice morning walking through swamps, around lakes, and into mountain laurel thickets. The trail used what must have been a tiny train right-of-way, because there was a 3 or 5 foot wide path on top of a carefully made wall of rocks, 20 feet high at some spots. I ate lunch at the RPH Shelter which is basically a house with a wall knocked down to meet building code laws stating that a shelter cannot have 4 sides. Sort of silly. Nice place though. From there the trail was so-so following the Taconic Parkway to its intersection with I-84, then followed I-84 for 5 miles before crossing it, so there was a lot of road noise. Anyway, after walking/slugging through miles and miles of swamps, I got here to meet Doc and her dog. Even 2 days after that huge rain, the whole forest is still soaked with rivers flowing where no rivers had flown before. Nice to meet another thru-hiker finally. OK. I'm tired so I'm going to bed. No Worries. BG

June 9, 2000 21.4 miles today to Mt. Algo Lean-To and 129.3 till Mass/VT border 1,441 from Springer Mountain (Georgia) and 719.1 till the Big K

I'm writing from a full shelter for the first time in a long, long time. Doc's here and Rainbow VI, 2 section hikers, and a ridge runner. Busted into Connecticut today and I'm loving it so far. Feels good to be back in mountains. Anyway, Doc and I walked down to a Country Store and got a good lunch, then rambled down here. Passed by the 10 Mile River today, wanted to take a swim, but came to a roaring, muddy, angry Class IV whitewater. The Ridgerunner says two people drowned yesterday when their canoe flipped. Anyway, everyone's talking, and I think I'll join them. No worries. BG
---
Go to the next page..... Brian's Hike on the Appalachian Trail (15)
---
If you want to write to or contact Brian, his email address is
If you don't want to receive these updates or know of anyone who should be included, please let us know!