Brian's Journal
June 10, 2000 17.3 miles today to Pine Swamp Lean-To and 112.0 till VT/Mass line
Flowers Amidst the Sweat
Today ended up being one of those oppressively hot, muggy days where you're reminded with every wobbly kneed step, every drop of eyebrow sweat blurring your vision, and every bug buzzing around you, that you ARE hiking, you are NOT relaxing in air conditioning or swimming in a cool pool, sipping down frozen drinks with happy umbrellas and beads of condensation dripping onto your lap with each sip. No my friend, you are hot, miserable, tired, exhausted, confused, a mass of mosquito eaten flesh. Every part of you lets you know it is uncomfortable, your crotch is competing with your back, shoulders, and waist for best chaffing wounds, and you know there is no end in sight, no cool respite, no buzz-less safety zone, no,no, no----you are HIKING. And sometimes it SUCKS.
Oh well. If not for the heat, today would have been beautiful. Awesome water falls running everywhere.
P.S. This is where I ended last night. The bugs were so bad I couldn't even finish--- just jumped in bed for what ended up being the hottest, buggiest, most uncomfortable 10 ours in my LIFE!!
June 11, 2000 21.0 miles today to Brassie Brook Lean-To and 91.0 till VT/Mass line
After yesterday's horror show, anything following would seem like heaven, and today was much, much better. I woke up at 5 (or I should say started packing at 5, having had no real sleep to wake up from) to beat the heat and get an early start to a big day. Even at 5 o'clock in the morning, that's half an hour before the sun even rises, it was 70 0 and extremely humid. But 70 0 with no sun is better than 900 with blazing sun, and the morning was quite nice. At one viewpoint I could see Paul Newman's racetrack, obviously the highlight of my day.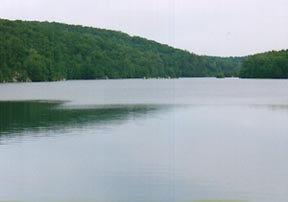 the Housatonic River in CT
But after 6 miles of rambling along a little mountain range, the trial dropped down to Route 7 and paralleled the Housatonic for a bit. It did the same yesterday, but the river was over the banks and was the trail for quite a bit. Beautiful, powerful river. Just real impressive. These flat river walks in Conn. are nice little rests. One section of the AT on the river is being worked on to make it wheel chair accessible. It's really that flat.
I ate a 10:00 lunch at the River Falls hydroelectric power plant, then followed the roar of the river to a HUGE waterfall. Granted it was being released from the dam (or just overflowing it), but it was intense. The waters were about 20-25 feet over the banks on each side) and flowing right over the little forested island in the middle. Like a baby Niagara Falls.
Moss Covered Stonewalls in CT
From there the trail lead me over some real beautiful new forest and old (1700's) farm land, with moss covered rock borders, sweat smelling flowers, and some amazing (though hazy) views of the Taconic Ridge I'm up on now. Around 2 I ambled down to Salisbury, Conn. What a town. One of the most pretentious "quaint" towns I've ever run across. It was a town where a crappy hand-me-down first car is a '98 BMW convertible. The only grocery store was the LaBonne Epicure Market, where Pepperidge Farm and Tropicana are the "generic" brands. This line from the Companion says it all, "Maria McCabe offers rooms in her house for hikers. $50 includes shower (towel extra), cooking outside, no laundry service. Cash Only."
Unfortunately it started to "severely" thunderstorm, so I had the afternoon to kill. Rough Rider and the Herbal Ranger showed up too, so I didn't feel quite as out of place, and it ended up being a unique and entertaining town stop.
Anyway, after the rain, everything was fresh again, and I climbed up to Lions Head. I think lately I've been getting too caught up in the miles, and it seems like I've been watching the scenery like it was a movie. Interesting, but distant and trivial. Up on Lion's Head though I had a nice time just sitting down and being in the picture, part of it. I forgot how good it feels, so I have to keep that in mind from now on. I'm alone in this shelter at 7:30, inside by tent to keep the bugs out, and another storm is taking away my light. So I guess it's time I say farewell and get something to eat. No worries. BG
Register Quote of the Day:
"This IS the Real World!"
June 12, 2000 21.9 miles today to East Mountain Hikers Hostel and 69.1 till VT/Mass line
WOW! It's 12:25 at night, and I'm still up writing by lamp. Crazy. I'm staying the night in this awesome hostel with a very entertaining guy whose collecting info for next year's Companion. Anyway, I woke up to rain, after enjoying an awesome T-storm last night, then enjoying 12 hours of uninterrupted sleep. The morning was incredibly beautiful. I rambled through Sages Ravine, and everything was just so intense. The greens of moss and fern, the whites of birch trees and r-pids (?), the gold of the forest floor....everything was just so brilliant. It all seemed too colorful for real life, sort of surreal.
So I left the ravine with soaring spirits and entered into Massachusetts. The trail changed from meticulously maintained to move or less forgotten. All run-off for the whole ridge seemed to be flowing over the trial, making my feet wet and causing some hard falls onto slippery rock. I met 2 nice guys out for the weekend (one of which was back on the trail for the first time since a '99 thru-hike), and a group of wilderness camp kids and counselors gave me some ham sandwiches.
The AT Trail Underwater (MA)
Once of the trail left the ridge, it headed for the swamps. So the next 15 miles were spent wading ankle to knee deep through flooded fields and swollen swamps. In some spots the wooden walkways were 4 inches underwater. So it was a pretty miserable afternoon, made even more unpleasant by swarms of mosquitoes. But I'm here now, clean, warm, and dry. All is well. Time for bed. No worries. Billy Goat
June 13, 2000 20.5 miles today to Upper Goose Pond Cabin and 48.0 till VT/Mass line
To my surprise, a cold rainy day led me to a great AMC cabin with a fire, propane lights, and a dry place to sleep. I didn't really intend on walking this far today. After a lazy morning bike ride to Great Barrington for breakfast at Friendly's, I didn't get on the trail until 12. I realize that the trail crosses Route 23 about a mile from where Jaimie and I went to the Berkfest Music Festival, so I was chasing some ghosts around the grocery store and Friendly's. But anyway, I met a girl who lives on Culvers Lake hiking with a friend from Sunrise Mtn to Cheshire. Mass. Other than that I didn't pass many people on the trail today.
About an hour after starting, the sky opened up and it's been raining ever since. Not torrential, but a constant steady rain. Needless to say I was happy to see a light on in the cabin as I walked up. Kimlar and Cesar are here wit h 2 hikers who haven't left their beds since I've been here. There's also a shady schizophrenic guy and 3 caretakers. An odd mix. The caretakers are AMC yuppies from Boston. They volunteer for a couple days at a time, and unfortunately the ones here now are pretty obnoxious. But the schizophrenic (who's somewhat of a religious fanatic) got into a yelling/shouting match with the arrogant manly man (watching out for the weaker women among us) so it's been an interesting evening. My good buddy for whatever reason thinks I'm his ally, so we're a team now. He has some theory involving Christopher Reaves. OJ Simpson, JFK, the Memorial Mass tornado, Johnny Carson, Jerry Garcia, and the president of Israel in an elaborate knot that clearly shows that Jesus is coming back, and we are all going to be screwed. You meet the oddest people on the trail. Oh well. I'm bout ready for bed, so I think I'll go (with one eye open). No Worries. BG
June 14, 2000 17.6 miles today to Kay Wood Lean-To and 30.4 till VT/Mass line
After planning on taking a zero day at Goose Pond, today ended up being a long, cold, raw day of hiking. The caretakers got real bugged out by our schizoid buddy, so they asked if I would pack up, pretend to leave, walk around for a couple hours, then come back so that they could tell Bill they were closing. In all honestly I found their way of dealing with Bill far more disturbing than his behavior. All last night they were patronizing, mocking, teasing, and provoking this poor guy. I was a little alarmed though, when on the brink of sleep, one of the woman caretakers asked the manly man caretaker if they should be concerned about the kitchen knives. So I slept with one eye open. Anyway, Bill felt a huge bond with me since we were both getting screwed over, and he wanted to know if I needed a hiking partner since we had so much in common and all.
Beautiful but Wet and Messy

Anyway, the weather is straddling the line between miserable and unbearable. Although no rain while walking today, the trials are a disaster. Massachusetts is basically one huge, wet swamp. Besides being saddled with constantly wet feet, my ankles are raw from over work since they have to balance out each uneven step. With today's 17 miles, I walked about 3 and swam the rest. Unfortunately the weather report calls for 40% chance of rain or T-storms and temps in the low 60's through Sunday. It was real depressing listening to the computerized weather center robot voice give the same monotonous, bleak forecast, "THURZ DAY--FOR-TY--PER--CENT chance uf RAN, THURZ-DAY--NIT--FOR--TY --PER--CENT chance uf RAN--FRIDAY--FOR--TY--PER--CENT -- chance ur RAN...."

Oh well. I got to camp early today and have been going over my options. Unfortunately Vermont will be just as chopped up in all this rain as Mass has been. I think I may see about working for stay for a couple of nights at Bacom Lodge on Greylock. Otherwise I'll just keep on truckin' (or trudging) on. It does suck that there aren't any places to stay in New England for less than $50 a night. And while I'm bitching, New Englanders have no sympathy for tired hitchhikers! OK, I'm done now. Tomorrow I'll get breakfast in Dalton, lunch in Cheshire, and dinner on Greylock, so thinks are looking up. No Worries. BG

What I learned today:
Muddy boots + wet boards= hard falls and swampy swim

June 15, 2000 20.0 miles today to Bascom Lodge and 10.4 till VT/Mass line < p> Breakfast in Dalton ****, lunch in Cheshire *, dinner at Bascom *****. Today was a good day. Well here I am, only 6 miles from where I started my Long Trail adventure 11 1/2 months ago. Hard to believe. The sun broke through this afternoon for the first time in days. I had almost forgotten what it looked like. This morning's walk was pretty non-descript, except for the towns and everything. But the climb up Mt. Greylock was awesome.
Rocky Path to Higher Elevations

I climbed above 3,000 feet for the first time since leaving the Shenandoahs. It's nice being back in mountains with lush alpine vegetation. The past 3 miles were very much like Vermont with dense balsams and ferns and mosses holding down the sponge-like forest floor. Very nice. Looks like the weather is changing from cold to rainy to hot and humid. I don't know which is worse.

Oh well. It feels good to be out here, and I think I'll cruise on into Vermont tomorrow. Only three states left---where has this trip gone?? OK It's late, and after a night of partying with the lodge crew (who really are awesome) I'm about ready for bed. Oh yeah, Swamee and Cornfield are here tonight. Both are extremely nice and very entertaining. Grandad and Shibedown and Shaman are a day ahead. So maybe I'll catch up with them. OK No worries. BG

June 16, 2000 13.2 miles today to Seth Werner Shelter and 304.4 till NH/Maine line
1,574.4 from Springer, Georgia and 585.8 until the Big K After an incredible breakfast and lazy morning at the Lodge, I dragged myself out into the hot, humid world and trudged a very long 13 miles. I'm writing this from my tent at the same shelter from which I started the Long Trail. Only difference is it's swampy and far more buggier this year. So I'm in to the final 3 states. WOW! It feels weird to have the end in view. In February Katadin seemed worlds away, not it's only a month and a half. For all my bitching as of late, and my bitter resentment of hot, humid days, muddy trails, and biting insects, there is still no place I'd rather be.
Only Three More States to Go!

The trail is such a large part of who I am and how I see myself, it's hard to imagine that it's almost finished and I'll be in another, completely different period of my life.

But anyway.....I'm here tonight with Swamee and Kimber and Ceser. Nice company. Big day tomorrow, though it may get smaller since the forecast is calling for temps in the '90's. OK. Time to sleep. Another journal section filled, another data book section busted into, another state torn out of the companion, and another tired night. No Worries. BG
---
Go to the next page..... Brian's Hike on the Appalachian Trail (16)
---
If you want to write to or contact Brian, his email address is
If you don't want to receive these updates or know of anyone who should be included, please let us know!