Brian's Hike on the Appalachian Trail (11)
February 20, 2000 until ????
brianshike11 : April 23 to April 30
---
Brian's Journal
April 23, 2000 20.1 miles today to Black Rock Hut and 86.8 till Front Royal
Well, I'm back on the trail and feeling better than ever. I woke up early this morning, took another shower (who knows when I'll get another), and packed up. After double checking the motel room 5 times---mom, dad, and I ate breakfast, then headed to the trailhead. The folks and the hound walked me up to where the trial left the road for the woods, then we said our good-byes, took some photos, and left in different directions. Always an odd feeling. I asked Oliver if he wanted to walk home or drive home; he went home with the folks.
Another great Shanandoah view

Anyway, Shenandoah really is as easy as everyone says it is. When the trail isn't a grassy path; it's a gravel path, well worn, and well graded. This is a beautiful area, but I liked it better as a road than as a trail. The trail gets a bit repetitive; same grade, easy walking, no climbs, crosses the Skyline Drive at least once every 2 miles, no views but those from car overlooks. Less crowded than I expected though, which is good. I'm here tonight with a new backpacker out for a week who's been bombarding me with questions all night. He's a big gear-head, and can't figure out why his pack ways twice as much as mine. I wish someone else were here to field some questions too. This register says only Nighthawk, Ridge and Beetle (w/dad) have caught up. Still no word from Terrapin, Basco, and Sara or Raphael or Nate and Shaman. I imagine the Frenchies are close though. There are a lot of dead trees here. Sort of sad. One section looked like they were growing telephone poles. All the trees had died, and started rotting w/o falling over. So the ground was scattered with rotten branches, leaving these dead, straight, toothpicks jutting out of the Earth. OK. I'm losing my light, so it's time for bed. No worries. BG

April 24, 2000 13.1 miles today to Pinefield Hut and 73.7 until Front Royal

After an easy, repetitive 13 miles through a gloomy day, I got to the shelter around 3:30. With my days off I couldn't wake up this morning, finally getting out of bed at 9:30. I had a good night's sleep though, no television to feel compelled to watch till 2 in the morning. But anyway, I didn't pass any hikers all day. Just a few families on Skyline Drive who would peel out of the overlook as soon as I came lurking out of the woods. "Children, avert your eyes."

I did meet a nice day hiker as I was lying in bed this afternoon. We had a nice conversation and then he left me some extra apples and bananas. I dozed off into a late day nap, only to be woken when Old Spice, another thru-hiker, walked in, followed by Dan and Steve (SoCo and Chieftain) and Louis. Annie went home to visit her sick grandmother, and will meet Louis at Harper's Ferry. Old Spice is a nice guy, and it's great to have some company again. Right before my nap I was thinking I was getting a little lonely, then waz-zam, some trail angel sent some trail buddies my way. Everything really does work out out here. I have the same plan as these guys thru Front Royal, so I'll have their company for a least a week or so. OK Time for bed. No Worries. BG
Virginia Flower
April 25, 2000 20.8 miles today to Bearfence Mtn. Hut and 52.9 till Front Royal
Long, wet cold day today. After a restless night of mice-capades, I was woken at 5 by a group of 4 vampires. Odd time to get to camp. But it rained all night, and didn't stop till this morning. Cold rain makes you walk fast though. I got to the Hightop Hut which was 8 miles away in 2 hours and 15 minutes. I'm here at Bearfence Hut with the crew from last night (minus the vampires) plus 2 section hikers and a flip-flopping SOBO with her dog. Full house, but the rain has stopped and some clear sky is trying to pop through the clouds. If it hadn't been so cold today, it would have been a nice section. I actually got away from the Skyline Drive for 5 miles or so, and even climbed a couple of mountains. I'm looking forward to sleeping in tomorrow before an easy 7 miles to Big Meadow Wayside for groceries and deep-fried tasty tidbits, then only another 4 easy miles to the next shelter. The forecast says rain all week. I hope it's wrong. OK Time to fly. No Worries. BG
April 26, 2000 11.4 miles today to Rock Spring Hut and 41.5 till Front Royal
Easy day today, spent mostly eating cheeseburgers at the Big Meadow Wayside. We woke up in a cloud, then ran 7 easy miles, missed the Wayside trailhead, so ended up walking an extra mile from the Lodge. I was glad to get there, if not for the food, just to get out of the damp. But I spent the day being gawked at by tourists, and watching various Ranger videos at the Visitor Center. So after a lazy day of rest, I rambled down here after Louis and Old Spice and met Dan and a troop of Boy Scouts. Luckily the Scouts are all tenting out. Anyway, we sat back and enjoyed some tasty Bud Light and marshmallows in front of a nice fire. An hour or so later Mike and Medicine Man showed up. They've been about a day and a half behind for a ways. Nice guys though. They talk like Cheech, but they also have some great stories. Last night Mike killed a world record 28 mice at Hightop, once again regaining power of the shelter to the hiker. He says he had a pile a foot high by the time he was done. I also met Cruzin Canuck who came in after 33 miles around 7. I saw him at Damascus, but this is the first time I've ever met him. So there's a good group here tonight. Steve took the SLD tour, but Dan's here, with Old Spice, Louis, Mike, and Medicine Man, and Cruzin Canuck. It's nice seeing thru-hikers again. I was starting to get lonely. OK Adios, eh...? No Worries. BG
April 27, 2000 28.2 miles today to Gravel Springs Hut and only 13.3 till Front Royal
I'm feeling pretty tough right now! 28.2 miles is my longest day ever, and I think it's the first marathon I've ever done too. It took me about 11 hours (including all breaks). If I take away 2 miles that makes 10 hours, so I think (and/or hope) I got Oprah beat. But anyway, today was an extremely FULL day, in many respects. I wish I could say I woke up in a cloud, but since I didn't rally sleep last night, I guess I should say I left my sleeping bag this morning in a cloud. Between Thumper's snoring and crazy mouse-capades, no one (except Thumper) got a blink of sleep. Poor Dan got bit on the ear and woke up to a bloodstained sleeping bag. Mike didn't set the traps, but at one point a mouse got into his ziplock bag, so he smacked it as hard as he could, yet somehow the mouse managed to flatten out w/o breaking, and lived to run away and bother us some more. But the morning met us with clouds, and after some morning bullshit, we headed out.
Once I got hiking, the weather world changed from clouds to sun every 5 minutes. One minute you had a nice view, then the next you were in the center of a big cumulous cloud. Very odd. But after 4 miles or so, I went off the trial to Skyland in Search of food. I promised myself I'd save my money, but somehow my stomach stole control (or won control) of my legs, I guess my legs are just as mad at me right now as my stomach. But I met Mike, Keith, Dan, and Cruzin for an incredible breakfast buffet. And after 3 heaping plates of food, and 4th of fruit, I think I got my $8 worth.
We must have been quite a spectacle. I can't imagine a motlier bunch of hikers. Mike looks like someone from a Leonard Skynard concert, crazy red beard, tattoos, and all. Keith could pass as any Detroit grease monkey. Dan could be any of the surrounding family's wise patriarch. Crusin could pass as Leonardo Dicaprio. And I am I. But we dropped some jaws and ended up being quite a spectacle, especially at the buffet. I should start carrying a sign, "Get your picture with a hiker, only $1.00!" I probably could have financed my trip. Twice.
More Virginia Flowers
But anyway, after unsuccessfully calling Jaimie, I headed out. I got to be hiking with Mike. He is the first person I've ever met with my same gait, so we go the same speed. I had a nice talk with him. Poor guy lost his 17-year-old daughter when a drunk driver ran a red light and smashed into the car she was in. Then the judge threw out the eyewitness's testimony, and the driver got off without even a moving violation.
Wow, great way to end a day. Fanny Pack (a traveling trail angel) just showed up with some soda and cheeseburgers. Nice guy. I guess anyone who gives away food is nothing but nice. Anyway, after talking with Mike, the crew hid out from a hail storm (yup, hail) at Byrd's Nest #3. After 2 Giant Snickers bars, which is 1080 calories (loaded with peanut butter of course) I felt good and rested and walked 18 miles more, interrupted only by another failed phone attempt at Panorama and a cheeseburger at Elkwallow Wayside. I hiked the last 5 miles from Elkwallow w/Louis, and we got here to meet Steve and the 2 section hikers I met before Waynesboro. Steve had a roaring fire, and after a Raman, potato, cheese medley, I climbed into bed, and here I lie.
I think your body feels the same after 28 miles as it does after 22. I guess you just sort of go numb. I feel good though, and as I see I'm running out of room in this journal, so I guess I might as well finish it off. I'll be glad to leave the Shenandoah's tomorrow. I expected a rich forest, but I've been disappointed since it seems 70% of the trees look dead. I'm also tired of huts poorly spaced, so you can either do less than 15 or more than 25 each day. I'm also tired of the Skyline Drive and the hoards of tourists it brings in. In fact, the only thing I like about the trail here is all the food. I think the best way to see this park is to have a car and take some nice circuit hikes. The AT is nothing special. But enough whining, I'm ready to sleep. No worries. BG
April 28, 2000 18.5 miles today to Jim and Molly Denton Shelter 950.9 from Springer and 1209.3 till the Big K
It was amazing. 10 minutes after leaving SNP, the sky let up, the sun came out, the trees turned green, and the trail became pleasant again. No road, no condescending glances, just a lovely, green forest path. But anyway, I left last night shelter in a cloud (for about the 20th time this month), and walked out of Shenandoah on an old fire road. I had lunch with Louis and the Ambiguously Gay Due, then headed out of another Data Book Section, and up to the nicest shelter I've slept in yet. Absolutely amazing. There is a good sized shelter with a huge front porch, complete with wooden lounge chairs, separate picnic area with shelter, pristine privy, solar shower, and nice spring. Not too shabby!
The last 5 miles up here were basically the idyllic walk in the woods most people imagine the AT to be. Simply beautiful. Green forest floor with purple, yellow, and white flowers, protected under huge birch and poplar trees. All interrupted only by a little path and some white blazes.
I passed by the National Zoological Breeding Ground, and searched for a yak or a lemur or a genetically altered pig, but I only saw some empty barns and hay bails. Oh well. I'm here tonight with Ol' Smokey, whose trying to get to Springer after 3 years of hiking. He's pretty classic. He wears Brooks Bros., Ralph Lauren, and Dockers, (all well worn), but carries a $20 pack and wears work boots. He also hates dirt, and enjoys collecting old pipes. He listens to polka on his Walkman, tapping out the "umpahs" and singing along. Classy guy. I like him, even if he is a bit crazy. I'm also here with two weekenders. But anyway, Linden and a mail drop are just a mile away and it looks like some 20 miles days will put me in Harpers Ferry on Monday. Hard to believe, half of the trail is almost behind me. The bigger half lies up ahead. Time for bed, if these guys ever stop talking about their work-force woes. OK. No Worries. BG
April 29, 2000 and 18.9 miles today to Rod Hollow Shelter and only 70.3 to PA/MD Line
Today was the first day of beautiful weather I've had in weeks. Clear, dry skies, warm sun, and a cool breeze. Ideal. But anyway, I woke up, ate 2 Pop Tarts, then bolted down to VA 638, where I got a fast ride by a nice guy to the PO at Linden. Linden isn't really a town---basically a Post Office and convenience store. I managed to get in and out within an hour, and got away with all but $7.38 of my stash. Good town stop, though--- got to talk to Jaimie, picked up a useful mail drop, ate 2 hot dogs, and a micro-waveable biscuit-egg sandwich, and got a ride back to the trail.
Sabie Mike and Medicine Man

From there it was a nice walk in the park, although the trail was abnormally crowded today. My feet were dragging most of the day, but I started walking with my radio, and was amazed by how fast it makes the miles move. Fanny Pack left his signature: Simply Soda Grape and Orange drinks in rivers at all the road crossings. That guy just lives for the trail. Pretty amazing. I got here to meet a troop of Scouts (the third I've seen today) but fortunately they're tenting out, so I'm sharing this huge shelter with Medicine Man and Au Sabie Mike (Mike and Keith). They are both very nice guys, and I enjoy their company. Mike owns and runs a campsite/canoe outfitter in Michigan, and had always wanted to hike the AT. When he started talking seriously about it, Keith (his 23 year old nephew) who had never put a pack on his back decided he wanted to tag along. He was tired with his job, and ready for a change. So they headed out and are hiking as far as they can get until June, when they're going to work the campground until the fall. Then they'll come back and finish up what they didn't get done in September. But anyway, Mike's caught (killed) 2 mice in 2 minutes, so maybe he can beat the record of 28. Hopefully not. OK Time to shut my eyes. No Worries. BG

April 30, 2000 and 21.0 miles today to David Lasser Memorial Shelter and only 49.3 until the PA/MD Line

Another beautiful day---I'm pressing my luck here. Au Sable Mike and Medicine Man woke me up pretty early, so I slowly got out of bed listening to the birds and enjoying the sunrise (first one in a long, long, long time.)

Today's first 15 miles are what are affectionately called "the roller coaster" since you basically spend the whole hike going p and over 16 smallish mountains, climbing a total of 5,000 feet. It wasn't as bad as it is made out to be , but it wasn't a walk in the woods either. The trail was bopping again today, especially around Snickers Gap. I always get some odd reactions from day hikers. Most are indifferent, treating me like a tree or rock, avoiding eye contact and ignoring my hello. Some are real environs and want to know how my trip has been. And another group talks about me, as in "Boy, he sure looks tired" without talking to me.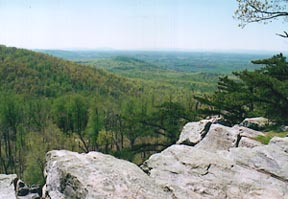 More Virginia Views

But anyway, I was glad to see all the Boy Scout troops hiking back to the roads and out of the woods. I guess I should get used the crowds, but the last couple of weeks have been a completely different hike from the rugged, remote Southern wilderness areas. I guess I'll have to wait until Maine before I feel like I'm back in the backcountry. The more people I see, the more I daydream about hiking the PCT someday. It's not that I don't like people---I just don't like stupid people, or Boy Scouts.

But anyway....Harpers Ferry tomorrow. WOW!!

I am amazed. I've come about halfway, and it feels like last week I was sitting in the Place, amazed I'd come a quarter. Days go by like heartbeats out here. I've enjoyed most of Virginia very much, but after 550 miles in one state, it also feels good to be leaving. Crazy to think that in another 500 miles I'll be up in Vermont already---through 6 more states. But anyway....I'm here at David Laser Memorial Shelter (which is very nice) with a crazy pathological liar, and a father-son duo. Both groups are heading south, which makes me happy. I guess I'll see tomorrow whether I stay in Harpers Ferry or move on into Maryland. Either way sounds good to me. Well, I'm ready to sleep (with one eye open.) No Worries. Billy Goat
---
Go to the next page..... Brian's Hike on the Appalachian Trail (12)
---
If you want to write to or contact Brian, his email address is
If you don't want to receive these updates or know of anyone who should be included, please let us know!