Brian's Journal
May 1, 2000 and 19.7 miles today to Crampton Gap Shelter and only 29.6 miles til the PA/MD Line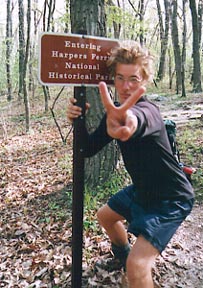 Entering Harpers Ferry (WV)

I passed the 1,000 mile mark while crossing over the bridge from West Virginia into Maryland. Hard to believe. But anyway, after waking up and spending a delightful breakfast with the most nauseating man I have ever met, I headed down to Harpers Ferry. I swear that man smoked 40 cigarettes in the time I was with him. He also spat up 15 or so good chunks of fleshy lung, after solid, eye-popping, gut-wrenching coughing/wheezing fits that left him sweating profusely. Add to that his constant grunting, his pants that neither covered his gut nor his ass, and his idiotic conversation, and you get the most unpleasant, stomach turning individual ever shat into this world.

But anyway, .....Harpers Ferry was a trip. I probably spent two hours or so at the ATC headquarters checking things out and chatting with the volunteers. Nice people, they even fed me (after a sub and a pizza at Rocky's Pizzeria.) I am the 9th thru-hiker to pass by and sign the register this year. I think I was #90 at Neel's Gap and I know I haven't passed 80 people. But anyway, from there I stumbled through historic Harpers Ferry, lost amid school groups and retired tourists. It was fun though, and I think I'll show up in about 20 people's picture albums.

From Harpers the trail followed a canal path for 3 miles, paralleling a railroad. There I met and walked with Elizabeth Anderson--- a mousy, little woman who has been wandering by foot and freight train for 7 years. She thinks she'll walk across the country this year, after going to Washington for a bit. I liked her a lot. She didn't seem crazy, just abnormally timid, but really very, very sweet. But anyway, I walked on into Maryland, and meet Chieftain at the Gathland Park vending machines. He says he talked it over with his wife, and he will be going on to Maine. He figures if he goes home now, he'll know he'll want to finish sometime and he'll have to buy another plane ticket. But he has left Dan, and is moving pretty fast. Anyway, I'm about ready for bed. Hope the mice don't bite--- they sound big! No worries. BG
ATC Headquarters
May 2, 2000 and 25 miles today to Devil's Race Course Shelter and only 4.9 miles till the PA/MD Line
Good long day today, with ideal weather. I spent most of the day walking through people's backyards, not so rustic anymore. I passed all sorts of Civil War monuments this morning. It is an eerie feeling to know that hundreds, even thousands of men were killing and being killed on the same beautiful fields I was enjoying on a beautiful day. It's also incredible seeing these tattered ruins of houses and churches, absolutely destroyed by Union soldiers. I also passed the first Washington monument. It was pretty crappy. Just a big pile of rocks with a staircase in the middle. Anyway, I'm losing my light, and there's a nice fire going, and good company, so I'll end this now. (Chieftan's here, the Honey-Mooners, and the Awesome Couple I first passed in the Shanandoah's.) No Worries. BG
May 3, 2000 and 19.8 miles today to Rock Mountain Shelter and 1,055.0 miles from Springer and 1,105.2 miles till Big K (and 213.9 till Delaware Water Gap!)
This is just too much. 3 days of beautiful weather and the report says it should stay like this through the weekend. I had a lot of fun today. I woke up and had a nice breakfast with Stanley and his wife (I can't remember her name.) I really like them a lot. They're probably in their late 60's, yet very much still in love. They're not falsely, obnoxiously affectionate though, they just still enjoy each other's company, care for each other, laugh at each other, and have fun together. They're just real sweet.
Anyway, about 50 yards from last nights privy there was what looked like a river of rocks. It was one of the oddest geological phenomenas that I've seen. The path walks through the woods, which are pretty rocky to begin with, but then lets out into this massive field about 25 yards wide and going as far as the eye can see to the left and to the right.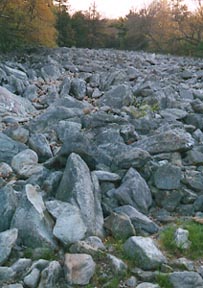 River of Rocks

Then on the other side (25 yards straight ahead) are more woods. In this long narrow strip are millions of boulders, ranging in size from ones the size of a medicine ball, to ones the size of a VW bug, to ones the size of a small house. In the boulder field, you could hear roaring from water beneath you, but you couldn't see water anywhere. It was pretty neat.

Anyway, from the shelter I ran down to Pen-Mar Park and the border between PA and Maryland, then headed to Cascade for a mail drop. I found a new, sure-fire way to get a ride:
Step 1: Take out a guidebook, map, or any like object.
Step 2: Start walking away from where you want to go.
Step 3: Frantically wave down a motorist heading towards you, and the place you want to go.
Step 4: Ask for directions to town, acting extremely confused and stupid.
Step 5: After directions are given, say "let me get this straight...." then go through the directions, inserting numerous errors.
Step 6: Continue this until the motorist gets frustrated and says, "Just get in the car, I'll take you there..."
So simple---wish I'd thought of it months ago. Anyway, I used the above procedure to get to the post office, where I got my mail drop and some letters. Unfortunately my Kool-Aid baggie tore en-route, so all my food has a sticky, red film on it.

While sorting through my food on the curb, an older woman comes over and says, "Candy bars, that's all you eat?!" Then she starts to feel bad for this poor homeless kid and wants to know if I need some money to get a real meal. If it had been someone else, I would have taken the cash, but since she was sweet and looked like she didn't have a whole lot of extra money, I assured her that I would be all right. Nice people though----I got 3 offers for a ride in about half an hour. I talked to Jaimie and got a little excited when I realized I'd get to see her in about 2 weeks. But anyway, by then it was past 11, so I went to Rocky's Pizza and bombarded the lunch-specials menu. I got a 12" cheese steak, a 12" roast beef sub, 2 slices of pizza, and a medium Dr. Pepper for $9.00. It was quite possibly the best tasting food I've had this whole trip. After that feast I got a good hitch (the old fashion way) with a real nice guy in a red truck..

I like this part of Pennsylvania very much. It reminds me of the forests I grew up around (Fairmont Park, behind Alison's pond, Stokes Forest, around the lake.....) Nothing special, just the familiar smells and hills and mixture of traffic noise and bird songs. In 3 days I haven't had to use my filter. There have been enough state parks and restaurants to get water every 10 miles. I guess I'm no longer in the hard-core backcountry.

Which reminds me---I'm afraid I've caught the hiking bug. I picked up a Pacific Crest Trail brochure at the ATC, and while I'm not even halfway done with this hike, I've already got my eyes on the PCT. There's a 25-year-old guy named Foxtrot out here who works in the Alaskan Fish Hatcheries for a couple months each year, just to get some money to hike with. He's done the AT (3 times), the Long Trail, the PCT, the Continental Divide Trail, the Colorado Trail, and some hikes in Scotland. Not a bad way to live for a couple of years (as long as he can still walk when he's 35). But maybe after school I can do the PCT.
Pa Shelters

So far the Pennsylvania shelters have been pristine. It's a bit odd, the sites have had 2 small shelters instead of one big one. I guess that's about all.

Oh yeah, I can't believe I almost forgot about this! As I was dumping my cereal into a bowl for dinner, I see this big, green chunk wedged in the middle of an O. I say to myself, "What the hell is that?" I take a closer look. Then I say, "That looks like.....no, it can't be." Sure enough, there was a chunk of pot in my cereal. Then I started imagining a hairy armed, obese, sweaty, ogre of a man, sitting at some conveyor belt in the cereal making factory watching Oprah, smoking a bowl, and rhythmically reaching his greasy, hairy forearm into a huge vat of cereal, grabbing a fistfuls of apply O's, cramming them into his mouth, half going in, half falling down his front, getting lost in folds of flesh and "Fruit-o'-the-Loom" cotton, to be found (and eaten) hours later on his car ride home. Needless to say, I'm proud to be an American.

Now I'll have that wonderful image chasing me though some nightmare. Oh well. No Worries. BG.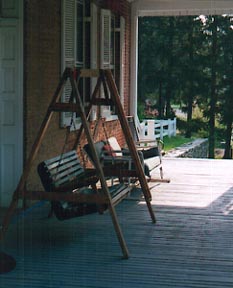 Swinging at Iron Masters
May 4, 2000 and 22.7 miles today to Iron Master's Shelter and 141.2 miles till Delaware Water Gap
After a long, easy day, here I sit at the Iron Master's Youth Hostel, feeling sick from the barely cooked pancake mix, butter, and syrup combo I just inhaled for dinner #1. This place is nice, but what started as a $12 hostel has ended up being a $20 affair after mandatory sleeping sheet fee, shower fee, laundry fee, and food donation. But maybe I'm just a cheap bastard. My shower did feel good, even though I didn't want to buy shampoo and soap for $3.
It's been a while since I've been relatively clean. I do admit, it does feel good to sit down in a comfortable chair on a nice porch, watching the rain water the green and yellow of spring, listening to the birds, knowing that a warm bed awaits me tonight. But anyway, I woke up and walked the 3 miles down to Caledonia State Park for breakfast. I've been very impressed with these parks. They pretty much blow Voorhees State Park out of the water. They're immaculate, with beautiful gardens, and nice picnic areas and trails. From there I walked up to Quarry Gap Shelter, which was incredible. I admired it, took a break, then ran off. I somehow got ahead of spring again today up on the ridge.
Today was how I imagined Pennsylvania to be, hot , dry ridge walking. The last 3 miles down to here were beautiful. I got back into spring, and just walked through an incredibly lush section. Now I'm here on the porch (later than when I started this entry) listening to the crickets. I'm here in this mansion with a guy named Roy, who's been wandering around for several years. He worked at Elmer's in '98. The way he makes it sound, he was in real estate, then sold out, gave his money to some money-manager, and basically lives off dividend checks and spends a lot of time hiking. Nice guy, real bright.
OK Time to run, and maybe cook up something better to eat. No Worries. BG
May 5, 2000 and 19.7 miles today to Mother Hen's House and only 171.5 till Delaware Water Gap
Looking Ahead to the Second Half

What a day!! It started off with a lazy breakfast with Roy and the Ironmaster caretaker on the mansion's porch. I enjoy Roy's company, and hope to see him up the trail. Anyway, once I finally got going I got to the official, unofficial mid-point marker, did some solo celebrating, took some photos, then was on my way again. The morning was a real nice, easy walk through some nice forests, ending up 10 miles north at the Green Mtn. General Store, where I proceeded to cram $15 dollars worth of hoagies, ice-cream, chocolate milk, and Tasty-Cakes down my through and into my bloated belly. The owner was very nice, and an exquisite sandwich master. From there it was a fairly tough section with 5 or 6 500-foot climbs made extremely hard by heat exhaustion and dehydration. It was in the low 90's today, and very steamy, and I was sweating more than I was drinking. Around 2 I got to a spring, drank about a liter and a half, ate another roast beef sub and bag of chips, and felt much better for the rest of the afternoon. About a mile south of Boiling Springs I dropped into the Cumberland Valley and found myself skirting around agricultural fields and backyards. Everything's at right angles...........

This town is real nice though. A bit surreal and too quaint with good old American values, but nice just the same. I got to the porch of the Mid Atlantic ATC office (which sits on a duck pond in the middle of town), saw a flyer for Mother Hen's House, gave her a call, and the next thing I knew I had a place to stay and an AYCE church buffet lined up for the evening. She couldn't come get me for an hour, so I had a nice rest on the swing at the ATC, and spent a lazy summer evening people watching. Couldn't have picked a better spot to do so. The local high school had it's Prom tonight, so all evening groups of kids with giddy mom's would walk past, get some classy photos in the park, then walk past me again. All complete with the classic, tacky dresses (fortunately only seen at proms), and whiffs of cheap perfume and cheaper cologne. Then there were the kids that got mom and dad's (or grandma and grandpa's?) shiny new Lincoln Town Car for the night, driven by boys (neither attractive nor ugly) just identical enough to be socially acceptable. Short hair with gel, sideburns if they'd grow, single hoop earring in the lower lobe of the left ears. There was also the group of 20 or so popular kids hoarding the gazebo, while the fat and funny looking kids had to settle for a less picturesque backdrop for those painfully awkward photo sessions. All in all it was enough to make you sick. Hard to believe that just a year ago I was in the middle of all that garbage. I can see them all now, singing along to John Mellencamp before running off to cheap motel rooms for mass de-virginization. I've never felt like more of a vulture, lurking in the shadows with an evil, condescending smile as I did this afternoon.
Cumberland Valley Area

But anyway........ Mother then came by about an hour later with Bumps and Scruff (2 section hikers) to take us to Mexican "Margarita Madness" at the Universal Unitarian Church. My God!! I've never had more fun at a church dinner! We were drinking Corona and Yuengyueng, singing and dancing, eating ourselves retarded.....it was a regular party. Really nice people, all very artsy and smart and very interesting. I didn't get around to learning their religious views, but I had an awesome conversation with this guy who is a potter and sculpture after a lifetime of bouncing around the world with the Navy. He was pretty amazing.

Anyway.....Mother Hen is pretty incredible herself. She has 3 kids and still finds the time and energy to schlep us hikers around. A genuine trail angel. OK. I'm not particularly looking forward to tomorrow's 20 miles trek through farms and highways but at least they moved the trail off of the infamous 16-mile road walk. OK. Time for bed. WOW, 2 nights in a row inside!! I'll forget how to camp. OK No Worries. BG

May 6, 2000 and 21.6 miles today to Thelma Marks Memorial Shelter and only 149.9 till Delaware Water Gap

For the first time on my trip, it is too hot to be in my sleeping bag. My hand is so sweaty, it's sticking to the paper. Unfortunately, I just heard the first mosquito of the night. But anyway.......today was hot---REALLY HOT. I sweated more than I have ever sweated in my life. It started by waking up hot in Mother Hen's basement. That woman is superhuman. I'm amazed she takes in hikers, cause her house is so crazy even when we're not there. She's a single mother of 7,11, an 13 year old boys, the youngest of which has some rare blood syndrome that has sort of disfigured his body. He has one leg that goes to about the knee, and almost no other leg. So this woman has these 3 kids, and she works full time AND she bends over backwards to help out hundreds of hikers each year. For instance, at last night's potluck she had to leave early to go to her oldest son's school play. So she gave us the keys to her car, walked in her unlocked house, and hung out in her home. Amazing.
Mother Hens address: Geneva Politzer, 9 Cardinal Drive, Carlisle, Pa 17013
But anyway, after a crazy breakfast extravaganza, Bumps and I went to the grocery store and the P.O. and I picked up about 20 pounds worth of food and my old boots. Then Mother Hen dropped me off at the trailhead around 11:30 and drove my pack 10 miles North to Scott's Farm which is a building the ATC owns for trail crews and ridge-runners to use. I was surprised at how nice the relocation is. I was expecting a ditch beside the road, but the trail mostly stayed in nice hedgerows, occasionally jumping across a field. Maybe it was just that I didn't have my pack but the section was quite enjoyable. Even worth the $6 million dollars the ATC spent acquiring all the properties. I mean I crossed I-74, I-81, and Pennsylvania Turnpike, and about 5 smaller roads, but it still was beautiful. Anyway, I got to Scott's Farm around 2:30 to meet the Maryland Trail Crew framing a new shelter to replace the one I am currently writing from. So I had lunch, then headed back into the heat and up to here. My thermometer said 90 degrees all day, but with the sun and humidity at mid-day, I felt like I was in a sauna. The air was so thick it felt like I was walking through a pool filled with Jell-O.
Brian's Black Snake

I saw a good-sized black racer (snake) today, which reminded me I forgot to write about the ones I saw yesterday. One was curled up sunbathing in a tree, then another one (about 4 or 5 feet long---NO exaggeration!) went flying across the trail in front of me. I know they are not poisonous but they're so freaking huge they scare the crap out of me.

But anyway....I'm here tonight with Scruff again. He's a nice kid (also 18) who started at Springer last August with 2 buddies and got to Harpers Ferry before winter. So he's back alone this summer hoping to get up to Vermont to visit some friends in June. I think this is where the '91 murders happened.......sort of a weird feeling to be lying where someone was killed. It makes you appreciate the present more, knowing that anything can happen without any warning. But I'll be fine---if the bugs don't kill me tonight. I'm going to bed, looking forward to seeing these Pennsylvania Rocks tomorrow after all the hype....Good Night. No Worries. BG.................

May 7, 2000 and 15.4 miles today to Peter's Mountain Shelter and only 134.5 till Delaware Water Gap

I'm writing this from a picnic table at Peter's Mtn. Shelter, my favorite yet. (A hand-drawn picture was included in the real journal.) It is simple, well designed, spacious, not too showy...........the only bad thing about it is the half mile trek off the ridge to the spring.

Anyway, today would have been great if not for the blasted heat. Once I finally rolled out of bed, I walked down to Duncanon. Pretty much a beat old river town about 40 years past its prime. Real depressing actually. It's the type of place where men walk around in dirty NASCAR T-shirts, while women walk around in short shorts and black eyes. I passed by the Doyle Hotel, but unfortunately (or fortunately) it was closed. The 2 Canadian south bounders I met at the Pearisburg hostel knew someone who stayed there last summer and noticed a horrible stench. Turned out there was a guy who had been dead for two weeks and who was decaying in the next room. Sorry I missed out.

Anyway, the trial took me along the main street, where the buildings basically went liquor store, bar, church......liquor store, bar, church.......bar, post office , bar, liquor store, bar, church.. And on a Sunday morning there were people in all (except the post office.)

I grabbed a hot dog and breakfast sandwich at the Exxon Store, but other than that I pretty much ran though, stopping only to call mom and dad. By the time I crossed the Susquehanna (on a long, busy highway), it was well into the 90's and excruciatingly humid again. I got to the last shelter around 1 and took a 3-hour siesta. It makes for a nice break in the day. No wonder the Alstede amigos were always so happy. But I'm here now with Scruff and a nice guy with his son. Nice company for this beautiful shelter. It's 9 o'clock and still summerly hot. I ended up sleeping without the sleeping bag last night. I'll probably have to do the same tonight. Maybe I should get a fleece blanket from home when I get there. If all goes well, I'll meet the folks at the Water Gap in a week. Hard to believe I'm this close to home. OK Goodnight. No Worries. BG

May 8, 2000 and 17.5 miles today to Raush Gap and only 117.0 till Delaware Water Gap

Not much to say about today. Pretty non-descript. I had a tough time sleeping again last night, finally sacrificing my body to the bugs to escape the heat of my sleeping bag. But anyway, I woke up and walked. Had a nice lunch around 11, walked some more, tried to nap around 3 (but the bugs wouldn't let me sleep), got here by 5, and have been hanging out ever since. All but the last mile was basically fairly monotonous ridge walking. This area used to be mined....so there are these huge round mounds jutting up from the otherwise flat forest floor. Most are earth and tree covered by now, so at first I had no idea what the things were, but then I saw 2 really huge piles without any covering and saw they are just big piles of shale.

It is amazing how successful nature can be at fixing itself if given the chance. 100 years ago this must have looked like the surface of the moon. The Rausch Gap Shelter (where I'm at) is pretty nice. Sort of built down in a hole in a pine grove. The best thing is probably the nice piped spring flowing into a troth, all built into a stone retaining wall 10 feet from the shelter. Anyway, not much else happened today. I'm here with Scruff, and looking forward to home then Chicago in less than a week. OK No Worries. BG

May 9, 2000 and 16.8 miles today to Sol Shelter and only 100.2 till Delaware Water Gap

Now this is a shelter! It's basically a free hostel, complete with 4 walls, 2 doors, 5 windows, and 1 sky-light. There are 12 bunks, a center dining table, and a little library. Then there's a porta-potty, solar shower, and soda and Klondike Bars from a house 50 feet away. I also got to get an Italian sub and onion rings delivered to me from Pine Grove. Not too bad!!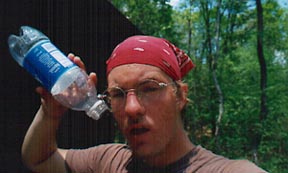 DEHYDRATION!!

Today was a pretty lazy day. Sort of fitting to the Sol shelter. I woke up late, leisurely at a late breakfast, then putzed around for a while before hitting the trail around 9. It was an easy walk down to yet another I-81 crossing (What's that, the 5th time now??), then a steep up and I was on a ridge all afternoon. It was a nice ridge walk though. Except for a couple rocky previews of the next 5 days, the trail mostly stayed on an old woods road. I ducked into the William Penn Shelter for a nap around 2, and was amazed by another awesome shelter. This one had a sleeping loft above a spacious downstairs and front steps. I had the pleasure of walking through a record high temperature day, maxing out at 93 degrees. I'm glad to say I was a part of that. It's supposed to rain tonight and cool everything down a bit. I hope that's right. I'm here again with Scruff who pretty much has the personality of a large rock. Otherwise, I think I'm in a pretty big gap of thru-hikers. No one closer than a week ahead, no one probably a day or two away behind me. Oh well. WOW, it's 8:30 and I'm still writing by day light. I love the summer, even if it means bugs, bugs, bugs, and bugs. My feet may hate me by the time I'm done, but I'm trying to do a 24 mile day tomorrow over some nasty rocks in order to get to Port Clinton. We'll see though. My good old boots are giving me some nasty blisters again. Duct tape to the rescue!! OK. Time for bed. No Worries. BG

May 10, 2000 and 23.7 miles today to Port Clinton Hotel and only 76.5 till Delaware Water Gap

For the first time this trip, the trail beat me up and scared me away to a hotel. So now I'm up at 9:47, watching crap on TV (my options are the Millionaire Show, Dawson's Creek, and the Making of the Final 90210 Special), sitting in my swank $20 room in the Port Clinton Hotel and Bar. Anyway, I got up and out pretty early today. Around 10 I heard distant thunder, so when I got to Eagle's Nest Shelter (8 miles from here) I decided to wait it out. I waited an hour, but the storm didn't seem to be getting any closer, so I decided to come down, originally planning to sleep at the town's pavilion. About a half-hour later the storm caught me and dumped more rain on me in 10 minutes than I've ever seen in my life. The first wave of the storm lasted only about 20 minutes, heavy rain, but the lightening was till 3 or 4 seconds away. When it passed, I assumed I was good. Wet, but safe.

I was wrong. About half an hour later I felt another wave sneak up on me. This time the sky was darker, the wind was insane, it was hailing instead of raining, and it felt like the lightening was chasing me. It was just strike after strike after strike----all way too close. One hit a tree about 50 yards from me. At this point I literally started to sprint. I ran over rocks and rock fields on adrenaline alone for about 15 minutes; then the storm seemed to pass just as I got drained. As I was descending down the gap, a third wave came up, so I started running down the mountain again, running towards the fire station wall. I think the only reason I didn't fall down was because my legs were running faster than gravity could pull them out from under me.
The Famous Doyle Hotel

Anyway, I finally ended up wandering around the seemingly deserted streets (or I should say street) of Port Clinton---cold, wet, and drenched to the bone. At that point I decided I had had enough for the day, and bailed out to the Hotel.

This is a classy place, about a half-step from the Doyle Hotel. It's basically a bar with rooms upstairs, mostly for drunks who rent them by the month so they have a place to be led off the bar floor too. The walls are paper thin, and everyone has their TV blaring in an attempt to be the loudest. But at the point I was at when I got here, it was a haven. I put down my $10 deposit for the key and towel, took a shower, got into dry clothes, ate the best meal for $5 I've ever eaten, made some phone calls, and now I'm here listening to the traffic whiz by this beat little town. Looks like nice weather coming up, I just hope my boots dry out by the time I walk home. I'm not counting on it though. I called Kira, and I'll be meeting her at the Delaware Water Gap. It is amazing to be this close to home! I'll pass Hawk Mtn. tomorrow. Last time I was there was with Mrs. Bellows Bio. field trip. Craziness!!

Anyway, time for bed. No Worries. Billy Goat

May 11, 2000 and 22.7 miles today to Allentown Hiking Club Shelter and only 53.9 till Delaware Water Gap
Pulpit Rock

I guess the hiking gods felt badly about yesterday, so today they gave me the most beautiful spring day I've ever seen. Warm and sunny, low 70's, no humidity, cool breeze. It doesn't get any better than that. I couldn't really sleep last night since the hotel was basically in the ditch of the 4 lane PA 61, but I got out of bed around 6:30, got my stuff ready, then left by seedy room. I picked up my mail drop, sent home some stuff, and finally got walking around 8. For the most part it was a nice ridge walk, giving me some awesome views from Pulpit Rock and the Pinnacle. I had lunch at the Pinnacle with a group of 8 or 9 couples all but worshipping me as a demi-god. So I got to be a hiker-hero, even though the novelty wore off about 2 months ago, and now it's even a bit tedious. Anyway, after lunch I walked down to the Echville Shelter, which is amazing. It's like the Sol, but even nicer with a flush toilet, bathhouse, solar shower, and garage converted into a bunkhouse. The caretakers weren't around though, so I missed out on the beer and ice cream. The next mile or so took me across a little valley, which was beautiful. After being on a ridge for so long with its tiny little trees, it was nice to be in a forest again. There was a tree growing out of every square foot, rock free spot, growing up and providing shade for the rock field below. A lot of the roots looked like octopus tentacles since they have to snake around all the rocks. I'm here tonight with 2-Speed, a nice middle aged Quebecan heading south from Bear Mtn, NY. Well, I guess that's about all there is to write. So I'll stop. No Worries. BG

May 12, 2000 and 17.5 miles today to Palmerton Jail and only 36.4 till Delaware Water Gap

Well here I am----my first night in jail. Actually it's the basement of hte jail (next to the firing range), but close enough. I woke up to heavy rain around 4:30, then woke up again to a nice, cool day at 7:30. I had breakfast with 2-Speed, then he headed south, and I headed north. The trail was up on a ridge again all day today, either on a nice, wide old forest road, or a rock field looking like the result of an atomic bomb going off near a very, very large quarry. Besides just trying to stay on your feet, there's the constant fear that a rattler is going to be underneath the rock your foot is lunging towards, waiting to jump out and bite your leg.

Anyway, coming down to town the trail got real ugly. This is an old zinc mining town that completely raped the ridges, leaving nothing but huge mountains of shale. No top soil, no trees, no solid rock. Nothing. It's been on the Superfund list since 1982, but it still looks pretty desolate. This town is another beat town, larger than any yet, but very much like Keronacs Denver. It's a town run by gangs of attractive teenagers, who seem to get real fat and real ugly real fast once they hit 25, so end up marrying someone and starting a family.

I'm here with two English kids. Good company. We tried to go bar hopping, but learned that PA's a bit more strict with the drinking age than they are down south, so had to settle for pool halls instead.

Oh yeah, my ride to town was a nice girl my age who stopped because God told her I was special, and needed a hand in my journey. If it gets me a ride, it's fine by me. A road sign said: 20 miles to Easton. WOW! I'm in my own backyard! Anyway, tomorrow looks like a long, hot, waterless 16 miles through the Superfund Site. I can't wait.. What's this, yet about full journal! I'm even longer than I thought! No Worries. BG
---
Go to the next page..... Brian's Hike on the Appalachian Trail (13)
---
If you want to write to or contact Brian, his email address is
If you don't want to receive these updates or know of anyone who should be included, please let us know!