Brian's Hike on the Appalachian Trail
February 20, 2000 until ????
brianshike1 : Feb 20 to Feb.22, 2000
---
At 2 PM on February 20, 2000, Brian signed the "trail log" at the southern terminus of the Appalachian Trail, and took his first step of a journey of 2100 miles.
Brian's Waves Good-bye and Starts His Hike
The trail begins on Springer Mountain which is part of the Amicalola Falls State Park in Georgia---about an hour north of Atlanta. After signing the "official registration" book in the park headquarters, we had a huge buffet lunch at the Park Lodge, and then set off to the southern terminus point. To get there, we had to drive several miles back on a forest road, and then hike a mile and a half to the actual beginning point of the Appalachian Trial up on Springer Mountain. The view above is looking across the northern mountains of Georgia and the AT from this spot!
After getting to the starting point, we naturally had to take several rolls of pictures, we shared a ceremonial candy bar, and then with a few not-so-hidden tears, we said good-bye, good luck, and Godspeed! (I'm not sure what's more difficult: seeing your first born leave for Ghana or your baby take off for five months on the AT alone.)
Fortunately, it was a great day to begin his hike. The skies were clear, it was almost 60 degrees, there were no crowds or no other hikers, and everything was very quiet and peaceful. We had been a little concerned because two weeks before Brian left there were ice storms throughout northern Georgia, and the week before southeastern Georgia had had tornadoes. And so to find ourselves on Springer Mountain on such a beautiful day was an unexpected surprise and much appreciated gift!
The First Two Weeks
From his three phone calls, Brian has contined to be lucky. The weather has been great, he feels he packed the rights things--not too much and not too little, and he's met a few nice hikers, and he continues to be excited and happy.
One of Brian's pictures of a section of the AT

He has called whenever he "leaves" the trail to get provisions, to get food packages that have been mailed to local post offices or to mail exposed films or letters, or to make phone calls.
During the weeks before he left, he not only checked his "packing list" a thousand times, but planned his itinerary so that we could mail boxes to him with food, film, money, etc. along the way. Essentially there are a number of post offices which are located within an easy hike of the trail. And if he is on schedule, and if Mom and Dad mailed the packages on time, and if the Postal Service doesn't lose it, he picks up these special treasures every four to six days.
The main thing in these packages is food. Instant oatmeal for breakfast, granola bars, power bars and "trail mix" for lunch, and dried soup, noodles, etc for dinner. As Brian described it, you have to "eat to live, not live to eat" when everything you eat is on your back! But he also has asked us to send more film, certain books that he had set aside, or tapes he made before leaving.
At night, Brian has been sleeping in shelters. To reduce weight, he will have us mail his tent later, along with his spring/summer sleeping bag (vis-a-vis his current heavier winter bag.) He says most nights there are several hikers sharing the shelter, and he's met some good people. He also is visited by both mice and skunks---and had a skunk walk over him one night!
Brian's other midnight "accident" involved his glasses, namely, he rolled over on them one night and bent/broke the sides. As a result, he says one side now has been fixed with a secton of a coat hanger, and the other side has been wired together, and bound in duct tape (amazing stuff!)
In future "editions" of this "newsletter" we'll include both pictures and letters from Brian. He had sent one email letter for everyone, but it seems to have gotten lost or something. Nevertheless, we'll send along updates whenever we can. More importantly, we'll transcribe his "journal". Rebecca made a number of small journals for Brian for Christmas, and as he completes them and mails them back, we'll add them to this website. Hopefully, they'll give all of us an insight in what it's like to be an end-to-ender on the AT.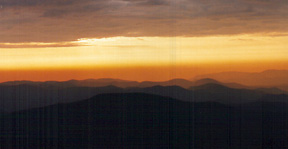 One of Brian's sunsets in Georgia
Brian's Journal
Tuesday, February 8, 2000: Well there's no looking back now! In a week and a half I'll be taking my first steps along the AT.It's hard to believe I'm almost there. This hike has been something I've been dreaming about for half my life, and pretty soon I'll be living my dream (or nightmare).
I've already started saying good-byes, which is sort of a strange feeling. It seems like not many people can understand what I'm doing, and I've been told to "watch out for bears" about 1000 times, and "you're going to come back all crazy" about 1000 times more. I'm leaving tomorrow morning to drive out to Chicago (via Anna and Oberlin) to visit Jaimie for one last time. We both know that my hike is going to be one of the best and one of the worst strains on our relationship, but I'm feeling optimistic.
I have my mail drops pretty well squared away, at least as best as can be expected for a lazy, procrastinating individual like me. I feel confident with my gear; the only thing I still need is a toothbrush. If I can keep my dry-pack at 30 pounds, I should be fine.
Leaving NJ and Home in the Snow
As my start date creeps closer, I'm realizing that I'm not only anxious about starting, but about ending this whole chapter of my life. When I walk out of the garage door next Friday, it will be the last time I leave this house as my home. Not to say I'm not excited to get out on my own (I am extremely excited). It's just that I'm facing my first major life change. Fortunately I don't see myself getting homesick, since all the parts of my past that I cared about (Jaimie, friends, high school high times) are no longer here, so I don't associate sleeping in Hunterdon County with happy day anymore. I guess what I'm trying to say is I'm more than ready to move on.
Although I don't see my hike as a "journey of self-discovery" (as more than one of my associates claim it will be ) any more than just a journey for journey's sake, I do realize that I'm giving myself some time to reflect over the first period of my life, and prepare myself for the next. So I guess I'll end for now for the time being---I have a lot of loose ends to know up before I leave. Take care, no worries. BS
Saturday, February 19, 2000: Here I am. 12 hours away from the start of my hike. It seems as though the closer I get to starting, the less anxious and fearful I get. I'm a little surprised by this, but I'm glad none of the less. Mom and I got down here with only minor troubles (aka snowy Pennsylvania ditches), but we're here now and that's all that matters. I wasn't able to call Jaimie tonight (I must have written down the wrong number) and that makes me pretty sad. It was hard saying good-bye to her, but I trust our relationship and I'm sure we'll be fine. .....
I'm writing this at a Days Inn in Dawsonville, GA which is about 15 minutes from Amicacola State Park. I'm hoping USFS 42 will be passable tomorrow, if not I guess I'll start down at the visitor's center. Either way, I'm glad to get going. ....The weather was great today---up in the 70's with only a few clouds. I'll hope it stays like this for a couple of days. Till tomrrow. BG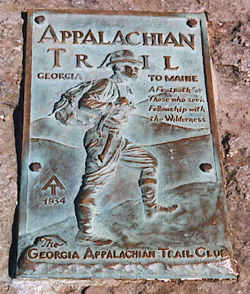 The official AT marker

Sunday Feb 20, 2000: Well here I am. After all this time, all the planning, all the anticipation, all the heartache, all the anxiety....here I am. Stover Creek Shelter, 2.5 miles from Springer Mt. and the Southern Terminus of the AT. After personifying the trail for so long, I was surprised today more than anything that it's JUST a trail. It doesn't have super human strength, it's not dramatic and showy, it's not trying to beat me; it's jut a trail. A path in woods. An absence of trees. No more, no less. So I feel much more relaxed, and I'm realizing that I don't have to conquer this massive, plotting opponent; I just have to enjoy myself as this path leads me everywhere it does. "And all is well" said the anxious rabbit (or should I say jittery Billy Goat?) But anyway, here I am!

Mom, Dad, and I left our motel around 9:30 this morning, Everyone at the motel saw me with my pack as they enjoyed the Day's Inn's elaborate and appetizing continental breakfast, and I felt like a bit of a celebrity under their looks of awe. I got some last minute items, and then we headed for Amicalola. I signed in at the Visitor's Center and bought a new trail guide, and then we drove up to the lodge to wait for brunch to be served at 11 AM. I was too nervous to be really hungry, so I just ate as much as I could before leaving for the trailhead. After winding our way up Forest Service roads to the base of Springer, we parked by the Benton MacKaye Trail head.

It was such a nice trail up to the summit. Beautiful, sunny day. Ice in the tops of the trees. A path less traveled. And good talks with the old folks. We got to the top after an hour or so. It's funny how you imagine how things are going to be/feel/look like before you experience them, then you contrast that against what they really are. It was like that when I finished the LT (Long Trail) last summer. I imagined Springer as some monstrous mountain with swarms of day-hikers. To my surprise, it was just a nice mountain top with a beautiful view and a one-foot by two-foot metal plague in a rock. I had a nice time up there with the folks, taking pictures, taking in the view, and saying our good-byes. I'm glad they are so supportive of me and my trip. I can only imagine how hard this all would be if I had to do it all by myself without their help.

But anyway, from the summit I went one way and they took another back to the car. The walk from Springer to here was very, very nice. It was an easy downhill stroll, and some parts went through giant tunnels formed by huge rhododendrum and mountain laurel bushes. Very picturesque. But I got here in only an hour and didn't quite know what to do with myself. It's empty here so far, and pretty down trodden. I got water, and now I'm just enjoying the song of the wind. It's just starting to get cool enough to want some more layers, but the weather was ideal today. OK, I'm going to read for a bit, cook some grub, and then, I'll think of something to do. Take it Easy! Billy Goat
new quote: "there ain't a horse that can't be rode,
there ain't a rider thant can't be thrown..." from some guys HS coach.
Little side note: I started my hike @2:00, Feb. 20, 2000
that breaks down to 2/20/2:00/2000 !
Monday Feb. 21, 2000:~13 miles today/16.1 miles from Springer: Another great hiking day. Started the morning with an easy hike along the valley floor. More tunnels of rhododendron. and mtn. laurel. then a tougher afternoon going up and down 4 or 5 smallish mountains. Two guys hiked up to Stover Creek ~6 last night. I didn't like them though. Too much like typical frat boys. I passed "Sharp-Skins" after lunch today. He's already thru-hiked once, and he's out with his girlfriend (or wife) right now. She's going real slowly though (I didn't see her) so I don't know if I'll see them again. I'm here with two other thru-hikers tonight, both of whom I like. Jake and his dog are tenting, but stopped by for an evening chat with me an the other hiker (who's name I can't remember.) Jake is 23, even though he looks 17, and is hiking now before getting married in October. Funny seeing someone so young getting married. ..... The other guy is ~25 and just doing something he's wanted to do for a while. Both guys have the same general plan as me, so I'll probably be leap-frogging with them for quite a ways.
Today's quote: "I just try to laugh at what ever life brings, cause when I look down, I miss all the good stuff, and when I look up, I trip over things." anid. I think Mom will appreciate it.
Anyway, today was a great day. I started at a great time. Not crowded at all, and ideal weather. I just hope both last for a while. Good night. BG

Tuesday, Feb. 22,2000~12 today/ 28.3 from SMtn. This is what it's all about!!! If the rest of my hike is a complete disaster, it will be worth it just for this moment. I'm writing this from the summit of Blood Mtn. ~ 4:30 PM, enjoying one of the greatest views I've ever seen after a great day of quality hiking. I feel like I'm on top of the world. I'm up here looking southwest over the peaks I've already climbed. There's just a layer of mountain ridges, each one getting more mystical and meaningful before the last disappears into the pinkening horizon. This place does have a very powerful spiritual feeling. Maybe it's the souls of the thousands of slaughtered Cherokee whose blood named this mountain; maybe its the end project of some ultimate, all knowing entity, taking a minute to entertain itself; or maybe its just a part of who I am. Experiencing something that I love. Enjoying my short time here as much as I possible can.
It's moments like this that make me feel a little guilty for not having any religious beliefs, just so I can pray or thank who or what ever makes these moments possible. I guess I can say "thanks" from time to time. Just letting whoever is responsible know that they're doing a good job. It is a funny contrast to sit up here on this rock (which is ~20 feet from the trail, above the tree limbs) and compare the beautifully amazing view before me to the dilapidated, rotting, mouse-infested, stuffy, sickly, foul smelling shelter below me in which I'll be spending the night fighting away a variety of varmints trying to eat my food and my gear.
This is a real popular spot, and even though I have it to myself right now, I can imagine how crazy it gets during weekends. And unfortunately there's the litter, cigarette butts, and a shredded American flag tangled up in a tree branch to prove it. Why are people so stupid? But I'm above them all right now....at least, in my mind (Ha, Ha, Ha,...a mean, wicked cackle.)
Well my fingers are too cold to write anymore. I imagine I have a long, cold night ahead of me. But tomorrow I go down for a restaurant meal and mail drop @ Neals Gap, even though my appetite hasn't gotten any different yet. It's actually a chore to eat (especially oatmeal). Ok...good night to all, and to all a good night! BG P.S. After looking up from my writing and back at my view, I'm realizing that neither these words nor the photos I've taken will ever come close to duplicating the majesty and intensity that these hazy mountains have right now. If only they were eternal!
Go to the next page..... Brian's Hike on the Appalachian Trail (2)
---
If you don't want to receive these updates or know of anyone who should be included, please let us know!