Its hard to believe that we're into the fourth course (Restoration Ecology) and we only have two and half weeks left.
Ending here at Mombasa was the perfect idea. When we rolled into Mombasa on Saturday night, I immediately recognized the uniqueness of the city. The normal shanty shops lined the streets, but were all lit dimly by small candles. The Mutatus all had blacklights in them making them look like little mobile discos. Mombasa is Kenya's (and many landlocked interior nations') chief port and parts of Mombasa on the way in resembled the parts of NJ adjacent to NYC. As we got into the city we drove past resort after resort. Up until our arrival the plan for Mombasa was a mystery to us; we had only heard tricklings of information and even those had changed several times. When we pulled up to our resort we were reluctant to believe this is where we were going to stay.. The hotel (Baobab resort) is built in oriental style with indoor fountains and a Chinese buffet. We soon discovered the courtyard pool and checked out the suite we were to be staying in. The beach is a block down the road.
Tourist dhows on the edge of Kisite National Marine Reserve
The Indian Ocean is as warm as bathwater and is Caribbean blue. Paula Kahumbu, our professor, who has a house directly on the beach, immediately equipped us with snorkeling gear and flippers. Its nice to have some experienced scuba divers and snorkelers (Laurie, Paul, and Mark) in the group who could spot and identify anything we saw.
Our classroom for this final course are the facilities of LaFarge Ecosystems, a division of Lafarge Internatinonal, concerned with the rehabilition of an exhausted limestone mine. Lafarge has been remarkably progressive in its initiative to restore the land it has made barren to an even better state than that in which they found it. Its an interesting phenomenon to see this restoration process undertaken with the efficiency and management of a privatized firm. The company has utilized Australian whistling pines and millipedes to create a 3 inch layer of top soil on top of a ubiquitous hard limestone bed. The later introduction of indigenous species has made for a tropical forest that can support a diversity of birds, insects, plants, and animals. The firm is now able to use tourists' revenues from its nature trails to cover all restoration expenses. The company has been very open minded about its income sources and has diversified to not only tourism, but also fish farming, crocodile trade, and the rice farming. All this has been accomplished in 30 years of dedicated restoration effort.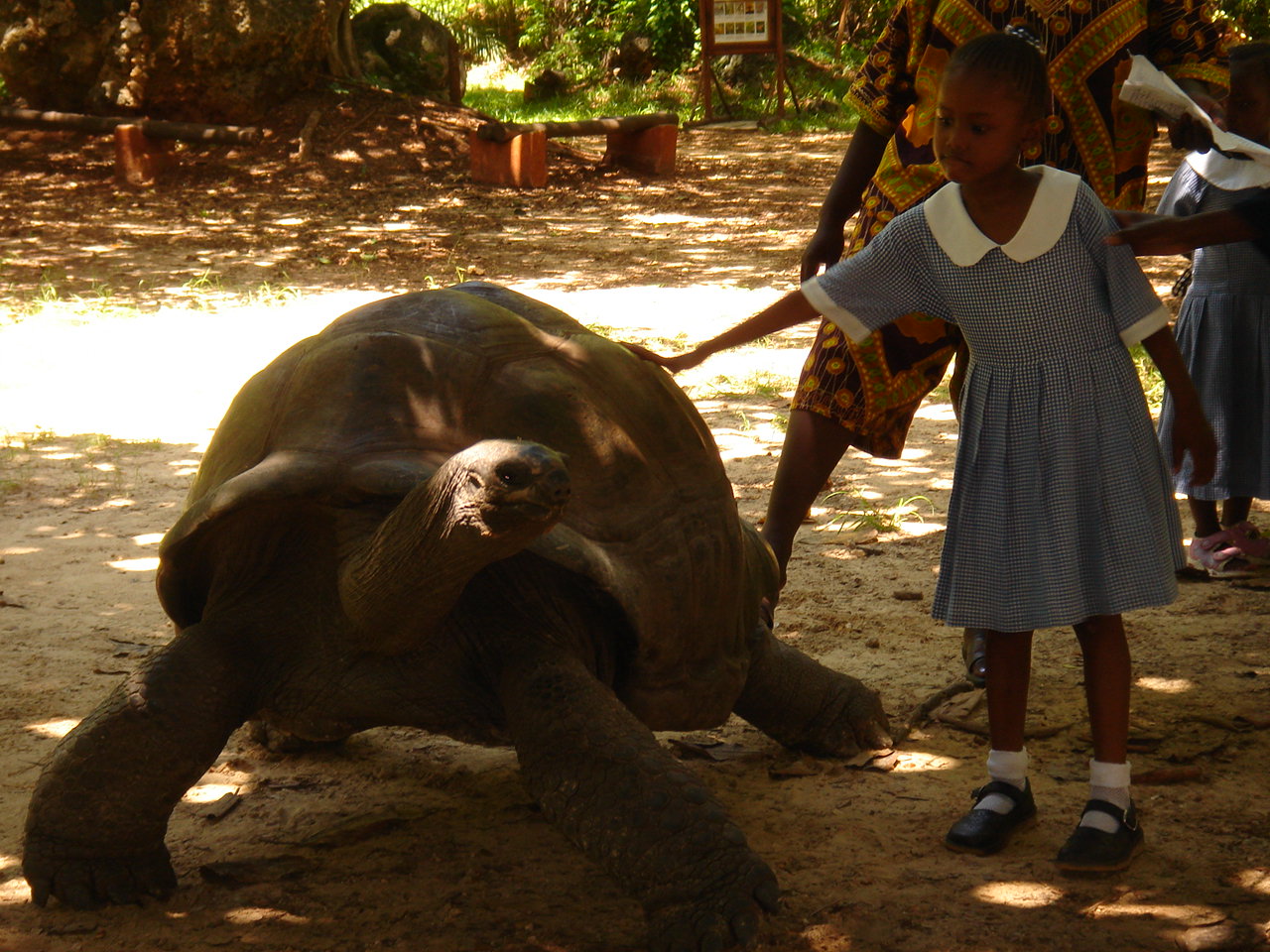 One of the parks many giant tortoises
My favorite animals in the park have been the giant tortoises who are as much as 100 years old and as big as coffee tables. Today I had the chance to see two of them mating. Anyone within a couple hundred meters can hear how much of an effort it is for the male to mount the female.
Mark, Jenn, and I are doing a project on the artificial ponds of the park that are rapidly sedimenting. The number and diversity of them will do well to provide a natural experiment to find correlations and perhaps causation between various physical, chemical, and biological factors. We spent the day sifting through pond sludge to find various species of snails.
Taking a dip in the pond after sampling in it with Mark and Jenn
The longer I stay in Mombasa the more of its darker side I am discovering. Mombasa is renowned in many Western European countries as a sex tourism hotspot. Its not uncommon to see white Swedes, Germans, or British in their 50's and 60's with African women in their 20's. Surprisingly the trade goes both ways and a lot of older women from the same countries come to Mombasa to find escorts. We see some of these guys at our hotel stumbling home when we're up early for bird walks.
Last weekend we took a Pili Papa dhow cruise from the Southern Coast to near the border of Tanzania near Wasini Island. We went to Kisite National Marine Reserve off the coast and were able to snorkel in a completely protected area. The coral reef ran as far as the eye could see and in some patches welled up to form sand islands. It was like a different world underneath the water. We were able to dive and swim through channels and peek under coral overhangs. The diversity of both coral and fish was nothing like I had ever seen. Paul found snorkeling off the coast of Africa to be better than scuba diving in Hawaii. After we had our fill snorkeling the dhow took us to a secluded island where we were treated to a five course all you can eat Swahili lunch. The whole day cost the equivalent of $60 and that included transportation to and from our hotel.
---
Go to the next page..... April 23, 2006
Return to opening page Greg's Semester in Kenya
---
If you don't want to receive these updates or know of anyone who should be included, please let us know!