Greg Schundler's Semester in Kenya
February 7, 2006
---
Just finished lunch after lecture and am looking out from our porch dining hall at the Aberdares spanning across the horizon. Our lectures are awesome-essentially a grade A Ecologist (Nicholas Georgiatas) is our private mentor, engaged in daily dialogue with 8 students. The material is of Princeton complexity, but the pace and interaction is like Delbarton. The constant availability of our TA/chaperone and our professor ensures that we are on the same page every step of the way. Yesterday we learned about Distance sampling and then with the afternoon went out and performed one on dikdiks and impala using laser guided distance samplers. Essentially, this "precept" involved my riding in an open topped Landcruiser scanning the landscape for wildlife. After taking in enough data to later play around with we took our first drive up to the airstrip-a giant kilometer long clearing the width of two football fields at the apex of a ridge. We found everything from Grevi and plain zebras feeding side by side, a huge pack of impala, a solo giraffe, and a pack of elephants. We came to a lava flow cliff and could see miles to the east; in the valley a caravan of 6 giraffes was on the move. As the sun set behind us, the shadow of the ridge stretched to the horizon. On the way back as we drove into the sun we could see a herd of zebras silhouetted against the sky….My torso was still above the roof of the Landcruiser and somehow I didn't mind the occasional jab to the ribs from the skylight rim.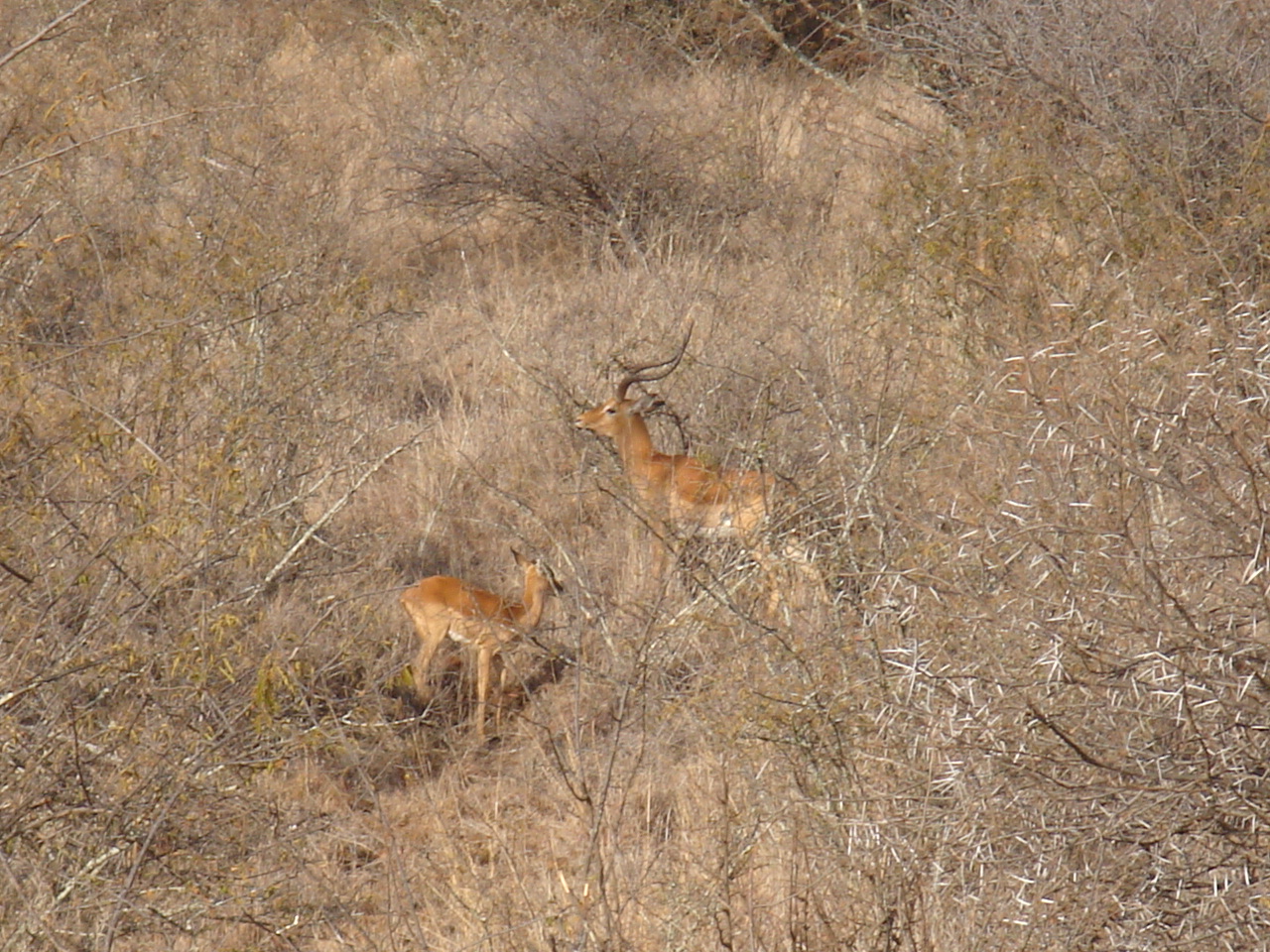 Greg's First Impala Picture
By the time we got back to camp it was 8 o'clock. I made my way quickly to the shower (I am the only one in the group that is 2 for 2 on showers— timidity is slowly assuming a stench). Before getting into the shower one of the workers (I really ought to make an effort to remember their names) asked me about my guitar. He told me about how they had an instrument and asked me if I can play Bob Marley. The discussion resulted in a session around the campfire after dinner. Mark and then Melissa were the only ones brave enough to join, but eventually everyone came. They were impressed by my redemption song and then brought out a small tape player to play some real Bob. We all relished the moment of enjoying something not quite either of ours together. Melissa, as quiet as she has seemed, delved right into a conversation with one of the poorer English speakers to learn some Swahili. He subsequently pulled out an old school book to show the spellings. I got a chance to learn their instrument the " ", strumming while an exclusively Swahili speaking worker fingered the strings. The instrument was completely homemade with wood, nails, and wire as strings. I showed them my tuner, but I'm not sure they quite understood what was up. I think I'm going to try to tune it in daylight and see if we can't jam a little better. Most of what they played seemed to be in the tune of F and I tried to layer some notes over their 2 chord chants. I played through my very limited repertoire getting some back up vocals on "What I Got" and "Faith", one of the guys like the beat of "Sweet Home Alabama", but singing songs about the southland somehow seemed misplaced. I think I'm going to try to learn some more Bob. It was nice to have broken ice with the guys who do all our work for us, including as I realized today, making our beds. Kirsten, Laurie, Mark and I weren't quite done squeezing the last out of the night and chilled in my tent listening to some mp3s and shooting the breeze. By the time I lay down at 11, I was ready to pass out. It's comforting to be developing a campsite routine. Our day time activities, as I found out in the morning, are anything but a routine. Before our 10:30 lecture we took a bird watching walk around camp and saw 15 species of birds and a 20-strong posse of baboons. The fact that this program has never been offered before is definitely its #1 plus…
Greg's First Hippo Picture
---
Go to the next page..... Greg's Semester in Kenya--February 13, 2006
Return to opening page Greg's Semester in Kenya
---
If you don't want to receive these updates or know of anyone who should be included, please let us know!