Greg Schundler's Semester in Kenya
February 5, 2006
---
Drove from ICIPE to Mpala today and this leg of the journey was and will be the craziest. I felt like I was on another planet. We alternated passing fields, both privately and Del Monte owned and by shanty towns whose buildings were constructed of tin or cinder blocks. Masses of people walked along railroad tracks and shepards drove their bony cattle alongside the roads looking for the dantiest scrap to eat. My sweet ass aviators made the dust bowl and crispy scrub look a lot greener. The rain season was not and it was visible that the nation suffering from 50% unemployement was falling on hard times. More reliable than the rain is the steady flow of tourists whose presence, we discovered at a kind of a Costco of trinketshops, is omnipresent. Drivers, guides, porters, and other entrepreneurs are looking to divert the flow of capital at every turn like the farmers and ranchers seek to do drawing water from the low riverbeds.
View of Laikipia, region where MRC is located
The drivers of our van were well to do and the one man spoke English tolerably well. We joked around, talked about tourists from different countries and compared perspectives. The fifty year old told me he had been to the USA and when I inquired further where he said "Croatia". After showing him my digital camera and putting on my hat saying with a good-natured smile "Look I am a millionaire" I had to admit that if I were him, I wouldn't see much of a difference either. We drove north through the equator at Nanyuki and then things got even more barren. The drive to Mpala was bumpy, but a lot better than the nightmare I had been told of. The Americans put a nice new stretch of highway in for 30 minutes of the drive and I gathered from the conversation I had with the driver that colonial power and investment is very much appreciated. If only the English were still here he said; the corruption in the government is unbelievable-they don't care about the common man. Overgrazing and overproduction of cash crops are major obstacles. After leaving the last village with a noticeable market we drove for about 2 hours. The only sign of civilization all the while were modest fences showing property boundaries and a dangling electric elephant fence that snapped when our van grazed it. Moving out of the irrigated fields into the bush I could really see just how bad missing a rain season is.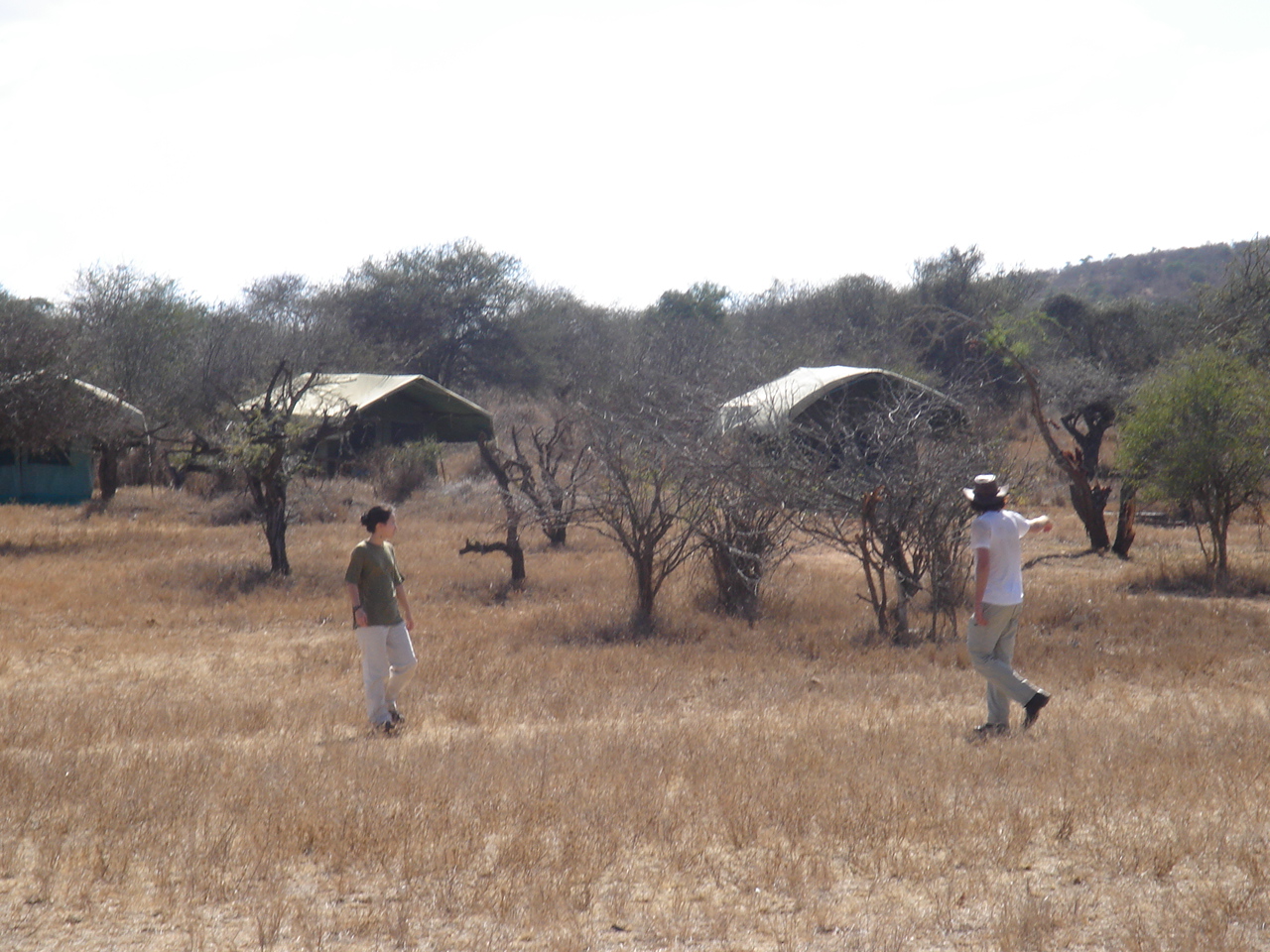 The dormitory at Mpala!
The land on the way to Mpala (and in Mpala) is a bush covered desert with scattered rock piles all reddishly tinted by the 600 million year old igneous rock from which it is composed. The gatekeeper for the Center was probably the poorest man I've been closest too since my arrival. Manning the gate seems like a rare enough occurrence, let alone greeting new arrivals, but it fully provided for him and his family who was cowering behind the fence. The buildings of the center were nicely built and I felt that even in the middle of nowhere some degree of comfort would be achieved. Little did I know, we were there only to transfer our luggage so that we could later drive another 15 minutes to the southern boundary of the property along a river bed. The 8 canvas tents in which we're staying and the onsite "village" of staff members was a sight beyond my wildest imagination. Why this impoverished people don't rise up and steal our stuff worth thousands of dollars is a miracle to me. They are grateful to have us and carry upon their life with a business as usual attitude. We headed out with a case of beer with our professor for our first outing in the bush. He drove us to an elevated boulder pile where we could catch glimpses of a tawny eagle atop an acacia tree, jackals hanging out timidly by an old termite nest, superb starlings, and many diztiks. I tried to get closer to the jackals, but they were far better at spotting me than I them. The 8 students, our prof, Nick, and our TA, Nathan, finished a beer together as we tried to explain how to locate sights to each other. I found out this is a form of expression that must be mastered. Spotting a distant impala is hard enough; trying to tell someone where to find it in their binoculars is like trying to point a star out to them . On the way back the 10 strong herd of elephants crossing the road was less difficult to spot as were a crowd of baboons and a giraffe feeding near the river bed. When I got back I took my first bucket shower in a canvas compartnemtn and after some confusion where I ended up naked next to a non-English speaking staff member holding a bucket of wood-fired heated water, I was proud that I only had to use a half bucket.
Before dinner started we were given some tips on how to behave if elephants or lions should roam through our camp. Our group is awkwardly quiet and I'm glad to have been able to share some TI/Zete stories to break the ice. Two of the girls who are sleeping in essentially open tents because of broken zippers are trying to gather some card players to comfort them. I on the other hand having claimed tent #1 with two beds (one serving as a dresser), two tables (one serving as an inside desk complete with laptop, the other outside to elevate my boots from the scorpions) and a chair (stolen by me from the dining tent), and just getting my MP3s up and running, am feeling quite comfortable and somewhat reluctant to join…Tomorrow "class" starts.
---
Go to the next page..... Greg's Semester in Kenya--February 7, 2006
Return to opening page Greg's Semester in Kenya
---
If you don't want to receive these updates or know of anyone who should be included, please let us know!