Our First Day--April 17, 2006--and our First Experiences
Needless to say, in coming to Cape Hatteras we didn't know what to expect! We didn't know what our supervisor would be like, we didn't know what working for the NPS or the government would be like, and we didn't know with our lack of experience how we would be accepted.
Fortunatey, we discovered our supervisor is just great! She is genuinely concerned about people and also about the many natural and cultural resources of the park.
In addition the other seasonal Rangers are a fascinating and well balanced group of very good people. Our lead Ranger, for instance, has been a seasonal in two other parks and like us retired from a very different world several years ago. Three others have been Park Rangers at Cape Hatteras before and know more than we could ever hope to learn; one has led and taught NPS natural resource programs for years while another served as a "bio-tech" in another park. More importantly, the group seems to work well together. There's a respect for different talents and perspectives, and shared interest in not just working for the National Park Service, but in serving the public and upholding the values and goals of the NPS. In so many ways, they seem to treat working for the NPS as a calling, not just a job!
| | |
| --- | --- |
| Cape Hatteras Lighthouse | The Double Keepers' House and Principal Keeper's House |
Having never been employed by the government or by the National Park Service, we really didn't know what to expect on our first day. We just knew we were supposed to meet the other seasonal Rangers in the parking lot and drive together to the "park headquarters" in Manteo.
When we arrived, we started our lives as government employees....filling out forms, and more forms, and then some more forms. But most importantly, we were sworn in, we were given our badges as Park Rangers, and we were given the keys to the lighthouse. (Until our security clearances are completed, we can't be given any other keys, or access any government computers, or order uniforms, but at least we have the keys to the lighthouse!)
We also found that we were officially on the payroll!
During the first weeks we'll have lots of training in standard operating procedures, first aid and CPR/AED, basic job descriptions and more detailed job descriptions, and in basic "interpretation" skills. Fortunately, since we are much stronger in our knowledge of human and cultural history, there will be some training on some of the natural resources at Cape Hatteras too!
By the way, we are the oldest members of the group and the least experienced with the most to learn! So both of us feel like we're in school again---reading books and watching educational video's every night, keeping notes, filling out notebooks, and making our own "flash cards."
Sometime near the end of the second week, we'll actually spend some time at the lighthouse as Park Rangers--in uniforms!
Unfortunately, until our security clearances are completed we can't actually order our own uniforms. For the others here that's not a problem since they have all worked for the NPS before and have uniforms. For us it's more of a problem! Fortunately, there was a collection of "cast-offs" from former Rangers and so we spent a little time one afternnon scrounging up what we needed. It was a little like being little kids again and trying on Halloween costumes! But in the end, we found pants and shirts that fit, belts, and in Sara's case, shoes. We didn't find hats! (Bummer!)
And so we are on our way to being Park Rangers! It took months of sending out applications and resumes, but here we are---and we are excited and having fun!
Waiting for our first Sunset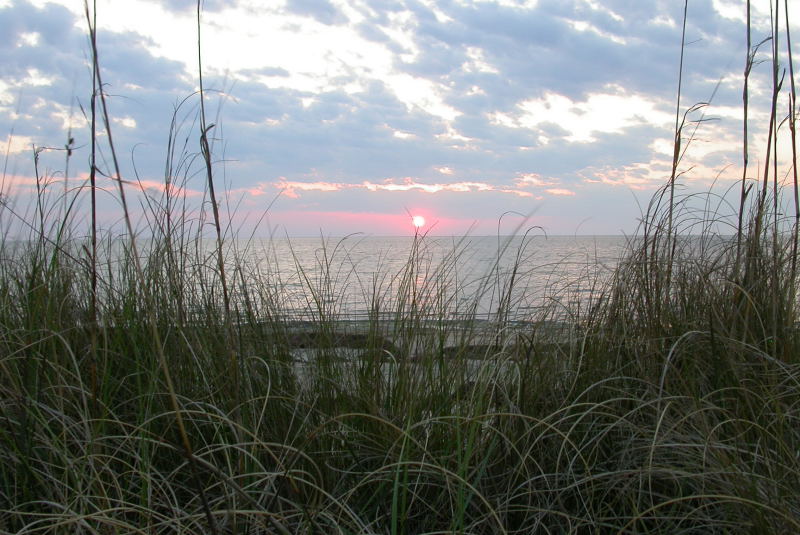 Our first sunset
---
Go to the next page..... Bruce and Sara on their first days in uniforms!
Return to opening page Bruce and Sara in Cape Hatteras
---
If you don't want to receive these updates or know of anyone who should be included, please let us know!