Brian's Journal
March 9,2000 hiked 13 miles today to Cosby Knob Shelter/ 227.8 from Damascus
Well, trail magic rolled around for me again today. After waking up to three obnoxious boys, and an approaching rainstorm, I set out for the day. The first 5 miles to Tricorner Shelter were painfully miserable. Cold, wet, no views. It seemed to take forever. As I was cursing what seemed like 15 miles of trail, I got to the shelter to see smoke curling from the chimney. Inside was Panama Red, a ME/GA finishing up his 9-month odyssey. I took my wet clothes off, got into dry ones, and had a great conversation with him as I warmed up by his fire. I like him a lot. He had a lot of good advice and plenty of stories, and basically reminded me to enjoy my trip. After an hour and a half or so I was warm, well fed, and my spirits were soaring. The rain started to let up, so I geared up for a great hike down here, watching the wind blow the clouds away, leaving me with a sunny afternoon.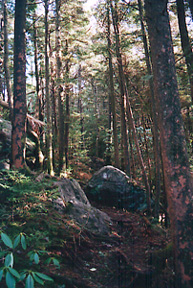 Trails

There are two groups of spring breakers with me tonight. The Ned Flanders group from St. Louis, and the "bad boyz" from Michigan. All very nice kids, but the Flanders crew is too loving and kind for my own sanity. I like the Michigan kids though.

So here I am, my 4th and final night in the Smokeys. I have mixed feeling about them. On the one hand, they are beautiful and the hiking is ideal. On the other hand, I 'm tired of locking myself into crowded shelters with spring breakers each night. It is also sad to see such a beautiful spot being slowly choked to death with pollution and over use. (All that smog does make for some great sunrises and sunsets.)

I'm looking forward to a night at Mountain Mommas tomorrow, and I'll be excited to talk to Jaimie and try to lay down some plans for her visit. I smell like shit, and it will be good to smell like roses again. Panama Red tells me I have to great mountains ahead of me in Tennessee, but also some nice forest walking. From what I hear the worst is behind me, and in all honesty, it hasn't been half as bad as I expected it to be. I'm sure 18 days of great weather hasn't hurt. I'm still waiting for my 2 feet of snow; I'd be a little sad if I don't get it....on second thought, I take that back!
An AT Stream

I realized today that I've been out here longer than I was in the Long Trail. Hard to believe. I thought that trip was so long, and it seems like this adventure has just started. I think it's easier having less at home for me to miss. I mean if I wasn't out here, I'd probably be plowing fields in Chester. The trail feels like home to me now, and I'm looking forward to having it back to myself soon. Panama Red says there are some nice people ahead of me, and I'm looking forward to meeting them. I also keep waiting to see Raphael walk into a shelter, but he hasn't yet. OK. Goodnight. BG

March 10, 2000 7+4 miles today to Davenport Gap Shelter/ 220.7 till Damascus

Today didn't go quite as planned, but it ended up being a great day. After waking up, I ran down to Mt. Camerer fire tower. It wasn't so impressive, but nice views nonetheless. From there I all but ran down the mountain chasing delirious visions of ice cream and cheeseburgers from Mountain Momma's. I got there to see Raphael, Nate, and Shamam lounging on the steps. It was great seeing them and hearing about each other's Smokey adventures.

Mt. Mommas is something out of the "Deliverance" set. Pretty much a tobacco outlet store with a short order grill and half-assed camp store. They didn't have any laundry, and the bunkhouse looked sketchy, so I opted to save my $10 till Hot Springs. I did indulge in the "Huge Cheeseburger" which was huge, and the best thing I've ever eaten. So I restocked, fed myself, and headed back to the trail.

My original plan was to go another 10 miles to Groundhog Shelter, but when I got back to Davenport Gap I reconsidered and backtracked the .9 miles back to here. I got in around 2, had a great nap, and then was woken up by the Flanders group from Washington University from last night. I started talking with them, and started to enjoy their company. Raphael and Co. walked in around 5, and it's been a happy party here ever since. We got a full dinner from left over spring break food, and a couple spoonfuls of JIF chocolate peanut-butter, which is a slice of heaven!! I hope Imlers will have some. Anyway, forecast looks pretty grim. Hard rain and T-storms tomorrow, snow the day after. I hope to be in Hot Springs before the worst of it. I did get to talk to Jaimie today, and it looks like I'll get to see her beautiful face in a week. Not too shabby! Now it looks like I'll b spending a couple of days with Raphael while Nate and Shaman get pampered by Nate's girl. Ok---time for some zzzzzz's, and maybe we'll get some of this rain out of the system while I'm snug as a bug in this great shelter. OK. Adios. No worries. BG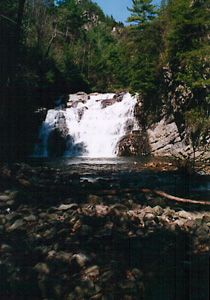 An AT Waterfall
March 11, 2000 11 miles today to Grounghog Creek Shelter/ 210 till Damascus
Here I lie, snug in a shelter listening to the pitter-patter of raindrops on a tin roof. It's a nice noise when you're warm and dry IN the shelter. Woke up this morning to an early calm morning after a night of T-storms and hard rain. Was originally going to go another 11miles to the next shelter, but when I got here at 11:30, I was cold, wet, and ready to call it a day. Raphael has been here with me all afternoon as well. We've pretty much been going crazy. Trying to alleviate boredom with little success. We've also spent the day trying not to eat thru the next two days of food, then rationalizing and eating most of it. I've had my normal lunch, cheese grits, Ramon, and potatoes, rest of Gorp, food from spring breakers, hot chocolate, spiced cider, bag of cookies, 1/2 bag of fig newtons, and a tasty Lipton noodles/tuna combo, with a bagel. My appetite has caught up to me, then dashed ahead! I also get delusional dreaming about Hot Springs and my time off with Jaimie. All things considered, it was a great day. Amazing hike from Davenport Gap to I-40, my favorite so far. Followed a river for three miles, complete with waterfalls, green moss, and intense rainy day colors. Absolutely spectacular. Shaman showed up around 6:30 tonight. He met up with the girls, and left Nate and his honey in a tent about 5 miles back. All is good. Looks like a pretty tough day tomorrow, hoping for a decent view from Max Patch, but not counting on it. Looks like it should get in the 20's tonight with some flurries or ice. We'll see how it ends up. OK Goodnight. No Worries. BG
March 12, 2000 11.5 miles today to Roaring Fork Shelter / 198.9 till Damascus
With two warm Nalgave bottles heating my sleeping bag, I'm the warmest I've been all day. It was FREEZING! today! Woke up at 6 to light snow and freezing temperatures with frozen water bottles and water bag. Put off getting out of my warm nest till 9, ate a good HOT breakfast, and braced myself for a cold, snowy day of hiking. Shaman stayed at Groundhog Creek Shelter waiting for Nate and his girl. Raphael took off for here. Actually, we originally wanted to go another 1.8 miles but this shelter was so inviting we opted to thaw out here. The first part of the hike was actually beautiful.
Snow brings a completely new perspective to hiking and gives the woods a nice make over. It is a nice hike from GHC Shelter to Max Patch. I want to come back sometime and see it in the spring. Anyway, by the time we got to the Max Patch summit, it felt like we were climbing Everest instead. My thermometer said 200 but you could only see 20 feet in any direction, and the wind was strong enough to swing your pack around. I think I would have been blown off if I didn't have it on. It was very unpleasant. My glasses collected an inch of ice, so I took them off and saw much better. 10 minutes more up there and I would have lost my nose. Seriously!. Anyway, after that deep freeze, it was a long 5 miles down to here, where a pot a Ramon and a long nap in my cozy bag did me much good. Woke up around 6 to eat some more and bullshit with Raphael. Tomorrow's going to be long 15 miles if it doesn't warm up, but we have Hot Springs to mend our wounds when/if we get there. All the stars are out right now though, so I'm hoping for a cold night tonight, then a good sunny day tomorrow. That's what the University of Tennessee radio station called for last night, and hope it happens. I guess we've been lucky with the weather, I can't imagine a month of days where you get up, freeze, run to the next shelter, and try to warm up again, just to do the whole thing over the next day. But all is well, and a day off in Hot Springs will do me and my appetite wonders. OK. Goodnight. No worries. BG
Trees and Stones
March 13, 2000 14.9 miles today to "Elmers in Hot Springs" / 184 till Damascus / 270.5 form Springer / 1889.7 till Big K!!
Well Elmer and Hot Springs have far exceeded all dreams/ideas I had about them. The trail follows the main drag w/ every service you need within walking distance. Currently, I'm writing at a desk in my own room (with a queen size bed) in a great house, sipping down some tasty Gaelic Ale brew. I'm clean, sweet smelling, full, and ready to retire to a great night of sleep. the hike in here wasn't bad. Bliff Mtn. was a significant mountain, but it was all down hill from there. I got into town around 2, afte all but running the last 6 miles in 2 hours. I dropped my pack here, then went half a block to Ramsey's Deli, where I proceeded to stuff my face with a huge quantity of Hostess products. I got my mail, and was happy to see a great package from Becky, with some Peeps, which ironically enough I was just dreaming about not a day ago. I also got a real sweet letter from Kira and good letters from Amy and Jaimie. Then I ran back here and took the best shower of my life!! It felt so good! It has been 11 days since I'd bathed, and just feeling hot, clean water put me in a great mood. Layers and layers of mud, sweat, and blister puss ran off of my stinky self to be washed away into the oblivion behind the shower drain. And I emerged a new man, baptized with Irish Spring soap, and ready to face the next challenge of this adventure.
With myself clean and pretty, I ventured out in my raingear to do the same for my clothes, so I went to the deli-laundry-tanning salon-video-rental-pool hall-ice cream stand to do the wash. As I was waiting on the spin cycle, Raphael walked in and we shot the shit for a bit. Monk and Sara (who used to be the other BillyGoat, are also here tonight.) Monk started last summer heading south, hit Tennessee with some bad winter storms, so headed home until this spring, when he started at Georgia and headed North. He'll be done in Erwin, so he's milking his last couple days for all they're worth.
Another Sunset But With Ice!

Anyway, Raphael and I finished our laundry, we hit up the Smoky Mtn. Diner for a filling meal for about $5 each. Not too shabby. Our waitress liked us, so she gave us some butterscotch pie on the house. Not too shabby (Again). I talked to the folks for a while and got caught up with them. I'm excited to get to the library tomorrow and see my photos on the internet. I also talked to Jaimie, and it looks like I'll be seeing her in only 5 DAYS!. Happy Day!!! If all goes well, I'll meet her in Erwin and have a good rest with her. I can't wait! Super Happy Day! OK. I'm going to read some of Elmer's fine books, then enjoy my first night in a bed in 22 days! Sounds like a plan.

"To dream of the person you would like to be is to waste the person you are"---a great quote from Kira's letter.....

OK Goodnight. BG

Tuesday, March 14, 2000 ~~ 0 miles today / Resting in Hot Springs at Elmer's

Well my first 0 day was great. Woke up to a great breakfast, although I didn't sleep that well last night. I guess I had too much comfort for my own good. Warm feather comforter, soft queen size bed, no wind, I mean my body's just not used to that. Elmer is an incredible guy. He has a Ph.D. in Asian religion and philosophy, taught at Duke for a while before starting up a vegetarian restaurant. Worked at that for 3 years, got it up and running strong before he realized the stress wasn't worth it. Got out of the restaurant management business in '76 and hiked the AT. He loved his stay here, and came back to work here the next year. After only 2 months the owners were ready to retire, so they all but gave him the place. He's been here ever since, sort of teaching hikers as they pass thru. His library is incredible. Room after room with bookshelf after bookshelf of amazing books. Everything from Irish poetry to Shaker traditions to Zen teachings to herbal remedies and any other topic of interest to a socially conscious, spiritual intellectual. He's a great guy, and a hero to everyone who stays here. I doubt anyone stays just one day. It's just a haven for weary travelers and idyllic youths along our journeys. I'd love to come back and work here some summer.

Anyway....I got to the library today (which is laughable compared to Elmer's collection) and spent two hours reading and writing e-mails.

(Brian's e-mail sent on March 14, 2000 from Hot Springs (NC) Library )
Woods Along the Way

hello everyone, i hope this one gets through to all of you. i just found out that i spelled my last name wrong last time i tried to send an e-mail to you all, so hopefully you'll get that along with this. anyway, today is march the fourteenth, and i'm enjoying my first zero mileage day of my trip. so far i've come about 270 miles from springer mountain (about ten percent of my trip) and have another one thousand eight hundred to go till the big K in maine. i'm spending my time here at elmer's hostel, which is a unique experience. this town is made up of a mix of old time southern boys and retired/tired hippies and hikers. elmer fits into the later category. he hiked in '76, and fills his house with great music, amazing vegetarian meals, and more books than there are here at the hotsprings library/nursery school/senior center. i'm still hiking with raphael, who started the same day as i did. he's 25, just finished a 5 and a half year college plan at james madison, and is going to grad school at colorado state to study soils. he's great company and always has me laughing. i hiked thru smoky national park last week and got some mixed emotions about it. on the one hand, it is incredibly beautiful and the trail is like walking through a meadow comparied to georgia and the nantahala's. on the other hand, i'm just as glad to leave all the spring breakers and crowds behind. the shelters were as ghetto as they come. they all had fencing to close them off so that bears couldn't come in and eat you. most of these fences have bits of tarp and garbage bags to block the wind, but this just makes scary, dark, rat infested shelters. (i didn't SEE any bears, but i think i heard one the last night.)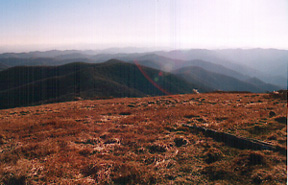 Views after Hot Springs

anyway, i amazingly got through the smokies with just one day of rain. then it rained some more the past two days, and ended up with snow and temps in the teens. summiting max patch (a bald mountain i hear has good views) felt more like summiting everest. it was fifteen degrees with 50 mph winds, and you could only see about 20 feet in any direction. i finally took my glasses off when they got an inch of ice on the lenses. but it's sunny and warm again, and the forecast says it should stay like this for another 5 days or so. anyway, all is going great with me. i apparently lost fifteen pounds so far, but i don't believe it. hey becky, thanks for the peeps. you read my mind, just the other day i started fantasizing about post-easter candy sales and eating peeps and jelly beans till i vomit. thank all of you for your letters, it's great to read about how you all are doing. anyway, hope all is seeing you well, and know that i love you guys.

no worries, love brian aka "billy goat"

(Back to Brian's Journal)

I saw the "Brian's Hike" web page. Hats off to Dad---it looks incredible. I talked to Jaime, and in only 4 days I'll be meeting her at the Nolichucky Hostel in Erwin. It's funny to think that at one point in our relationship 4 days seemed like an eternity to be away from each other. Now it's just a blink of time. I like to think that means something about us. We are for real, like I didn't know it already.

Terapin and Basco showed up this afternoon with Georgia, the pup that followed them from Dicks Gap in Georgia. It's good to see them. Raphael and those two and I had a lot of fun at the Smokey Mts. Diner tonight, playing along with the crazy waitresses. I also met a young couple from Quebec. I actually remember reading their journal on Trailplace. Real sweet, but English isn't their strongest language. They were taught French first, then Spanish, then German, and then English. Nice kids though. Anyway, this is what this trip is about---just meeting extraordinary and diverse individuals who share one, immensely strong bond with each other. No matter how different we are, the trail brings us together, and we treat each other like kin. It's never hard to get into a quality conversation with anyone. OK.

Elmer's and Hot Springs have been great to me, but I'm ready to move. It's funny how that is. Even though this place is so incredible, you know the AT has millions of more places and people like this. All unique, all special. And the song of the trial is impossible to ignore.

No worries, BG
---
Go to next page.....Brian's Hike on the Appalachian Trail (7)
---
If you want to write to or contact Brian, his email address is

If you don't want to receive these updates or know of anyone who should be included, please let us know!