Bruce and Sara as National Park Rangers at
Cape Hatteras National Seashore
July 11, 2006
---
A Moonrise!!
For as long as anyone could remember, the Lighthouse at Cape Hatteras was never opened to the public at night, and it has never sponsored an official "Moonrise Night."
So with the blessing and encouragement of Mary Doll (who is the head of Interpretation of the entire Outer Banks Group) and Headquarters, and Marcia Lyons, our local District Interpreter, we had an official Moonrise Night!
Much to our surprise, the tickets sold out within two days of the announcement---local residents and their families, some visitors who were just lucky, and many of our volunteers and their families all came. And what a night!!
Here are some pictures of the staff, the night, and the moon!
"Lighthouse Keeper "Eric" greeted folks at the base, gave them "instructions" and sent them on their way with Ranger Aimee.
(Everyone had to have a flashlight since the lighthouse has no lights in it at night other than the beacons at the top!)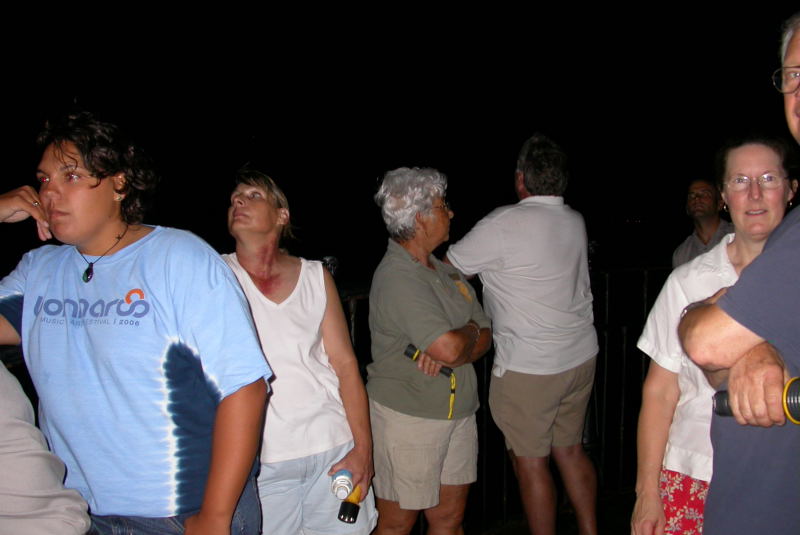 At first our staff and volunteers didn't know where to look!
The moon slowly rose to the hushed silence of the crowds!
The moon through some of the railing, and one of the Beacons of the Lighthouse
---
Go to the next page..... A Visit to Historic Portsmouth!
Return to opening page Bruce and Sara in Cape Hatteras
---
If you don't want to receive these updates or know of anyone who should be included, please let us know!