Bruce and Sara as National Park Rangers at
Cape Hatteras National Seashore
June 18, 2006
---
A Typical Day, the other Rangers and Volunteers, and Good News---Oliver Becomes a Ranger!
As of Sunday, June 11th, the Lighthouse, the Visitor Center, and the Museum are open from 9 AM to 6 PM, we've started all our summer interpretive programs, and the summer crowds have started to come!
Very quickly, Cape Hatteras National Seashore consists of the Bodie Island area, the Ocracoke Island section, and our Cape Hatteras Lighthouses group. Here at the Lighthouse, we are responsible for visitors to the famous Cape Hatteras lighthouse, for an information desk at a Visitor Center and another one at the Museum, and for a variety of interpretive programs ranging from outer banks history and the history of the lighthouse, to barrier island formation and talks about historical pirates, to snorkling and seining programs and programs "just for kids." We also spend time just "roving" which means walking around and making ourselves available to visitors who have questions, need help, or want assistance. Roving involves doing a lot of what the Park Service calls "informal interpretation" and "showing the flag" (e.g. just being visible.) And from this site we "rove" not only around the lighthouse, but also along the swimming beach near the lighthouse, and near the ramps and surf-fishing areas at Cape Point, and along the road and trails of the park.
To accomplish this, there are 13 interpretive Rangers, a "lead" Ranger who is our direct supervisor, and a number of wonderful volunteers. And so our days of being paid to work three hours in the lighthouse, and just a few hours in the museum or Visitor Center with lots of time to study and learn and prepare our programs have come to an end! And our days of being real Park Rangers have begun!
A typical day or week from us is fairly simple:
Every day each Ranger works in a "team" of three or four to staff the lighthouse for three of the nine hours it is open. During those three hours, members of the team take turns at one of three positions:

Working at the bottom where we collect the tickets which are sold in another booth. The tickets have an entrance time on them so too many people aren't in the lighthouse at any given time. The Ranger at the bottom also warns visitors of the hazards of climbing, goes, goes over the rules (e.g. no gum chewing, no racing, no throwing things from the top, no back packs, no kids under 42 inches.....); and tries to manage the crowds. When we are at the bottom, Sara and I also give out little lighthouse stickers to kids who were too small to climb;
Working as the "floater" who wanders in the middle or stays near the fourth or fifth landing. The "floater" has a first aid "fanny pack" with a cell phone (to call 911), walkie talkie, water bottles, and chemical ice packs. It's the floaters job to watch for people having problems, to be the primary contact in the event of a medical emergency within the lighthouse, and to encourage tired climbers, slow down overly enthusiastic climbers, and maintain a resemblance of crowd control;
Working on the balcony at the top of the lighthouse. Needless to say, working the top is the best!! It's cool because of the almost constant breezes, it's not very crowded because of the timed ticket system, and by the time people have gotten to the top they are happy, overwhelmed by the views, and having fun! (Needless to say, there's always some horsetrading among teams to see who works the longest on top!)

In addition to Lighthouse duty, each Ranger spends some time during the week being the NPS staff person in the Visitor Center and/or the Museum. This involves all the things most parks do at the main information desk---being available to answer questions about the Park, the summer programs, local attractions and alternatives, etc. It also involves managing the films and DVD's we show, calling the law enforcement people sometimes, and answering the phone whenever someone calls the Park.

One of the most rewarding and fun parts of working in the Visitor Center or Museum is the Junior Ranger Program. We have little booklets for kids 2 to 5, 6 to 9, and 10 to 14. If they complete them, they get sworn in as Junior Rangers---and there's nothing cuter than a little 3 year old with her right hand raised, promising not to feed the wild animals, and promising to be a good Junior Ranger, and promising to share her experiences with her friends and family---and then giving her her own Junior Ranger badge!

Oliver getting ready to go out
on his first official "beach patrol" as Ranger Dog!

During the week, each Ranger will lead one to four interpretive programs. Sara's specialty right now is leading a program on "Pirate Times" complete with hat, eye patch, and the infamous "hook" prosthesis. Bruce leads more esoteric programs on light house history and the moving of the Cape Hatteras lighthouse and on how the barrier islands were formed.
For several hours every week we take turns "roving" the swim beach area and/or the Cape Point area. Needless to say, "roving" the swim beach brings back memories of the TV show "Baywatch", and some of the younger Rangers have tried again and again to trade their assignments with Bruce's swim beach hours. On two days, Sara and Bruce have "Cape Point" duty for a few hours. This involves being near the ramps where people access the beaches with their ORV's (Off Road Vehicles), and walking the beaches where the surf-fishering occurs.

Instead of just walking the beaches with our hats and badges and looking like law enforcement people, we asked whether we could deputize Oliver and have him come with us. Our supervisors said, "OK!" and so Oliver has become a "working dog" at last! And he's a natural! He goes up to everyone, breaks the ice, meets and greets people, and makes himself available for bribes (dog biscuits, water, beer, leftovers, or anything else that he can swallow!)

And finally, when we have nothing else to do, we spend time getting ready for more programs and improving the ones we have. Or, we work at improving the bulletin boards and interpretive signs around the park, making sure the radios and other equipment is working, and keeping track of statistics for reports.
And so we are busy! But it's a fun kind of busy, full of new experiences with new and different people, and filled with satisfaction!
At the top of our immediate group is "Mac" McClammy, our "Lead." The Lead Ranger makes the schedules of who does what, he coordinates all the activities, makes the calls to the law enforcement officers when we need them, makes the decision to close the lighthouse if we have to because of bad weather or heat, and tries to mold together many personalities and many different interests into a meaningful and efficient group.
Among the thirteen full-time seasonal interpretive Rangers, we have a very wonderful group with very different interest and skills and experiences. More about these Rangers in our next page.
Finally there is a very dedicated group of volunteers who help us. Some are RV "full-timers" who are here for weeks or months at a time. These are people who live full-time in their motor homes, go from park to park as volunteers for long periods of time, and often work without pay doing everything we do as paid Park Rangers. Needless to say, they are great people, very dedicated, and deserve the admiration of all the staff and visitors! Among those with whom we have worked are:
Carol Bowman and Kim Harris
who left us to volunteer at a Fish Hatchery in the Badlands
(maybe that's why they were gathering fish recipies before they left!)

Bear and Mary Beth Kelly
who finally got their slider in and left for a state park in Georgia
to head up a fishing program for children
Paul and Peggy V
who will be with us for another month!
(and without Kim and Carol, and Bear and Mary Beth, we really need Paul and Peggy!)

Barbara M
our mother and grandmother who keeps us in order and never stops smiling
(who also will be with us for only another month)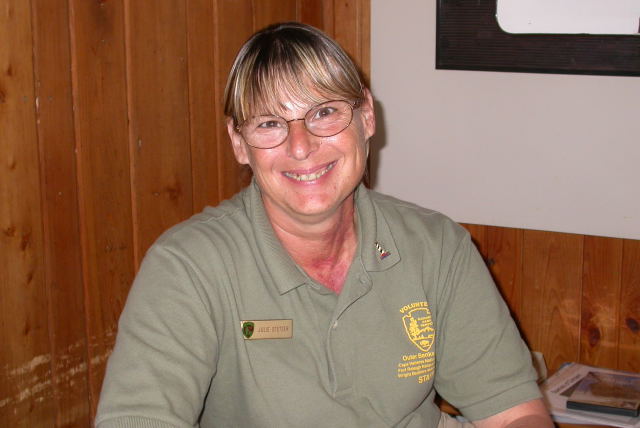 Julie
who will be with us all summer
and is part of the "B" Team with Sara and Bruce
(We like to think the "B" Lighthouse Team is the "BETTER TEAM"!)
Kaaren and Ed,
and their grandson, Ben, a new Junior Ranger!

Mary Ann and Vance
| | |
| --- | --- |
| Myron | Gloria |
In addition, there are local volunteers who spend a day or two working with us. These people too are invaluable! They know their stuff, they know the local history and the background stories of almost everything around here, and they are very dependable! In particular, we've enjoyed getting to know and work with Dee, Jinx, Audrey, Bob and Bob!
---
Go to the next page..... Just Pictures: The Ospry, Shipwrecks, Cape Lookout, Charlotte and the Conways,
and the Schundlers all in uniform!!
Return to opening page Bruce and Sara in Cape Hatteras
---
If you don't want to receive these updates or know of anyone who should be included, please let us know!