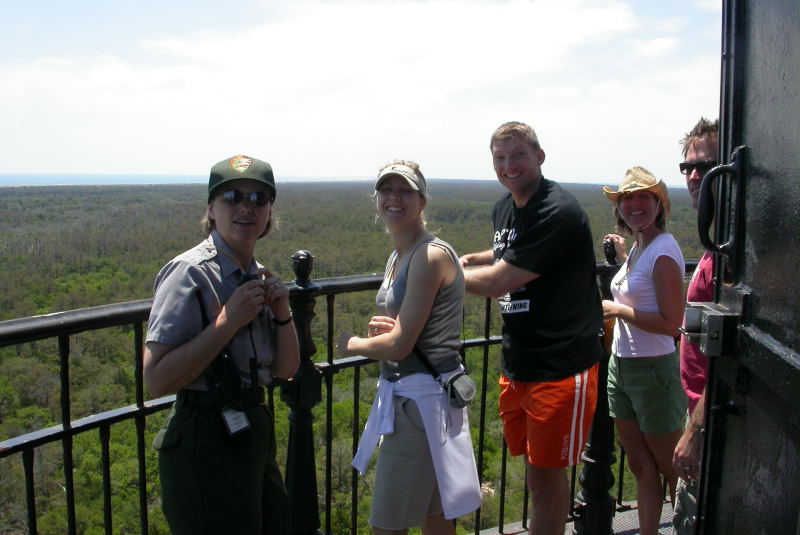 Bruce and Sara as National Park Rangers at
Cape Hatteras National Seashore
May 16, 2006
---
Being a Ranger: Meeting Peoplea and Answering Questions---May 16, 2006
After working as Park Rangers for just over a week, several impressions from our experiences at Ellis Island have been confirmed:
To enjoy working at a National Park and as a Park Ranger, you have to enjoy working and talking with people, and you have to enjoy meeting them and being with them. In short, you just have to like people!

No matter where you go or what you are doing, wearing "the uniform" is like wearing a sign that says, "Ask Me!" and "Talk With Me!" As a NPS employee, people recognize you and they expect you to be friendly and helpful. In addition, they presume you know all kinds of things, and that you enjoy answering questions, hearing complaints, or just talking. (Even after you've been on the balcony of the lighthouse for three hours and are rushing to the closest bathroom!)

And ....that's OK!

In fact, it's what makes working here so much fun! It's what makes us say from time to time, "It's hard to believe we're being paid to do this!"

Fortunately, most of the Park Rangers we've met do like people! It's what made them want to work for the NPS; it's encouraged them to keep applying for jobs, and to pursue full-time, year round employment. And it makes them good Rangers!

On the other hand, working as a Park Ranger can involve hours of boredom, and thousands and thousands of questions and repetitive questions.

Naturally, being a Park Ranger means you're supposed to know almost everything. It also means you have to repeat what you know again, and again and again. In many ways, it's like being a history teacher or science teacher who is stuck in a rut and keeps teaching the same lessons many, many times a day, everyday.

To be sure, the actual history or science we teach is confined to a relatively short period of time, or to a fairly well defined segment or aspect of natural history. We don't talk about world history in general, only world history as it was affected by events along the outer banks. And we don't talk about architechtural history or engineering in general, but we do talk about how and when several lighthouses along the North Carolina coast were built, and about how the lighthouses of Cape Hatteras were built (in 1803 and 1870) or moved (in 1999). And we don't have to be biologist,botanist, hortoculturalist, or geololist but people do expect us to know about Cape Hatteras plants and trees, and how to identify certain birds, turtles and frogs, and to know how the outer banks were formed and how sand is formed.

And so in the final analysis,

a Park Ranger's love of people and a Ranger's desire to help and work with people has to be greater than their intolerance of repetitive questions or lessons;
and a Park Ranger's love of people as individuals or crowds has to be greater than

the aborrance of occasional periods of boredom (like when you are stationed in the middle of the lighthouse on a rainy day, and no one comes up the stairs for an hour or more!), or
frustration with some of the rules and regulations of a federal agency (let's just say the government sometimes isn't the most efficient or logical organization.)
Or, using the words of Studs Turkle in his book Working ......being a Park Ranger has to be a "calling," and not just a "job."
Being a Park Ranger is like being a teacher or minister. You simply have to like people and want to work with them and serve them---or, you won't like your job, you'll become irritable and overly critical, and you'll start looking forward more to getting away from people more than to being with them. (And unfortunately, like many teachers and ministers, we've seen and known a few Rangers who now are burned out and just unhappy.)
Fortunately for us, we love what we are doing; and our only concern whether we can learn enough to be able to help the crowds when they come, and whether we eventually will be able to offer some interpretive programs that will make visitors glad they came to Cape Hatteras and to our particular programs!
Sara with her new hat!
---
Go to the next page..... A Lingering Controversy and Hope for a Resolution!
Return to opening page Bruce and Sara in Cape Hatteras
---
If you don't want to receive these updates or know of anyone who should be included, please let us know!